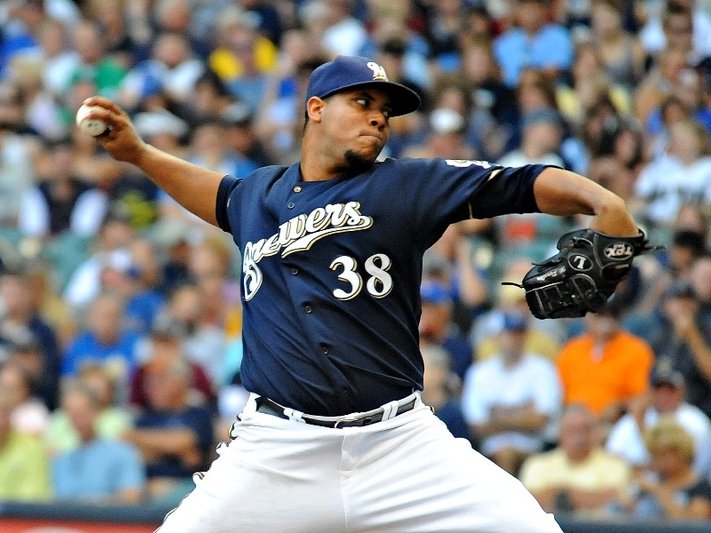 5 questions for Brewers starter Wily Peralta
OnMilwaukee.com is catching up with Milwaukee Brewers players in this occasional series called "5 questions for ..." Sometimes we'll talk baseball, sometimes we won't, but regardless you'll get new insight into some of your favorite players.
Starting pitcher Wily Peralta began the year as the Milwaukee Brewers fourth starter, but as the year has progressed he has entered the conversation as the team's "ace," especially after he won his National League-leading 15th game on Aug. 17 against the Los Angeles Dodgers.
But, his inexperience still shows at times. After all, he is in just his second full year in the majors and has made 63 career starts.
For example, in his last start on Saturday against Pittsburgh, Peralta was the victim of some shaky defense and he couldn't pull himself out of it. The result was seven earned runs (eight total) allowed over five innings in a loss to the Pirates.
The 25-year-old's next scheduled start is Friday in San Francisco, and thought he'd be a good person to kick off our semi-regular "5 questions with" segment.
OnMilwaukee.com: Last year, you won your 10th game on Sept. 16 and afterward you said your goal for the season was to reach double-digit victories. Now, you're at 15 wins before Sept. 1. What was your goal for 2014?
Wily Peralta: Yes, I said 15 in the offseason. In the past offseason, I got in my mind 15.
OMC: You've got a big smile on your face – is 20 wins the goal now?
WP: I already got it, so I just have to keep pitching and see. I got like (six) more starts and see how much I get a win after this. My goal was at least 15 this year and it's there. So, the goals that I've been putting in the past two seasons have been working pretty good.
OMC: How are you feeling this year?
WP: I've been feeling pretty good. I've been growing up a lot as a pitcher. I've been learning how to pitch. So, this is a good thing.
OMC: Along those lines, you haven't had as many starts get away from you emotionally as you did last year have you?
WP: I've been controlling the situation on the mound and in the game. I don't let the situations bother me and score a bunch of runs sometimes. But I've been able, when I get in trouble, to get out of there. That's the thing I've been learning since last year.
OMC: Matt Garza, Kyle Lohse and Yovani Gallardo all have playoff or World Series experience – will they be able to help you as you make your first pressure starts down the stretch here?
WP: I've been learning a lot from those guys. I've been watching what they do on the mound when they get in trouble, what they do, and I try to follow them. It's always good having guys with experience in the playoffs. If we made it this year it's going to be my first one, so having the guys that been there before is going to help me a lot
Facebook Comments
Disclaimer: Please note that Facebook comments are posted through Facebook and cannot be approved, edited or declined by OnMilwaukee.com. The opinions expressed in Facebook comments do not necessarily reflect those of OnMilwaukee.com or its staff.