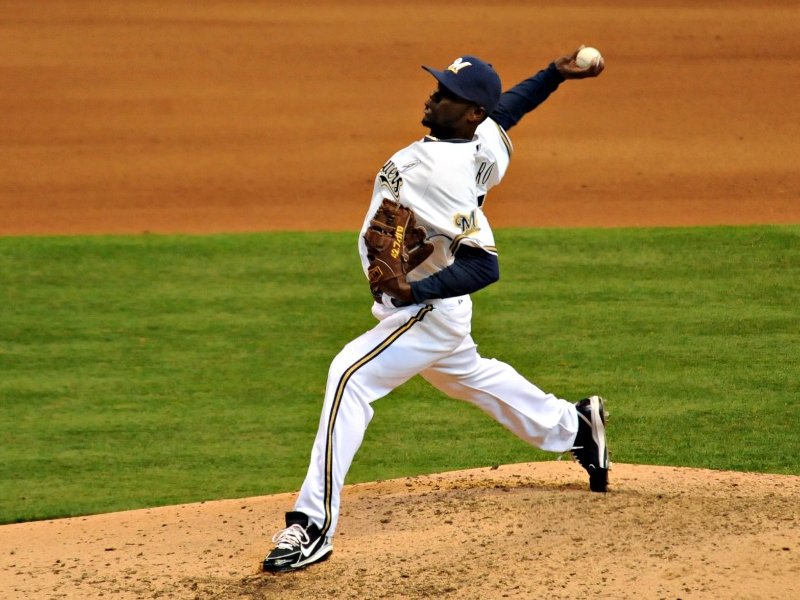 Last man in: Figaro making most of a second chance
December of 2010 could have been the end of Alfredo Figaro's Major League Baseball career, even though it spanned just 13 games and 31 2/3 innings.
He was a 26-year-old former starter turned reliever, and his second organization had just given up on him. After six seasons, the Detroit Tigers had seen enough of the right-hander, and sold his contract to the Orix Buffaloes of the Pacific League in Japan.
After a 2011 season in which he went 8-6 in 24 games with a 3.42 earned run average, Figaro found no suitors in America. He re-signed with Orix for 2012. It looked like a career in the major leagues was a no long a dream deferred, but one forever resigned to exist in REM.
Then, this winter, Figaro happened to be pitching for Milwaukee Brewers Class AAA manager Mike Guererro's Tigres del Licey team in Santo Domingo, Domincan Republic. Impressed with what he was seeing, Guerrero recommended the Brewers give him a look in spring training.
"The first time I saw him, I saw the ability, the command of all his pitches down in the strikezon," Guerrero said. "I knew that he could help the organization, one way or the other, to improve our pitching staff. I said he would be a great addition to our bullpen."
So the Brewers signed him – or so they thought.
Thing was, Figaro's rights were still being held by Orix, and the Brewers were not going to pay a posting fee for a long-shot 28-year-old reliever. Figaro's representation worked out his release, and he was able to sign a minor league contract with an invite to spring training.
Figaro was the last man to make the Brewers Opening Day roster, making the squad as the 13th pitcher. He beat out Donovan Hand for that spot, a hole created because the organization wasn't sure how long it would take newly acquired starter Kyle Lohse to get stretched out.
The odds were long for Figaro to stick at all, let alone come north to Milwaukee, but he felt right at home in the Brewers organization.
"I feel comfortable in here," he said. "I feel like I've never felt in my life in baseball this year with this team. They are already together and everybody tries to help everybody."
Manager Ron Roenicke was clearly comfortable with him, too, going to Figaro early as he pitched two innings of one-hit ball on Opening Day against Colorado. Since then he has appeared three more times, giving up one earned run in four innings of work.
"I kind of want to break him in easy, put him back in the seventh inning or wherever it's going to be," Roenicke said. "I think his role, whether it's in the fifth, sixth, seventh, I think he's going to be very valuable."
In this short season, he is averaging 9.0 strikeouts per nine innings with a 1.50 earned run average.
The strikeout rate is a huge jump from his previous major league experience in Detroit, where he averaged 6.0 strikeouts per nine innings in those 31 2/3 innings of work.
He is throwing harder now, too. According to Fangraphs, his fastball velocity was 92.0 in 2009 and 92.4 in 2010. So far with the Brewers, he's hitting 94.5 while his two-seam fastball is hitting 95.9. He is also mixing in a slider with a curveball and a changeup.
"He's got, obviously, a real nice fastball," Roenicke said. "When he's down in the zone, I don't know if anybody is going to hit. It explodes on you.
"You see a good breaking ball at times. If he can consistently throw a good breaking ball, he's going to be a really good major league pitcher."
In this smaller sample size, Figaro is getting more ground balls than before, nearly 25 percent more of the time than when he pitched in Detroit.
The reason? If you ask Figaro, he'll give you a simple answer: Japan.
"They teach you how to command better and then (worry about) velocity," he said of his Orix pitching coaches. "They teach you a lot how to throw down. If you throw fastballs down, you get ground balls. I don't care about strikeouts. The less pitches that I can do to get ground balls, it helped a lot. In Japan, they play smaller baseball. They don't just do it like that with hard power."
Figaro admitted that when he was in the Tigers system, he often tried to just overpower hitters with fastball – and even then he wasn't sure where it would be going.
"My fastball was way high," he admitted. "And just throwing a high fastball, they can hit it. In Detroit for my whole career, they teach you how to throw a fastball right in the middle but now I realize the low strike is better than 95 miles per hour. If you can throw 93, 94 down, it's better than 98 high. I've tried to do that every time I come in the game."
That was the one thing Guerrero noticed, and what impressed him most - especially because the scouting report he received on his new pitcher said he struggled with his command. Then he saw him pitch – which immediately led to a phone call to Brewer assistant general manager Gord Ash.
'The time in Japan really served him good," Guerrero said. "He learned how to locate his fastball. He can throw his fastball on both sides of the plate and he can control his breaking stuff. He really learned how to pitch and locate and improve his command. In Japan, you have to throw a lot and I think that really improved his mechanics. That's pretty much what I saw. When I'm looking at somebody for the organization, I'm not looking at their background. When I see that he's better than what we have, I'm going to recommend that guy."
Guerrero shares Roenicke's feeling that Figaro has the stuff to stick in the major leagues, and no doubt the Tigers brass felt the same way at one point. Only now, closer to 30 years old and about a decade into his professional baseball career, Figaro has seemed to figure out how to harness that talent.
"When I see the hitters, I know that I have to get an out – so it's just attack, attack," he said. "It's getting outs. Even if they get a hit, fine, but I'm the kind of pitcher who attacks the hitter. I don't play around. I go forward. If you hit me, hit me.
"It's a lot different – a lot different – because now I feel comfortable with all my pitches. I feel I can throw a strike whenever I want to. I feel that I can throw my breaking ball. I feel better pitching than two years ago."
Facebook Comments
Disclaimer: Please note that Facebook comments are posted through Facebook and cannot be approved, edited or declined by OnMilwaukee.com. The opinions expressed in Facebook comments do not necessarily reflect those of OnMilwaukee.com or its staff.