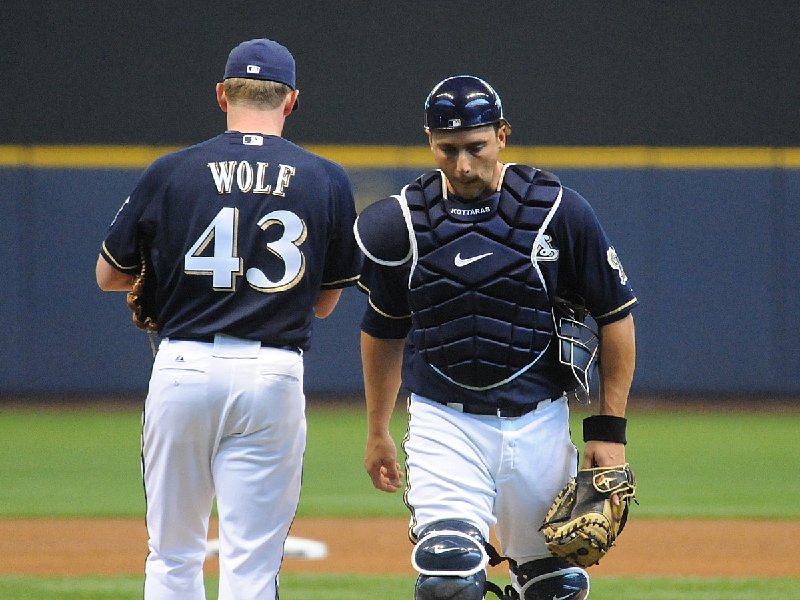 Nine days from nowhere: What lies ahead for Brewers?
How did we get here?
It's a question Milwaukee Brewers principal owner Mark Attanasio, general manager Doug Melvin and manager Ron Roenicke must have asked themselves at some point during this odd stretch of 85 games that have the Crew sitting at five games below .500 and in fourth place in the National League Central Division.
The Brewers trail division leading Pittsburgh by eight games, but find themselves seven back of Cincinnati and six back of St. Louis in the wins column.
If the playoffs started today, the Reds would be the first wild card team, but the Brewers also trail Atlanta, New York, San Francisco, Arizona and Miami, along with the Cardinals, in the second wild card race.
That, my friends, is the biggest problem the Brewers face over the next 77 games.
It's not the deficit between them and the Pirates. It's the fact that six teams remain ahead of them in the playoff chase.
Many fans and pundits are pointing to the nine game stretch immediately following the All-Star break as a make-or-break slate for the Brewers. The first six are at home, beginning Friday against the Pirates, and all nine are against the three teams ahead of them in the division.
True, a 2-7 stretch probably means Zack Greinke is dealt. But what about 5-4? Or even 6-3? What does that prove?
The team needs to go 7-2 just to get to .500. Would that really instill enough confidence to not trade Greinke, or Francisco Rodriguez, or even Corey Hart?
I agree with MLB.com Brewers beat writer Adam McCalvy when he says the Brewers brain trust will go off the feel of these nine games, more so than a record, if they are winning. Are they truly playing good baseball? Does it seem like Randy Wolf and the bullpen got their acts together?
Eighty-five games is a large enough sample size to say probably not. Sometimes you are what you are, and the Brewers look like a .500 team.
Part of me says they can go 7-2 during that stretch, only to get swept in Philadelphia right after. Then what? It was nine games to nowhere in any playoff chase, and now it's July 25 and you have six days to decide what to do regarding your trade-able assets – who lose value every day they remain on your team.
This has been a frustrating season on many levels. I was one who believed this team was the best in the division, and I still think if Alex Gonzalez, Mat Gamel, Chris Narveson and Jonathan Lucroy would have been healthy all year, this team is right around first place.
Those injuries had such an effect on the team, it's almost impossible to measure.
Imagine how much stronger the bullpen would've have been with Marco Estrada there all year, or even Mike Fiers on a call-up? The lineup would've been in much better shape, even with Rickie Weeks' off year, with Alex Gonzalez hitting seventh or eighth and Lucroy challenging for a batting title protecting Aramis Ramirez.
What if Shaun Marcum was healthy all year? What if Ramirez and Ryan Braun didn't have nagging leg injuries that have forced them to miss games?
What's past is past however, in that regard. This is the team that has to do it, and there are some positives to hang your hat on.
Braun is having another MVP-caliber season, and Greinke will get Cy Young votes. Lucroy is close to returning. The starting pitching, for the most part, has been effective enough to win. And at times, the bullpen looks like it did in 2011.
Within the division people no doubt see the Pirates as a paper lion, but don't forget – they acquired Derrek Lee and Ryan Ludwick last season when they felt they could still contend. Don't put it past the Pirates ownership to do exactly what Attanasio did in 2008 in acquiring CC Sabathia. A playoff season there could re-energize that franchise, much like it did here.
Simply, there are just too many teams between the Brewers and any playoff spot, let alone the division. The decision should be made during this break what to do with Greinke – break the bank for him – or trade him. The same could be said for Hart, K-Rod, John Axford and even Ramirez.
The key is "during this break." Waiting for the next nine days to play out will get the team nowhere.
atcyuvxswusxuqrvuqcyyyasazbtfzz
Facebook Comments
Disclaimer: Please note that Facebook comments are posted through Facebook and cannot be approved, edited or declined by OnMilwaukee.com. The opinions expressed in Facebook comments do not necessarily reflect those of OnMilwaukee.com or its staff.