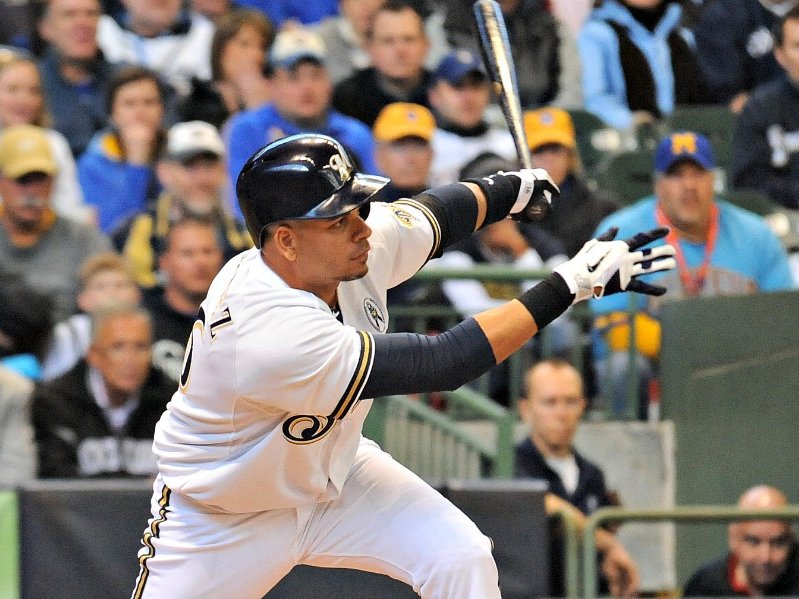 Brewers' Ramirez making it look easy
Aramis Ramirez gave a little head nod in the direction of a pack of media a little over 10 days ago, signifying his readiness to meet with the pack to discuss his return to the Milwaukee Brewers lineup after a month off to recover from a sprained left knee.
That return has been just as easy as that nod of the head for the 34-year-old third baseman, who jumped right back into action without a rehabilitation assignment in the minor leagues.
"I've been around for a while," he said simply. "I know what I have to do to be ready and I've prepared myself to not go on a rehab assignment."
Since Brewers manager Ron Roenicke was able to pencil Ramirez back into the cleanup spot on May 3, he has picked up right where he left off when he was hitting .385 through the first four games of the season.
Through Monday, Ramirez is hitting .364 in his return with three extra base hits and four runs batted in over 25 plate appearances.
"I didn't expect him to come in and just rake right away," Roenicke admitted. "Just to fire right back in there and not do simulated game, no rehab, nothing, it's not easy to do."
Brewers catcher Martin Maldonado couldn't necessarily relate to what Ramirez is going through trying to find his footing against major league pitching after a month off, but offered up a rather succinct assessment:
"I've never been through that before, but people who can hit, can hit."
A notoriously slow starter – Ramirez didn't reach the.250 mark until June last year – he is off to one of his best starts of his career through his first 10 games played, even though he missed chunks of time both in spring training and now the regular season.
"It shouldn't be that easy," catcher Jonathan Lucroy said.
A two-time All Star and 2008 Silver Slugger winner, Ramirez entered the year with 7,665 career plate appearances in the regular season and playoffs. Drawing upon that experience, he told Brewers management right away that he would not accept any sort of rehab assignment when he was initially injured sliding into second base against the Arizona Diamondbacks back on April 5.
Once he returned, Ramirez admitted his batting practice and cage work would not equate to seeing live pitching, but was confident he could make the necessary adjustments quickly.
Though his power numbers are down with just one home run, he is making a much-needed impact in the cleanup spot.
"He's so talented and he's been doing it for so long that he's able to do that," Lucroy said. "That's how he is as a hitter. He knows what he wants to do and what he has to do. He's been playing for so long so there's no need for him to get any time like that (in the minor leagues). Myself, I need a lot of time to get ready. Him, he could probably get up out of bed in the morning and go swing and get ready and get hits."
Following his return at home against the Cardinals the first weekend of May, he played in his first back-to-back games against the Texas Rangers on May 7-8. He played Saturday and Sunday in Cincinnati before getting a rest on Sunday.
Protecting the knee is something Roenicke has to be conscious of, even in late game situations where he has to make the decision to pull Ramirez.
"He doesn't like coming out of the game," Roenicke said. "I talk to him a lot before the game to make sure that when it comes that time there's not a big argument because he doesn't want to come out."
Ramirez admitted it will be a struggle to miss entire games – or late innings – but it's about managing pain and being ready to play regardless.
"For me to be 100 percent I'm going to have to sit for two or three months and that's not going to happen," he said. "I'm going to have to deal with it the rest of the season. But I'm good enough to be out there and that's why I'm playing. I guarantee a lot of guys in here aren't 100 percent. I'm not any exception to that."
Facebook Comments
Disclaimer: Please note that Facebook comments are posted through Facebook and cannot be approved, edited or declined by OnMilwaukee.com. The opinions expressed in Facebook comments do not necessarily reflect those of OnMilwaukee.com or its staff.