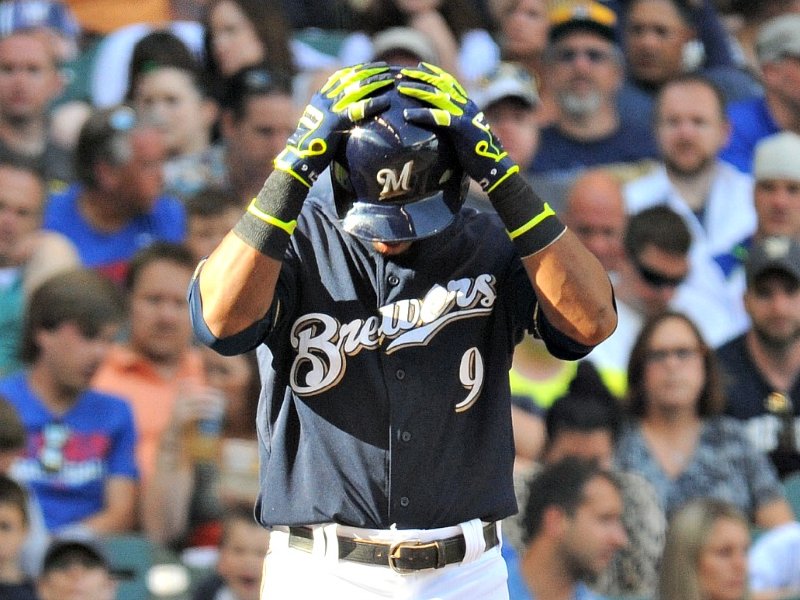 Brewers bats slumbering at start of July
The Milwaukee Brewers begin play Tuesday night against Philadelphia with a 52-38 record, the best mark in the National League and the second best in all of baseball. They own the largest division lead of any first-place club in the game, and are the only team with two starters on the All-Star team.
Yet there seems to be panic in the streets – if the streets are paved with Tweets and postgame show calls, that is.
The Brewers have lost six of their last seven, their worst stretch of the year, but it's not at all dissimilar from two down periods in May the team bounced back from with an 18-10 June.
From April 30 through May 4, the Brewers went 1-4 and scored just 13 runs in five games.
From May 17 through May 25, the club scored just 10 runs in six losses and exploded for 15 in its two wins.
In this current stretch, which began June 29, the offense has scored 16 runs in seven games.
"We had a few opportunities – not a lot of them – but we had a few to have a big at-bat, but we didn't get the big at-bat," Manager Ron Roenicke said after the team's 3-2 loss Monday night at Miller Park to Cole Hamels and the Phillies. "That's what you're hoping for. You're hoping that (Mark) Reynolds hits a ball that's a foot foul, you're hoping that ball stays fair.
"We're not playing well enough to have those breaks right now. But we'll turn it around. We're in a little spell where we haven't played well and we'll turn it around."
The team has done that before, too.
Prior to this recent stretch of play, the Brewers went 10-3 and scored 79 runs. The Brewers have five regulars hitting .280 or higher and with 40 runs batted in. The offense is second in the National League with 89 home runs.
"That's one of the main reason we're winning tames," All-Star third baseman Aramis Ramirez said during that stretch hot streak in late June. "We're pitching well, (but) we're not always going to have your best stuff like (Matt) Garza (on June 28) for example. He gave up four runs and we came back and scored for him. It's nice when you have a great lineup like we do."
But sometimes that lineup is going to hit a lull, especially with former Most Valuable Player Ryan Braun dealing with nagging injuries – now it's his back – and when a young player like Jean Segura (.238 average, .273 OBP) isn't able to build off an All-Star first half from last year.
Now is yet another "sometime," and ebb in the flow of a season
"I definitely agree with that," said left fielder Khris Davis, who is hitting .297 with nine home runs and 30 RBI since May 20. "The best way we just gotta look at it is (on) the positive side, you know? And, just keep having good AB's (at-bats)."
It's funny though – Davis had already forgotten the mini-slumps of this past year.
"I wasn't here last year in May … " he started to say.
I interrupted him to say, no, this May.
He smiled sheepishly.
"Oh ... we're just going to go through stretches where we're just not pulling it together as far as good AB after good AB and we just gotta keep grinding and just keep battling through it and finding that good path as a unit to just lean on," he said. "Like that 'over the hump' hit – I just think it's a matter of time. As far as that, once it does, it's going to be contagious and it's going to be just putting up seven to 10 runs a game again.
"It all evens itself out at the end. We just gotta keep grindin'."
Talkbacks
Photodavie | July 9, 2014 at 9:31 a.m. (report)
It's a VERY long season. The Brewers are limping their way into the all-star break having lost 7 of their last 8 games and the hot Cardinals coming to town with a chance to possibly take the division lead. Hopefully a few days off (for most players) will rejuvenate the team. This season is going to come down to September. Brewers play 7 games against Cards, 6 against Reds, and 3 against Pirates. Thankfully, they also play 6 games against the Cubs. GO BREWERS!!!
Facebook Comments
Disclaimer: Please note that Facebook comments are posted through Facebook and cannot be approved, edited or declined by OnMilwaukee.com. The opinions expressed in Facebook comments do not necessarily reflect those of OnMilwaukee.com or its staff.