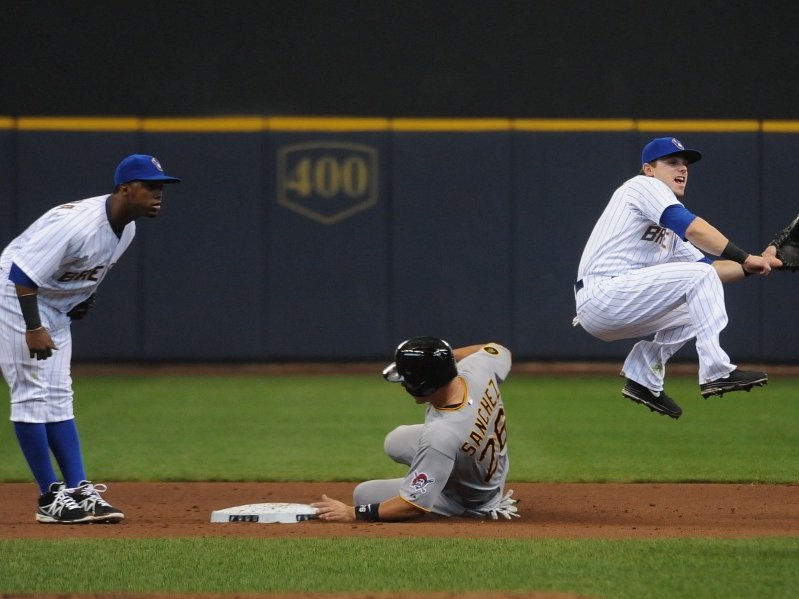 Building the Brewers: Development can be tough on a player
In the second installment of OnMilwaukee.com's three-part series of building the league's best Milwaukee Brewers, we take a look at the mental effect the organization's development model has had on some of its players. The Brewers have been cycling prospects through its roster on a yearly basis for the better part of the last decade, but everyday jobs aren't easy to come by.
So, young players like Scooter Gennett, Logan Schafer and Tyler Thornburg have had to shuttle between Milwaukee and the minor leagues and be forced to learn how to become major leaguers while performing in a different role than they've been accustomed to. It's not an easy task.
Building the Brewers Part 1: Financial flexibility the key
Jean Segura arrived in Milwaukee, officially, on Aug. 6, 2012, and was tossed to the wolves at Miller Park. Batting eighth that day against Bronson Arroyo and the Cincinnati Reds, the 22-year-old went 0-for-4 with two strikeouts.
From the moment he arrived in Milwaukee, Segura became the Brewers' everyday shortstop. He appeared in 44 of the Brewers' final 54 games of 2012 and hit .264. That small sample size showed promise, which played out over 146 games in an All-Star way last year.
It is how it's supposed to work in a perfect world of scout, acquire and develop – the world the Milwaukee Brewers must operate in.
It's worked, too, over the last seven-plus seasons.
While Segura was the first such position player to make the jump to an everyday spot like that since catcher Jonathan Lucroy in mid-June of 2010, it's a model the Brewers have been working off of for nearly a decade.
Players who were allowed to grow in the major leagues included J.J. Hardy (2005), Rickie Weeks and Prince Fielder (2006), Ryan Braun, Corey Hart and Yovani Gallardo (2007).
Constant injury accelerated the Brewers' development model the last two seasons however. As a result, president of baseball operations/general manager Doug Melvin and his staff have begun the process anew with Segura, Khris Davis, Scooter Gennett, Wily Peralta, Marco Estrada, Logan Schafer, Tyler Thornburg and a host of others.
The Brewers don't hesitate to call it the silver lining of two disappointing seasons.
"That's always a challenge – how do we know a young player is going to perform at the big league level?," Melvin said. "That part of player development and scouting standpoint was a positive."
"Absolutely," added Brewers vice president/assistant general manager Gord Ash. "Usually you look at these players in spring training or September, and longtime scouts will tell you it's the worst two times to evaluate player. The level of competition isn't conducive to a fair evaluation. So any time you can get players meaningful development time during the regular season as we were able to do last year, quite frankly out of necessity, then you're able to better able to evaluate these players and what they can and can't do."
Along with their draft-and-develop formula, the team has looked outside the organization for young talent. Carlos Gomez was a high-upside acquisition for Hardy in 2009. Segura filled a need at shortstop.
This winter Norichika Aoki was traded for 24-year-old lefty Will Smith, and then Braun was moved to right field so Davis could be given a shot to prove himself every day.
"It doesn't happen all that often," Ash said of a young player assuming the everyday role with a small sample size to project from. "It can, at times, but again out of necessity (with Segura) – we didn't have a shortstop. We needed him to play no matter what. But he obviously took advantage of that opportunity.
"A lot of time it's not just the physical talent. It's 'what is the player's mindset?' Is he a confident individual? Is he going to be able to deal with adversity if he fails? That's a big part of this, too."
Often, it's the most important part of development. Usually, it's a silent process a player must taken upon himself.
Page 1 of 3 (view all on one page)
Next >>
Facebook Comments
Disclaimer: Please note that Facebook comments are posted through Facebook and cannot be approved, edited or declined by OnMilwaukee.com. The opinions expressed in Facebook comments do not necessarily reflect those of OnMilwaukee.com or its staff.