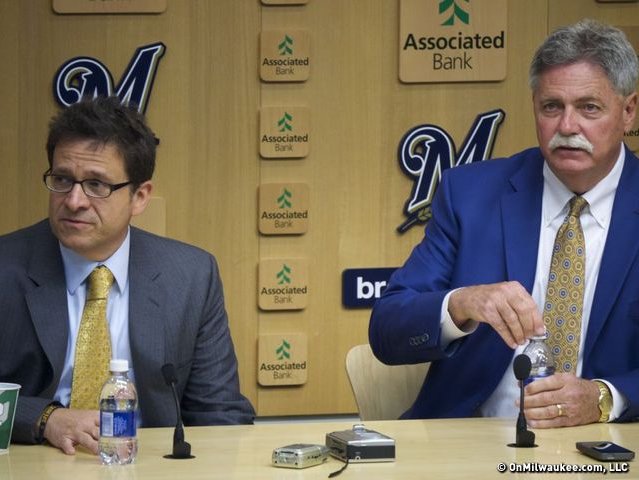 Building the Brewers: Financial flexibility is key to success
The Milwaukee Brewers are currently 19-7 – the best record in Major League Baseball – and in first place in the National League Central, thanks to a mix of young talent and veterans. This is the first part in a three-part series on how this team was constructed, and the challenges faced in doing so. Today, OnMilwaukee.com takes a look at how the organization has fielded a competitive team despite revenue constraints.
Mark Attanasio couldn't help but smile backstage at the Wisconsin Center.
On Jan. 26 at Brewers On Deck, the annual kick-off fan fest for his team, the Brewers' principal owner announced to the crowd that free agent starting pitcher Matt Garza had been signed by the club.
It was a significant acquisition for an organization that was looking to bounce back after a disappointing, injury-riddled 2013 campaign that saw the club win less than 81 games for the fourth time in nine years.
Garza's four-year, $50 million contract was a surprising sum as the largest free agent signing in team history, but it carried little long-term risk for a franchise that, beginning with Attanasio's approval of ownership in 2005, has conscientiously worked to maintain a balanced budget while remaining competitive on a year-in, year-out basis.
"There's enough talent there to be competitive, and that's all you ask for," said Brewers president of baseball operations/general manager Doug Melvin. "We're not in a rebuilding mode. We're trying to balance the young players with experienced players and we feel we owe that to the fans who come out here for the last five years, seven years or whatever, drawing 2.5 million people (annually). We feel that we can continue to want to be competitive and continue to try to win each year as long as we can do that."
It's not the easiest proposition, but the Brewers have been successful at it once the core group of Ryan Braun, Prince Fielder, Rickie Weeks, J.J. Hardy, Corey Hart and Yovani Gallardo were all together in 2007.
From 2007 to 2013, the Milwaukee Brewers went 32 games over .500, and were the fifth best team in the National League in terms of regular season success:
Philadelphia: 627-507
St. Louis: 616-518
Atlanta: 612-522
Los Angeles Dodgers: 601-532
Milwaukee: 583-551
Cincinnati: 581-553
San Francisco: 579-555
In that same period, 12 different teams have reached the postseason in the National League. Ten have advanced to the playoffs multiple times, a club in which the Brewers belong with the 2008 wildcard and 2011 Central Division championship teams.
Playoff qualifiers like Pittsburgh and Colorado did not win divisions like the Brewers did in that time, and Cincinnati (three playoff trips), Chicago (two), Washington and Atlanta were not able to win a series, like the Brewers did.
Could this, the success of those players and the team, have been forecast?
"There's no predictability, I don't think, to any results," conceded Brewers vice president/assistant general manager Gord Ash.
But, the design by which the team was built was definitely purposeful.
"We can't wake up in the morning and trade for a player making millions of dollars to solve a problem," Ash said. "We can't do that. Some clubs can, we can't. Which, quite frankly, is more interesting anyway.
"We have to look for more economic or more risky moves, I guess you might say, in terms of how to solve some of these dilemmas. I think it can work in the long term. You're right. We haven't won yet, but I think we can be positioned to win and then you get to do the whole thing all over again."
Page 1 of 2 (view all on one page)
Next >>
Facebook Comments
Disclaimer: Please note that Facebook comments are posted through Facebook and cannot be approved, edited or declined by OnMilwaukee.com. The opinions expressed in Facebook comments do not necessarily reflect those of OnMilwaukee.com or its staff.