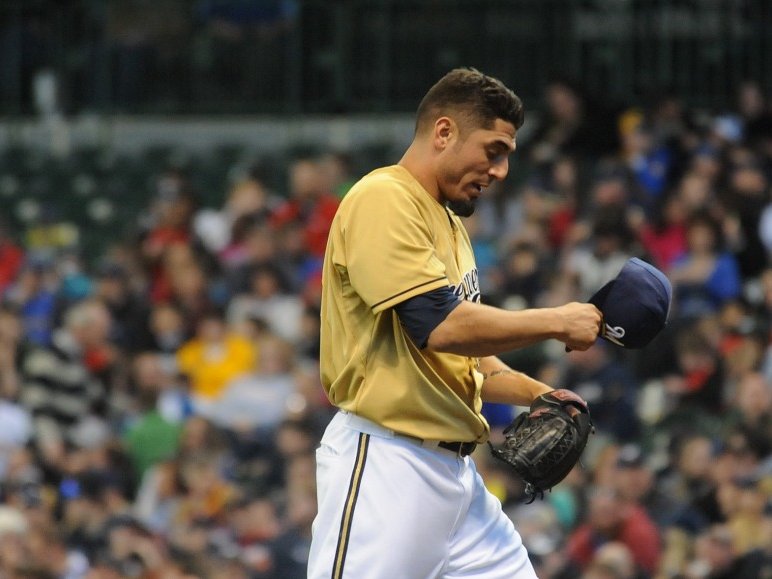 Brewers balancing bevy of injuries
Less than 50 games remain in the regular season, and the Milwaukee Brewers are feeling the effects of the wear and tear of 113 games in 128 days, with infielders Scooter Gennett and Jean Segura having tweaked their legs and starter Matt Garza straining an oblique, resulting in a trip to the disabled list.
"It's that time of year," manager Ron Roenicke said. "Hopefully we can get this taken care of and get full strength again."
Unlike earlier in the year when everyday stars like Aramis Ramirez and Ryan Braun were put on the disabled list, the Brewers' position players have avoided that long-term injury bug – unlike some of their National League Central counterparts.
But, the nagging leg injuries to Gennett and Segura have forced them to miss games, and affect the way they play.
"It doesn't bother me at all to swing," Gennett said of his sore quadriceps. "Even the first few steps out of the box it doesn't hurt. I Just got to remind myself to pick my times. I'm the type of guy that usually runs everything out so I just kinda have to maybe rethink that for a little while."
Segura was in the same boat, and similarly only using one paddle at times, which concerns Roenicke.
"I don't like that he has to decide what plays he's going to go hard on and which ones he's not," Roenicke said of Gennett. "That's never a comfortable thing for me, and really, for the team out there to know that sometimes he's going to go hard and sometimes he's not. I'd rather him take an extra day if we need to and then hopefully he'll get back to where he can go hard every play."
Roenicke continued: "And same thing with (Segura). The reason we gave him off the other day is because he was having to determine which plays he wanted to go 100 percent on and we're not real comfortable with that."
Garza's situation was different in that the strain in his left oblique is similar to the injury he suffered last spring as a member of the Chicago Cubs. That injury, which made even breathing and sleeping difficult, forced him to miss seven weeks, which included the start of the season.
This is different, but the team – and Garza – are being careful.
"It's, I think, more precautionary than anything," Garza said. "I really don't know a time frame or anything. I just didn't want to surprise anybody if I couldn't go in five (days). It's more of their call, not mine.
"I understand it. I don't like it, but I understand it. Being a competitor, you don't want to come here and not do anything. You don't feel like you're doing stuff. The best thing for me is to kind of just take a step back and kind of get away from myself. That's the best thing."
Garza won't do any throwing for about a week, and then he and the team will re-evaluate his progress. He said his has greater range of motion than last spring, and his pain is centralized enough to where treatment can be targeted at the area.
But, "there's no rehab," he said. "There's no secret, miracle workouts. It's just sit and wait. And for a guy like me that's the toughest one. The thing is just sit and wait for a week and then re-evaluate from there."
At this point, it's all about "being smart," as Gennett said, even if it's difficult to sit out key games as the Brewers try to maintain their first place hold in the division.
"We've got such a good team, that's the thing," the second baseman said. "It's nice knowing that if a couple guys need some time off there's guys that can fill in there and there's guys that we have that we know can play and can contribute and help the team win.
"So, in that sense there's no reason to rush things, but at the same time it's that part of the year where it's getting crunch time. No one wants to be injured or not be playing at this time, so it's tough, but at the same time you gotta be smart. We are fortunate to have good players."
Facebook Comments
Disclaimer: Please note that Facebook comments are posted through Facebook and cannot be approved, edited or declined by OnMilwaukee.com. The opinions expressed in Facebook comments do not necessarily reflect those of OnMilwaukee.com or its staff.