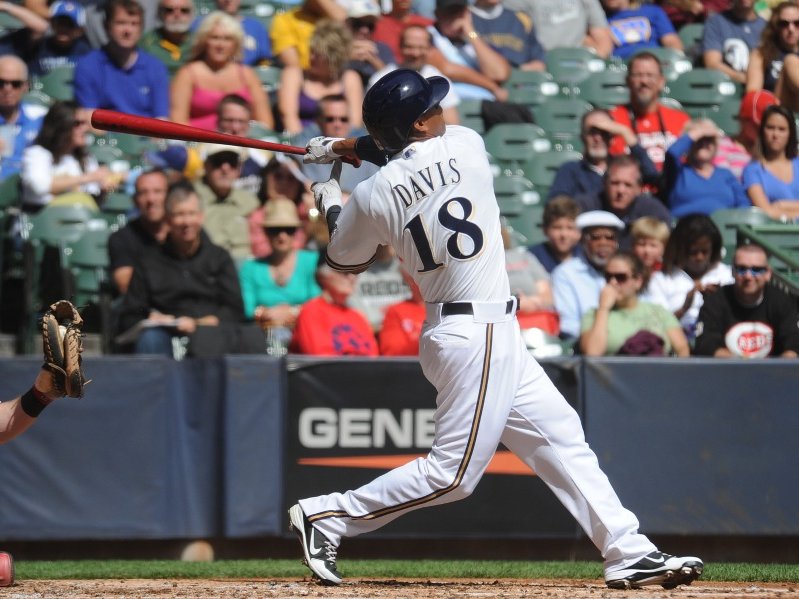 Brewers' Davis takes nothing for granted
Khris Davis made his major league debut on April Fool's Day last year, appearing as a pinch hitter late in the Milwaukee Brewers' 5-4 victory over the Colorado Rockies.
Most don't remember the 18 plate appearances he made over 14 games. He managed just three hits over that span while striking out eight times.
"How do I get Davis at-bats, it's really difficult," Manager Ron Roenicke said in April 2013. "That's the difficult part of the job."
Despite the small sample size, the Brewers were looking for Davis to show them something.
"It just depends on the different situations that we put him in and what he's able to do," Roenicke said. "If he has a runner on third and less than two outs, is he able to just put the ball in play when he gets two strikes, or is he still swinging really hard and he punches out a lot? That will dictate to me how much I use him and where I use him. Going on, he needs to produce."
He didn't. Davis was optioned back to Class AAA Nashville on May 2.
As injuries mounted in July, Davis made one trip back to Milwaukee before being called up for good once Ryan Braun was placed on the restricted list on July 22. He became a starter in the second game of a double-header against the Chicago Cubs on July 30, going 0-for-4.
From Aug. 2 to the end of the season however – 34 games – Davis hit .291 with a .363 on base percentage with 17 extra base hits, including nine home runs.
It was enough of a sample size for General Manager Doug Melvin to talk about his potential if he was an every day player – something that could happen if Braun moved to right field.
That spot opened up on Dec. 5, when the Brewers traded incumbent right fielder Nori Aoki and approached Braun about moving to right.
The job is now Davis' to lose.
Only he's not about to approach it that way.
In fact, he seemed uneasy at the idea that most assumed that.
"I don't know, I don't feel like the starting job is mine really," he said. "I'm just going to go out in spring training and compete. To be honest with you, I think they're going to throw whoever is hot. So, if I can get hot and help the team, that's what I want to do."
Roenicke conceded that his biggest concerns for Davis in 2014 will be keeping him healthy (wrist and hamstring issues bothered him a year ago) and of course, seeing that late-season production throughout an entire campaign.
"He's a guy that offensively has a chance to do some good things," Roenicke said this winter. "He's not just a power guy. He's not up there swinging wild. He swings hard, but he swings at the pitch he wants to see, and I think that's the difference. A young guy, a lot of them are just up there hacking. And he played a lot better left field than I thought. I was very happy with what he did last year. We'll see if we can keep him healthy and see what kind of numbers he can put up."
If there was one real concern about Davis, it would be his defense. But he set out this off-season to answer any and all questions about his ability to play every day.
"As far as defense, (I was) just working to get my arm stronger because they'll expose my weakness – I'm expecting it and I'm ready for it," he said. "It's a lot of band work, not necessarily pushing weights. I'm getting that shoulder strong, all of those smaller muscles. I got a little throwing program and I'm working on it. Every day. I feel like you should work on a weakness every day."
Davis admitted he didn't take too many days off this winter, taking the opposite approach of many in the game.
"I work constantly," he said. "It's hard for me to take days off because in the season we don't get days off, so it's hard to just settle down."
That work is what has given him the confidence that he will succeed in 2014 – not his production at the end of the last year, not the kind words of Brewers management, not even a former MVP changing positions to make room for him.
"Every day is something new to prove," Davis said. "That's the attitude that I want and I'm going to take. I feel like my confidence comes from preparation. As far as this year, we'll see. We'll see how it plays."
Facebook Comments
Disclaimer: Please note that Facebook comments are posted through Facebook and cannot be approved, edited or declined by OnMilwaukee.com. The opinions expressed in Facebook comments do not necessarily reflect those of OnMilwaukee.com or its staff.