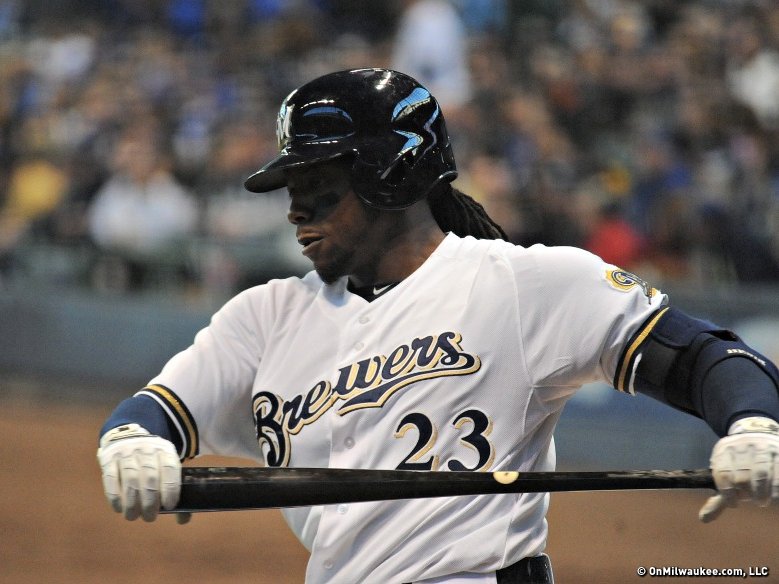 The Legend of Rickie Weeks
In the early spring of 2000, Jerry Flowers was sitting in the bleachers at a high school game in Florida, "snow birding" so to speak. It was cold in the Midwest, so Flowers, a cross checker with the Cincinnati Reds, went down to help out area scouts and see West Orange High School outfielder Mark Folsom.
What he didn't expect to see was a spindly Lake Brantley High School outfielder send a baseball off the head of the West Orange pitcher's head.
Oh my God.
Flowers watched the batter shoot out of the box to first base.
Something ain't right here.
He checked the name of the kid again, looked around. There were about 50 scouts in the stands – to see Folsom – but no one batted an eye.
Nobody's paying attention to this kid?
He started working the bleachers and found the kid's parents. He wondered if they heard about their son's chances of being drafted. They told him he didn't even have a college scholarship.
Flowers picked up the phone.
Roger Cador, coach at tiny Southern University in Baton Rouge, La., answered.
I just saw a boy hit a line drive off a pitcher's head. You need to get him.
"That was the first word on how I knew Rickie existed," Cador said.
Like 'Whoa'
There was a reason why few people knew Rickie Weeks existed, even though he played for a powerhouse program in Lake Brantley, a school that produced future All-Stars Jason Varitek and Felipe Lopez, Weeks' former teammate drafted No. 8 overall by the Toronto Blue Jays in 1998.
First, he was about 5 feet, 10 inches, weighed around 170 pounds. There were several Division I prospects already in the infield, so Lake Brantley head coach Mike Smith moved Weeks to center to utilize his speed and arm.
He hit third in that talent-rich lineup, but as an outfielder he didn't fit many scouts', or college coaches', eyes.
"It's not like nobody (saw him)," Flowers said. "He wasn't under a rock somewhere. He played at a high profile school. For some reason Rickie was what they call pigeon-holed – they only like what they like instead of looking at the player. What I saw, it was easy to see."
What Flowers saw were the hands. The wrists. The speed.
"You have it or you don't, and he has it," Flowers said. "He's had it since I saw him in high school. If I was there to see Rickie, it's easy. But when I didn't go to there to see him and I saw him, it was amazing. I'm figuring out, what am I seeing that nobody else is looking at it because nobody thought about him. At all. It was even hard convincing the coach at Southern. He was like 'he's that good?' and I was like, 'Yes!'"
Smith knew he was that good.
During batting practice, Weeks would have to hit first. Always. It wasn't by his own choice, but for organization purposes.
Smith had to send several of his players behind the 6-foot wooden wall of the stadium, a barrier 325 feet down each line, 375 feet in the power alleys and 400 feet to dead center. Then, the rest of the would be scattered in the outfield.
None were allowed in the infield.
Then it would start. First, the ping of rawhide meeting aluminum. Then the thump, a sound Smith likened to a bass drum. No one caught the balls Weeks hit in batting practice. They would ride a string from the batter's box to the wall.
Or, they would skirt right over it, his teammates trying to knock them down before they rolled into a lake.
Smith would watch, and laugh.
"We would take BP before teams got here and I'd always have him hit first so they couldn't see him," he says now, still laughing. "When I'd see him here at school he'd always have a big 'ol smile on his face on game day because he knew he was going to hit something somewhere."
Fortunately, Cador was an early bird.
"When I first saw him in May of 2000, the first time, and no one liked him, I saw," Cador said. "I saw him take batting practice and I saw how easy he was hitting the ball. A lot of people missed his batting practice. I was there early to the park and I saw it and I was like, 'Whoa.'"
The Lightning
Courtesy Naville J. Oubre, III

Cador offered Weeks a scholarship, and the little kid nobody wanted went to Louisiana and hit the weights – and the buffet table. Cador says good Louisiana cooking helped Weeks pack on 15 pounds before his freshman season even started, which led to the development of something no one – even Fowler – could project.
"I remember early in his freshman year in 2001 we are playing LSU and he hits a line drive to centerfield, which looks like a routine line drive that the centerfielder is going to catch, and he's coming in and the ball is hitting off the top of the centerfield wall," Cador remembered. "That was something I saw when he just stepped into it.
"You could really see how he had lightning in him."
Page 1 of 2 (view all on one page)
Next >>
Talkbacks
MrMeanMan | June 24, 2013 at 3:18 p.m. (report)
And two wrist surgeries later he's on the verge of becoming the next Billy Hall.....
Facebook Comments
Disclaimer: Please note that Facebook comments are posted through Facebook and cannot be approved, edited or declined by OnMilwaukee.com. The opinions expressed in Facebook comments do not necessarily reflect those of OnMilwaukee.com or its staff.