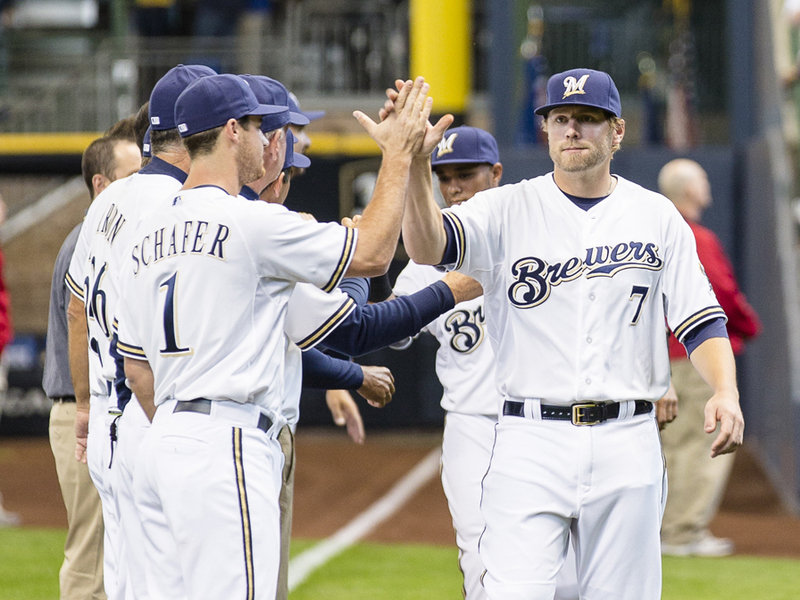 Reynolds brings stability at first base for Brewers
Sitting on a stage in a director's chair, Mark Reynolds sported a Milwaukee Brewers jersey for the first time at Brewers On Deck on Jan. 26, participating in an odd sort of meet-and-greet, along with newly acquired reliever Will Smith.
Most in the audience knew the team had signed Reynolds less than two weeks before to a minor league deal to compete at first base with Juan Francisco and fellow veteran Lyle Overbay, but heavy questions remained about the hole at that position.
The 37-year-old Overbay seemed like the sure thing defensively, and the 26-year-old Francisco seemed to be the one with highest offensive ceiling.
In between was Reynolds.
He'll be 31 in August, a veteran of eight major league seasons, but still in his prime. From 2008-11 with Arizona and Baltimore, he hit .231 and struck out 834 times in 2,491 plate appearances but had a .810 OPS while hitting 141 home runs and driving in 370.
During that time, Reynolds was going to either strikeout, or round the bases in nearly 40 percent of his plate appearances.
The last two years, split between Baltimore, Cleveland and the New York Yankees, he saw his playing time shorten and he began playing other positions – including first and even some second base. He cut down on his strikeouts (30 percent of his 1,042 plate appearances), but his power numbers dipped as well (he homered 4 percent of the time).
This off-season, he mulled several options – all of which were much like the Brewers minor league offer with major league guarantees should he make the club.
With a four all-stars in the everyday lineup, and the addition of Matt Garza, few teams could compare with the type of talent the Brewers could roll out.
That – and the fact that he enjoyed hitting in the National League Central ballparks – made Milwaukee his choice.
"It was the right opportunity," Reynolds said. "I had a bunch of different teams with pretty much the same offer and this was my best shot to play and to get the most at-bats in a hitter friendly park and on a decent team."
"Top to bottom it's a good lineup and just hitting in this park nightly, and if you look at this division a lot of the parks are good hitters parks."
He admitted it was a different feeling to have to play his way on to a team at this stage in his career, as was the idea of platooning with Overbay, but he started in seven straight games during the Brewers' nine game winning streak in early April, and started another eight straight from April 15-22 (Overbay did miss three games in that stretch while on paternity leave).
The Brewers went 12-3 in those games, in which Reynolds hit all five of his home runs and driven in eight while reaching base 17 times. He also struck out 22 times.
"I've done it my whole career," he said. "I've pretty much had the same year for seven straight years. But at the same time, I feel like I have to go out and prove that I'm still healthy and capable of doing what I've done in the past."
Reynolds has also eased manager Ron Roenicke's mind defensively, even though he has played 710 of his career 982 games at third. Measuring defense quantitatively is still an ongoing process, but there some metrics are widely accepted. In 14 games at first, Reynolds has a slightly negative defensive wins above replacement (dWAR) of -.01 and his range factor (assists plus putouts / games) per game of 9.20 is slightly below the league average of 9.33, but last year, the seven different players who appeared at first for the Brewers had a range factor of just 7.05.
"It'd be hard to play better than he's played so far," Roenicke said. "For a guy that basically, probably considered more a third baseman, certainly played more there, he's been outstanding at first base. When we talk about in the game and we're coming up to a pinch hit situation and we're wondering well, do we get better defense with one of them than the other, well, I don't know. The advantage that Overbay has is he's a little smarter with where he needs to play and where he's supposed to be in all the situations. It gives him an advantage. But both of them can play."
That has given the team some stability – and power – at the back end of the lineup. It has also helped Roenicke in that he has a pretty good idea of what he's going to get on a night in, night out basis – though he still sees Reynolds trying to get better.
"I think you're always trying to improve," Roenicke said. "I know he's trying to improve. He's had some big years, but I know he's still working at some things that he would like to get better at."
Through his first 67 plate appearances, Reynolds was back up to his prime years percentage of either hitting a home run or striking out (5 home runs, or 7 percent; 25 strikeouts or 37 percent), but Roenicke noted that when he's connected as mattered more to the team than how often.
"He's gotten some big hits for us," Roenicke said. "Not just – I know he's got a few homers – but I mean, when he gets 'em they've been big. That's probably what the most important thing – when you get those big hits, whether it's just a base hit or a homer. (In an eighth-inning homer on Sunday in Pittsburgh) you saw how important it was when we got 'em. He's always scary up there. When you pitch to him, and you make a mistake, he's gonna hurt you."
Talkbacks
Photodavie | April 24, 2014 at 7:21 a.m. (report)
He's the new Rob Deer. Swing away Marky, swing away.
Facebook Comments
Disclaimer: Please note that Facebook comments are posted through Facebook and cannot be approved, edited or declined by OnMilwaukee.com. The opinions expressed in Facebook comments do not necessarily reflect those of OnMilwaukee.com or its staff.