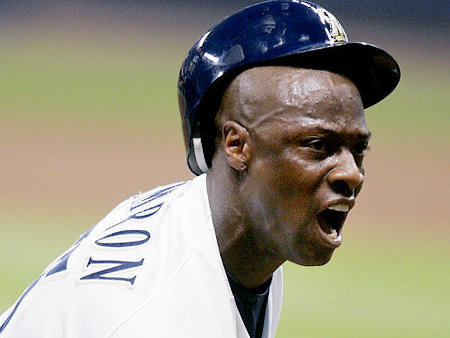 Brewers Notebook: Cameron off to fast start
When Mike Cameron was originally signed as a free agent last summer, eyebrows went up.
When Cameron's option was picked up for the 2009 season -- carrying a hefty $10 million price tag -- eyeballs may have popped out of many people's heads.
But Cameron, 36, has done his best to keep his critics quiet. Through the first 11 games of the season, Cameron leads the team with a .316 batting average and four home runs. More impressive is his .422 on-base percentage, which is tops among Milwaukee regulars.
Those numbers are quite an improvement from a year ago when Cameron, who missed the first 25 games of the season while serving a suspension for violating Major League Baseball's substance abuse police, hit .243.
Cameron credits working with batting coach Dale Sveum for his improved production at the plate. Sveum, who installed Cameron as the team's leadoff hitter during his stint as interim manager, encouraged the veteran to get his hands and body into the hitting position a little bit earlier, which allows him more opportunity to identify pitches.
"It gives me more time to recognize if it's a ball or a strike," Cameron says. "I just try to keep my eyes on it. "
Cameron was at his best last week in the finale of a three-game set against the Reds. He went 3-for-3 with two homers, a double, three RBI and a walk. After his home run Sunday against New York, he is just five away from becoming just the 20th player in history with 250 homers and 250 stolen bases in his career.
"It's worked out pretty well for me," Cameron says. "I feel comfortable at the plate, I just hope I can continue to contribute."
Coffey remains perfect: Todd Coffey was overlooked as the Brewers attempted to rebuild their bullpen during the offseason, but no Milwaukee pitcher has been more consistent than the 28-year-old right-hander, claimed off waivers late last season.
In seven appearances this season (9.2 innings pitched) Coffey has yet to allow a run. He's stranded all eight of his inherited runners and has seven strikeouts. He pitched three innings of relief on Sunday at New York, sparing Milwaukee from a bases-loaded jam and preserving the Brewers' 4-3 victory. It was his first save since 2006, when he had eight in 12 opportunities with the Reds.
Coffey's scoreless streak actually dates back to last season when he joined the Brewers. Since making that first appearance, he's 1-0 in 16 outings (17 innings) with 12 strikeouts and five walks.
Hoffman ready: Trevor Hoffman could be back with the Brewers before they return home from the current road trip. The veteran closer, still recovering from a strained oblique, threw 37 pitches Saturday in a bullpen session and will make a rehabilition appearance tomorrow with Class AAA Nashville. He'll actually be the starting pitcher in that game, in order to have ample time to warm up. He's expected to make another minor league appearance before being activated from the disabled list. Barring any setbacks, Hoffman will be ready to pitch for Milwaukee on Sunday in Houston.
Quick hits: FS Wisconsin's first high-definition telecast of the season will come Friday when the Brewers play the Astros in Houston. … Corey Hart and J.J. Hardy dyed their hair jet black while in New York. … No Brewers starter has pitched past the 7th inning this season. … Reserve infielder Chris Duffy turns 29 today and Media Relations Director Mike Vassallo celebrated his birthday Sunday in his native New York. … Saturday's loss was the 52nd 1-0 loss in franchise history.
Injury report: Aside from Hofffman, right-hander David Riske is the only other Brewer on the disabled list. He's on the 15-day DL with tightness in his right elbow.
Down on the farm: Class AAA Nashville railled Sunday for a 9-7 victory at New Orleans -- the Sounds' third straight victory. Third baseman Mat Gamel continues his torrid assault on Pacific Coast League pitchers and now has three home runs, 14 RBIs and is batting .436. Unfortunately for fans hoping to see him replace Bill Hall at third base in Milwaukee, Gamel's also got five errors in 10 games. … Class AA Hunstville's winning streak was snapped with a 7-6 loss to Mississippi over the weekend. … Class A Brevard County has won five in a row.
Rattlers report: Things haven't been so hot for the Wisconsin Timber Rattlers, who've dropped six in a row after opening the season with a three-game sweep. Brett Lawrie and Cutter Dykstra, two of the Brewers higher draft picks a year ago, have struggled so far this season, batting .214 and .189, respectively. The T-Rats come to Milwaukee Friday for the "Border Battle" against Peoria at Miller Park.
He said it: "The beer … the Miller beer will taste better tonight." --Manager Ken Macha after his team's 9-3 victory over Cincinnati last Wednesday.
This week: The Brewers are off today and return to Philadelphia today to start a three-game set with the Phillies on Tuesday. Philadelphia beat Milwaukee, 3-1, in last year's National League Division Series. The road trip wraps up with three games in Houston over the weekend.
Talkbacks
sijan_heights | April 20, 2009 at 6:36 p.m. (report)
Agreed, honestly, how much more can it cost to broadcast in HD? It's really maddening knowing that the technology is there, but for whatever reason, they aren't using it.
maxximus | April 20, 2009 at 6:05 p.m. (report)
the fact that cameron's defense saves us hits/runs is often overlooked i think and another bonus and reason why i didnt have a problem with melvin keeping him. at some point the defense of his caliber has to take precedent over a hot bat and i'm glad melvin did that this winter.
ndf2 | April 20, 2009 at 5:52 p.m. (report)
I am constantly floored by the fact that not all Brewer (and MLB) games are broadcast in HD.
Facebook Comments
Disclaimer: Please note that Facebook comments are posted through Facebook and cannot be approved, edited or declined by OnMilwaukee.com. The opinions expressed in Facebook comments do not necessarily reflect those of OnMilwaukee.com or its staff.