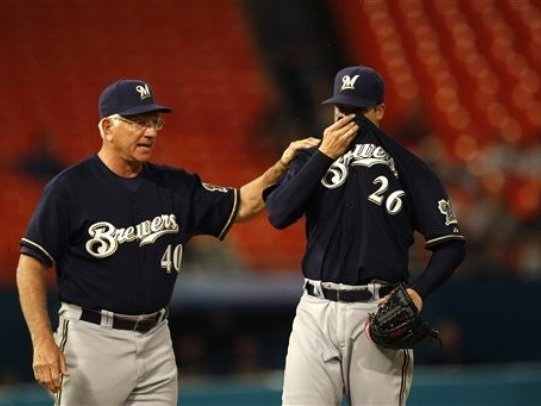 Brewers Notebook: Sounding a call to arms
Like the best meals, the Brewers' recipe for success in recent season has been, in large part, because of home-grown ingredients.
Ryan Braun. Rickie Weeks. J.J. Hardy. Prince Fielder. Corey Hart. Bill Hall. Mat Gamel. All of those starters have come up through the Brewers' farm system over the course of the past few seasons.
And while that list is impressive, it's also notably short on pitchers. For all the success general manager Doug Melvin and his baseball operations staff has had righting the Brewers' ship the last few years, the organization has struggled to develop arms.
Aside from Yovani Gallardo, a second-round pick in 2004, and Manny Parra (21st, '01), the Brewers haven't had a quality home-grown starter since Ben Sheets (a first-round pick in 1999 and now a free agent). In fact, the only other pitcher on the current 25-man roster that came up in the Milwaukee system is left-hander Mitch Stetter, selected in the 16th round in 2003.
When this year's draft gets underway Tuesday, you can bet that the Brewers will be taking a long look at available arms. Milwaukee has five of the first 74 picks in the draft.
The prospect ranks have thinned in the past few seasons, thanks to a handful of trades as the Brewers finally became buyers at the trade deadline. In 2007, Melvin dealt righty Will Inman (third round, 2005) to San Diego for reliever Scott Linebrink. Inman started 3-1 with a 3.86 ERA with Class AA San Antonio and is emerging as one of the better prospects in the San Diego organization.
Also included in that deal was lefty Joe Thatcher, who is working out of the pen as a left-handed specialist this season.
During his time with Milwaukee, Melvin also shipped away Dana Eveland, Ben Hendrickson and Jose Cappellan. Not that any of them were lighting up the league, which is another indictment on the franchise's ability to develop quality arms.
The highest-rated pitcher in the organization right now is Jeremy Jeffress, a 21-year-old right-hander whos fastball nudges triple digits on the radar gun. Last year's organizational pitcher of the year, Jeffress went 6-7 with a 4.31 ERA in 18 appearances between Class A Brevard County and Class AA Nashville after starting the season serving a suspension for violating baseball's drug policy.
Jeffress got off to a good start this season, allowing just a run in 16 innings with 22 strikeouts and 12 walks. He unraveled after that, allowing 19 runs in 11 1/3 innings with 21 walks to nine strikeouts, promoting a return to Brevard County.

New chief: The architect of Milwaukee's minor-league success, Jack Zduriencik, has moved on and is now the general manager of the Seattle Mariners. In his place is Bruce Seid, a long-time assistant to Zduriencik. A member of the organization for 12 years, Seid spent the last two seasons as a cross-checker on the west coast.
In living color: The first round will be carried live beginning at 5 p.m. Tuesday on MLB Network and MLB.com. Following the first round, the coverage will shift exclusively online for the final two days of selections.
Like its NBA and NFL brethren, the network plans to provide insight and analysis of the event, with representatives from all 30 teams in the New York studio. Jim Gantner, a former player and part-time coach, will represent the Brewers along with Mark Mueller from the team's player development department.
MLB Network is carried on Channel 122 by Time Warner Cable.
Bush probable for next start: Right-hander Dave Bush fully expects to pitch Wednesday, his first start since taking a line drive off the elbow. Bush threw on the side Sunday at Turner Field and said afterward that he felt normal. Ken Macha has yet to formally name Bush as Wednesday's starter, but could do so on Tuesday when the Brewers host Colorado at Miller Park, after Bush receives treatment on Monday.
Bush got drilled in the first inning Thursday when Hanley Ramirez ripped a shot right off Bush's elbow. He stayed in the game, going six innings in the Brewers' 4-3 loss to the Marlins.
If Bush is unable to pitch on Wednesday, Macha would move Yovani Gallardo up a day. Thanks to the off-day Monday, Gallardo would be pitching on his normal four days' rest.
Parra's staying put: In his short time with the Brewers, Manny Parra has shown flashes of brilliance and looked fairly awful at times. Despite his up-and-down season, the Brewers have no intention of sending Parra down to the minors.
"Our focus is to get him better," Melvin told MLB.com's Adam McCalvy. "This is a guy who won 10 games last year. He's struggling now."
Parra is 3-7, leading the National League in losses and has the team's highest ERA (6.86). Considered to have stuff similar to Philadelphia's Cole Hamels, Parra has struggled with his control and, at times, his composure on the mound.
He allowed a career-high 10 runs on 11 hits in a 10-3 loss to the Marlins on Tuesday, a little less than two weeks after he was tagged with eight runs on eight hits in a short start against Minnesota.
Early last season, Melvin sent Bush to Nashville after a rough start to the season. The demotion was short-lived due to Gallardo's injury, but Melvin doesn't plan to do the same with Parra.
"It's no different than a hitter who hasn't drive in some runs in a while," Melvin said. "Corey Hart had a bad month of May. The tough part about it is, the hitter gets to go back in the lineup the next day."
Gamel gets the nod: Macha hasn't officially benched Bill Hall, whole slump continues to reach new depths, but it looks like Gamel will see extended action at third base. Hall's average has dropped to a season-low .209 and hitting just .168 against right-handers.
"His at-bats and what he has done over the last month, we're down to the end there where other options are going to have to be explored," Macha told reporters after Thursday's game at Florida.
Gamel, meanwhile, is hitting .239 with a home run and nine RBI in 20 games since being called up last month. He went 2-for-4 with a double on Friday against Atlanta and doubled against Saturday.
DiFelice leaves team: Reliever Mark DiFelice temporarily left the team to attend the funeral of his grandmother in Philadelphia. Because of a sore elbow, DiFelice hasn't pitched in a week. After receiving approval from MLB, the Brewers placed DiFelice on the bereavement list and summoned Chris Smith from Class AAA Nashville. DiFelice is expected back Tuesday.
Fielder getting hot: It was a good road trip for first baseman Prince Fielder. He hit .462 during the seven-game swing with three homers and six RBI. Fielder, the National League leader in walks, is sixth in the league with 15 homers and is tied with Philadelphia's Raul Ibanez atop the N.L. with 54 RBI.
Quick hits: Carlos Villanueva's rough outing Sunday snapped one of the young right-hander's better stretches. Prior to Sunday, Villanueva had pitched 15 scoreless innings and gone nine in a row without allowing a hit. … TV broadcaster Brian Anderson turned 38 Sunday. … Opponents are hitting just .121 (7-for-58) against closer Trevor Hoffman this season. He's the first pitcher 40 or older to begin a season with at least 17 scoreless innings since Art Fowler accomplished the feat for the Angles in 1963. … Chipper Jones' RBI-triple in the first inning Sunday off Parra snapped a 22-inning scoreless streak for Milwaukee starters. … At 29-15, the Brewers have the best record in baseball since April 22, when they were 4-9.
On the farm: Heading into the weekend, the Brewers' minor league system has the best winning percentage (.570) among all organizations this season. … Seven Brevard County players have been selected to the Florida State League All-Star Game. Four of the seven were pitchers, including righty Evan Amundsen (6-3, 1.87 ERA) and Robert Wooten (1.14, 16 saves). … Class AAA Nashville's Brendan Katin hit two home runs three times in six games and in seven of his last 14.
Injury report: David Riske has been moved to the 60-day disabled list after undergoing "Tommy John" surgery on his right elbow. His spot on the 40-man roster was filled by Chris Smith.
This week: After taking Monday off, the Brewers get back to work Tuesday when they open a six-game home stand with the Colorado Rockies. On Friday, The White Sox come to Miller Park as Milwaukee kicks off a 12-game stretch of interleague play.
N.L. Central standings (through games Sunday): 1, Milwaukee, 33-24; 2, St. Louis, 31-26 (-2); 3, Chicago, 28-26 (-3.5); 4, Cincinnati, 29-27 (-3.5); 5, Pittsburgh, 26-30 (-6.5); 6, Houston, 25-30 (-7).
Talkbacks
sandstorm | June 9, 2009 at 11:11 a.m. (report)
"...Seven Brevard County players have been selected to the Florida State League All-Star Game. Four of the seven were pitchers,..." so there ARE some arms on the farm then, right?
Facebook Comments
Disclaimer: Please note that Facebook comments are posted through Facebook and cannot be approved, edited or declined by OnMilwaukee.com. The opinions expressed in Facebook comments do not necessarily reflect those of OnMilwaukee.com or its staff.