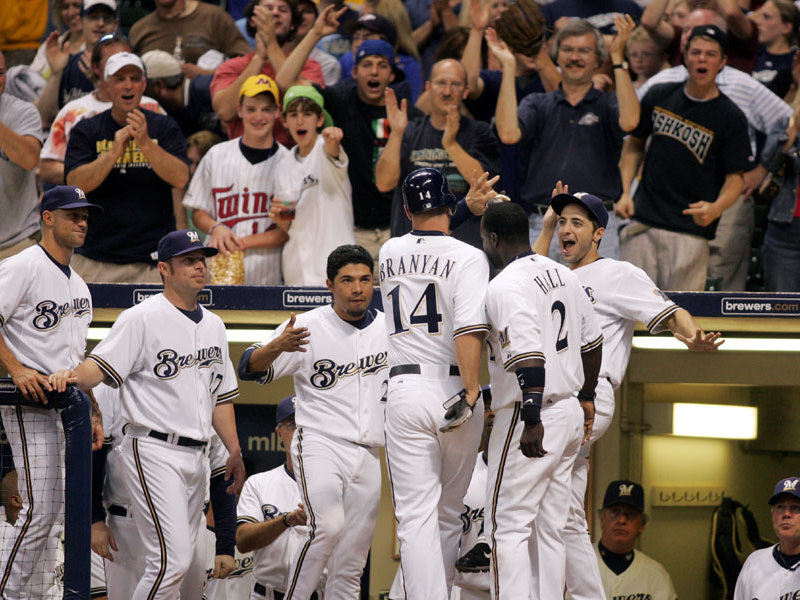 Brewers Notebook: Changing things up
Thanks to mix of injuries and poor performance, the Brewers' lineup has a much different look these days.
Rickie Weeks' sprained left knee sent him to the disabled list, leaving a hole at the top of the batting order. In his place, manager Ned Yost moved Corey Hart, who has been the team's most consistent offensive threat this season while batting fifth, into the leadoff spot.
Hart batted atop the lineup in 105 games last season, hitting .284 in those games with 15 home runs and 37 RBIs. One of the Brewers' faster base runners, Hart swiped 14 bags and was caught just four times. More importantly, Hart had a .341 on-base percentage, despite 51 strikeouts and just 18 walks.
He's known as a patient batter and his ability to draw a walk, mixed with some pop and above-average speed makes him a natural fit at the top of the order. Yost had preferred to keep him in the No. 5 spot most of the season to protect Ryan Braun and Prince Fielder and because of his ability to drive in runs.
"He can bunt for a base hit," Yost said. "He stays inside the ball well, so he can hit balls under the coverage when he's not really swinging well. And when he's swinging well, man, he knocks fences down."
Yost also flip-flopped Mike Cameron and J.J. Hardy in the order. Hardy earned his first-ever all-star berth and had the most successful stretch of his career batting second last season. On the year, he hit .274 and 19 of his career-best 26 home runs from the two-hole.
The move could also take pressure off Cameron who has struggled to get into a rhythm since joining the team 25 games into the season. His strikeouts (52 in 148 at bats) are problematic for a lineup that has struggled to score runs this season.
Cameron did snap out of his funk on Sunday, going 2-for-3 with a two-run home run and a walk in the Brewers' 4-2 victory over Minnesota.
Infield shuffle: Weeks' injury also had an effect on the Brewers' defense. Bill Hall, whose time has been limited since Russell Branyan's call-up on May 24, will see time at second mainly against right-handers.
Hall, who has played three different positions the last three seasons, struggled out of the gate, committing a pair of errors Friday night against Minnesota.
"It's tough to move around like that if you haven't done it much," Yost said. "It's totally different than anything he's done all year long. It's a total different angle for catching the ball and throwing the ball, you can't just take a cram course."
Things got a little more difficult when J.J. Hardy was sidelined with a strained rotator cuff in his left shoulder. Hardy isn't expected to end up on the disabled list, but missing both middle infielders puts a strain on the team's depth.
Along with Hall, Joe Dillon and Craig Counsell will also fill in at second, though Counsell has played at short in Hardy's absence.
Hernan Iribarren, called up from Nashville to replace Weeks on the roster, will also see some time at second base (he led off and played second Sunday against Minnesota). Ironically enough Iribarren was drafted as a second baseman but moved to the outfield because Weeks would have blocked his path.
Yost likes Interleague play: His team is a paltry 1-5 against the American League this season, but Yost still has no qualms with Interleague play.
"There is a bit of mystery to it a little bit," Yost said. "It's got an excitement, in a sense, because you're playing new teams and seeing different players."
At the same time, Yost says, fans of those opposing teams get their opportunity to see the Brewers' young sluggers like Ryan Braun, Prince Fielder and Corey Hart in action.
No promotion for Gamel: Mat Gamel, who is terrorizing pitching in the Class AA Southern League, will remain with the Huntsville Stars for the remainder of the season. Gamel, selected in the third round of the 2005 draft, leads the league with a .376 average and has 14 home runs and 59 RBI. Class AAA Nashville has been using a committee approach to third base since the Brewers called up Branyan, but the organization thinks that Gamel would be best suited to remain at Class AA, where he can get more one-on-one defensive instruction with manager Don Money, who was an all-star third baseman with the Brewers in the late 1970s.
Weaver released: Jeff Weaver will not pitch for the Brewers this season. The veteran right-hander was given his release late last week, after another dismal outing. In nine games -- all starts -- with Class AAA Nashville, Weaver was 2-4 with a 6.22 ERA. He was signed to a minor-league deal shortly after the season's start and was set to become a free agent had the Brewers not called him up to the majors by Monday.
Riske rehab: David Riske will begin a minor-league rehabilitation assignment tomorrow with Nashville. The right-hander has been on the disabled list since May 15 with elbow and shoulder problems. Riske threw about 35 pitches in a bullpen session last week while in Houston and pitched live batting practice before Saturday's game against the Twins. He reported no soreness after both workouts.
Filling the ranks: The Brewers have signed 20 of their 54 draft-day selections so far, and are close to reaching agreements with several more in the coming days. Among those under contract are left-hander Evan Frederickson, selected 35th overall from the University of San Francisco, and Cutter Dykstra, who was picked up in the second round. Two players, North Carolina righty Robert Wooten and Rice lefty Lucas Luetge have agreed to terms but can't officially sign until their teams are eliminated from the College World Series, which began Sunday in Omaha.
Case in point: All season long, Yost and pitching coach Mike Maddux have stressed the importance of pitching down to young starters like Dave Bush, Manny Parra and Seth McClung.
The Brewers got a taste of how good a pitcher can be when he commands his pitches low Friday night against Minnesota, when Twins right-hander Kevin Slowey dominated the Milwaukee offense.
Slowey -- who won for just the third time this year -- allowed two runs on just five hits with no walks in eight innings of work.
"You look at guys that are really successful and there's a reason for it," Yost said. "It's because they can command the ball down and away, up and in; limiting their mistakes.
"When he made a mistake, he made his mistakes down. That's the key for any pitcher; he must be able to keep a pitch down unless he throws the ball 100 miles an hour -- then he can get away with it."
Injury report: Eric Gagne threw from the mound for about 15 minutes Saturday, but there is still no timetable for the right-hander's return. He's been on the disabled list since May 21 with tendonitis in his right rotator cuff. ... LHP Randy Choate will get his first work of the season this week when he pitches an inning for Class A Brevard County. Choate has been sidelined since breaking a bone in his left hand during Spring Training. ... Hardy will not go on the disabled list, but was given a few days off to allow his strained left rotator cuff to heal. He will sit out the weekend but will be available to pinch-hit, if needed.
Unexpected help: Two big injuries could give the Brewers some wiggle room in the division. Chicago OF Alfonso Soriano is out for at least six weeks after breaking his wrist when he was hit by a pitch from Atlanta's Jeff Bennett (yes, that Jeff Bennett). In St. Louis, meanwhile, slugger Albert Pujols will miss the next three weeks with a strained left calf.
Quick hits: The Brewers tied a club record for most home runs in two games when they hit nine in the final two games against the Astros. ... Since being swept in Boston, Milwaukee has won six of eight series with one split. ... In his first 180 major league games, Braun has 149 RBIs. ... The Brewers have played 11 extra-inning games this season, the most of any team in the majors. ... LHP Manny Parra is 3-0 with a 2.90 in seven starts at Miller Park this season. ... Yost has used a different lineup in each of the last nine games and has used 37 different lineups this season.
On the farm: C Vinny Rottino has hit safely in 22 consecutive games for Class AAA Nashville. The Racine native is batting .275 with five home runs and 32 RBIs. ... LHP Chris Cody was promoted to High Class A Brevard County after posting a 2-1 record and 1.74 ERA in five appearances (four starts) with Low Class A West Virginia. ...
This week: It's a blast from the past this week as Interleague play brings more AL East foes to Miller Park. After an off day today, Former Brewers first baseman Lyle Overbay and the Toronto Blue Jays come to Milwaukee for the first time since 1997 and the home stand wraps up this weekend with three games against Baltimore.
He said it: "He's played third like one time; that was almost enough for me." -- Yost, on trying to play hot-hitting Gabe Kapler at second base.
Attendance (Through three home games): Total -- 1,098,592; Average -- 34,331; On pace for -- 2,780,811. Sellouts -- 11.
Sausage Standings: Bratwurst 9, Chorizo 8, Polish 7, Italian 7, Hot Dog -- 3.
Under the roof (through 32 home games): Games played with roof / panels open -- 8 (6-2); roof closed / panels open -- 1 (1-0); roof open / panels closed -- 0; roof / panels closed -- 23 (13-10).
Facebook Comments
Disclaimer: Please note that Facebook comments are posted through Facebook and cannot be approved, edited or declined by OnMilwaukee.com. The opinions expressed in Facebook comments do not necessarily reflect those of OnMilwaukee.com or its staff.