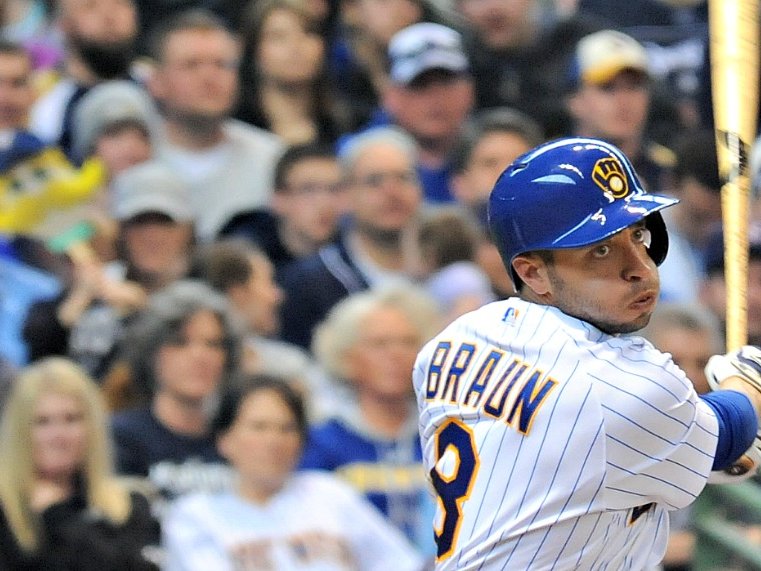 Dog days of May? Brewers' offense struggling
The month of May was just over a week into its life when Milwaukee Brewers starter Yovani Gallardo was asked about how and why team struggles in the fifth month of the calendar – after all, the Brewers were already 2-6 following a 5-3 loss to the New York Yankees.
"I don't know," Gallardo said. "I mean, it's been tough. It's been a little rough the past few games. We just have to stay motivated. We can't give up."
It was a stock, standard reply, because what else could he say?
Then, fast forward two weeks, and unfortunately you could ask the same question of any member of the team – what is it about May?
Just like there was no easy answer as to why the team always got off to "slow starts," there's none for struggles in one particular month, either.
But, it is worth pointing out that while the team went 6-22 last May to effectively end its season, the Brewers also went 12-16 in the month in 2012.
They went 17-12 in May during the division-winning campaign of 2011, but were 12-16 in 2010.
The 2009 was a better performance at 18-10, but the cast of characters has changed quite a bit since that time. There is little – no, nothing – that ties one year to another, let alone one month to another.
The Brewers head into their series finale with Atlanta tonight having lost four of their last five, but remain 28-19 overall thanks to a strong March/April record. They remain in first place in the National League Central, but a once large lead over St. Louis has dwindled to 2.5 games.

One shouldn't look any further than the lineup as the culprit for a sub-.500 month.
Aramis Ramirez is currently on the disabled list, having missed 11 games of the month. Prior to that however, he was hitting just .172 in May (5 for 29) with two homers and two RBI. He also had a paltry .200 on base percentage.
Ryan Braun missed the first 11 games of the month after being on the disabled list with a strained oblique, and since returning he is hitting .226 with just one home run and one RBI and three total extra base hits.
Carlos Gomez, the most consistent bat in the lineup, has missed five games with a back injury and suspension. He's hitting .308 with a .419 OBP with three homers and eight RBI but, he hasn't been in the lineup with the other top hitters in the lineup much.
Some of the players who are healthy aren't hitting this month either, including Jean Segura (.261, two extra base hits) and Khris Davis (.182/.220/.345 slugging) with two homers.
Through the first 18 days of May, the Brewers had allowed just four runs per game but scoring just 3.4. The pitching staff has been rocked a little more often the last few days (team allows 4.16 runs per game into Thursday night's game) against a first place Braves team, but the offense remains stagnant.
Gallardo said this, way back on May 9: "We can't give up and the guys are going to turn around and hit. They were able to put three runs up on the board today and as far as for myself, giving up four, that doesn't help, having to play from behind since the fourth inning or whatever it was. We just gotta stay positive. Everybody in here is working hard to get back in that rhythm."
Including tonight, the Brewers have nine games left in the month to do so. But, it seems ridiculous to think that, no? That a simple flip of a calendar could change things?
Then again, they were 19-8 in April, averaging 4.1 runs per game. The calendar flipped and they've averaged 3.36 runs and are 8-11.
Perhaps it is that simple.
Facebook Comments
Disclaimer: Please note that Facebook comments are posted through Facebook and cannot be approved, edited or declined by OnMilwaukee.com. The opinions expressed in Facebook comments do not necessarily reflect those of OnMilwaukee.com or its staff.