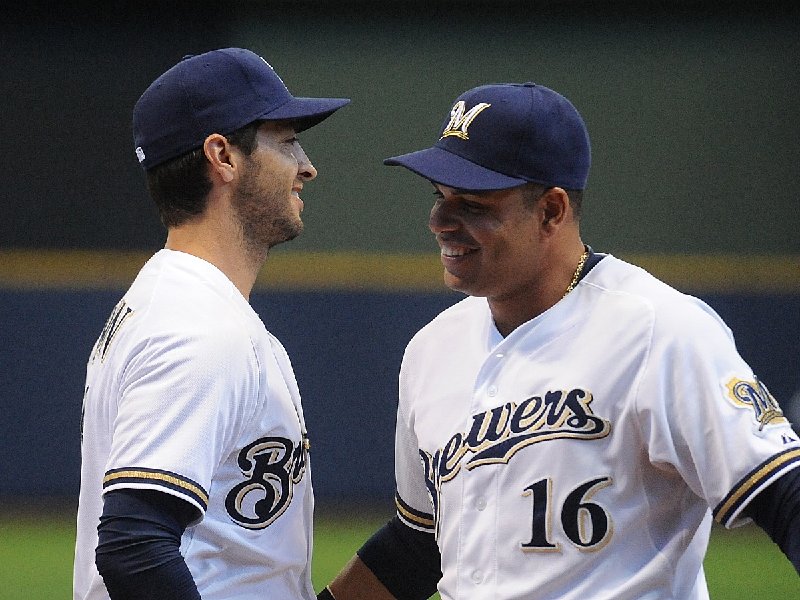 Brewers bring positive vibes into 2013
It's amazing what an effect 42 games can have on a baseball team.
The 2012 Milwaukee Brewers, the defending National League Central Division champions, finished in third place – 14 games behind the Cincinnati Reds and five games behind the St. Louis Cardinals. Coming off a near 100-win season and two games shy of the World Series the year before, an 83-win season with a $100 million payroll could have been viewed as a colossal disappointment.
It was one, in fact, for 120 games. At that point, the Brewers were 54-66 and dead in the water. Zack Greinke was gone. Shaun Marcum was hurt. The bullpen was a disaster.
Something happened though. Over the final 42 games, John Axford and the bullpen figured things out, a batch of unproven starting pitchers threw the ball effectively and the offense kept pounding opposing hurlers and the Brewers finished the year 29-13.
Over the course of that stretch, the mood changed, and that has carried over to 2013.
"It just feels different already this year," Axford said. "It feels fun, feels open. Not to say it hasn't felt that way in the past but for some reason this year feels a little bit different that way, like there's a loose feeling about everyone right now. I think that's why there's that optimism."
Catcher Jonathan Lucroy agreed.
"Everything feels so…I think everybody is really jacked up and really excited," he said. "You can just feel a difference."
While the payroll was trimmed by about 20 percent, the only real change going into this season has been the decision to allow those young pitchers to continue their development. There is a real sense of optimism surrounding this team, from the top of the organization down.
"I'm always an optimistic person," general manager Doug Melvin said. "I always feel we always have a chance or we wouldn't be doing this. Obviously Cincinnati and St. Louis, are very talented clubs. They probably have more experience but we're still a very good ball club. We were in the pennant race until game 159 last year. We led the national league in runs scored and a lot of the offensive categories. We got back in it. We had our bumps in the road but this club is capable of getting to the postseason."
The Brewers return a lineup, led by Ryan Braun, which led the National League in runs scored, home runs and stolen bases.
Such numbers were just the tip of the statistical iceberg for the Brewers offense, as Braun and third baseman Aramis Ramirez had the most RBI (217) of any pair in the National League; Carlos Gomez was one of only five players in all of baseball with at least 15 homers and 30 stolen bases; Norichika Aoki led all NL rookies in stolen bases and tied for the rookie lead in hits and Corey Hart was fifth in the NL in extra base hits.
The expectation is now on the offense to carry the team, whereas last year the starting rotation and bullpen were expected to be the bell cows.
"Last year we showed we had a good team," starting pitcher Marco Estrada said. "We competed. It's pretty much the same team all over again. We've added a few pieces to the bullpen. Our lineup is exactly the same. I don't think it changed at all. We're going to score runs. All we have to do is try to keep the games short and not let the other team score and we're going to be good. I really believe that."
Braun was a little more diplomatic, pointing out that such a short run is hardly a predictor of long-term success.
"I think the talent's there," Braun said. "Again, it's about going out there and doing it over the course of a season. Because we now have depth – we have starting pitching depth, we have some guys that are relatively inexperienced. We don't know exactly what they're doing to be able to do, but aside from that we're certainly going to be competitive again and as long as you're competitive that's all you can ask for."
The pitchers don't lack for confidence, however. The bullpen has been completely remodeled, with Burke Badenhop (Tampa Bay), Mike Gonzalez (Washington) and Tom Gorzelanny (Washington) all being imported off winning teams to set up holdovers Jim Henderson and Axford.
The starting pitching staff is labeled as inexperienced, yet Estrada (23) and Mike Fiers (22) started for much of the season.
"I think there's definitely a sense of optimism," said lefty Chris Narveson, who is coming off shoulder surgery. "It's all about getting hot at the right time. If you look at the second half and what we had, we're looking to continue that. Young guys, obviously, will have a lot of energy and a lot of mojo going into next year."
Perhaps part of the reason there is so much optimism is the fact the team can hold onto the success of those 42 games but not worry so much about the expectations of a World Series. Such lofty goals were definitely on the mind of the 2012 Brewers, even after Prince Fielder departed via free agency.
The team may have finished the season 16 games over .500, but it was only after falling 12 games under sea level prior to.
"That could be. Possibly, yeah," Axford admitted. "Everyone puts just a lot of outside pressure on the team to do well and I think last year after our 2011 season I think everyone was really expecting a lot and when things weren't happening that way it becomes kind of, the mounting pressure starts coming onto you more that way and I think maybe it's not here right now, we're not hearing it as much, everyone is just ready for the Brewers baseball season to begin like we are.
"They're not thinking as far as head as they were last year and I think we're not either. I think we're just excited to get to spring training and then we're excited to get the season started and it's all easy, small steps right now. I think that's why everyone is so open and loose."
Talkbacks
AndrewJ | March 25, 2013 at 3:30 p.m. (report)
Kyle Lohse... ugh. That'll really sting when St. Louis drafts some kid with our #17 pick who will end up killing us for a decade down the road.
TosaJim | March 25, 2013 at 12:08 p.m. (report)
The Brewers are going to be a very good minor league team this year...they have no pitching and are hoping untested guys will come through...stay healthy and win some games. They keep saying that the Brewers hitting will win games...however, if you score 9 runs and give up 10...it's going to be a long season...I'm hoping I'm wrong.
Facebook Comments
Disclaimer: Please note that Facebook comments are posted through Facebook and cannot be approved, edited or declined by OnMilwaukee.com. The opinions expressed in Facebook comments do not necessarily reflect those of OnMilwaukee.com or its staff.