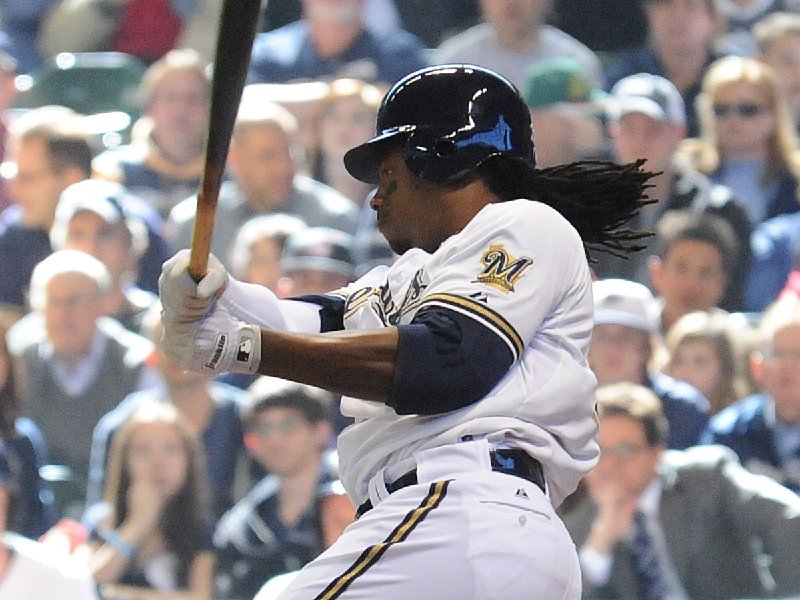 Patience paying off for Rickie Weeks
There's a seriousness about Rickie Weeks as he plants his feet in the batter's box, the overhang of the cage casting a crisscross of shadows over the navy helmet that sits, seemingly precariously, atop his long, fastened locks.
Batting practice is generally loose, players conversing with one another, stretching, pantomiming each other's – or opponents' – stances and swings as they wait their turn to hit. In the cage, work is being done, but occasionally a home run show is put on and smiles are abundant.
Weeks, though, always seems studious, the sweat he wipes away as he switches to his fielder's hat legitimate.
That work is starting to pay off now for the veteran second baseman, who began this season in a horrific slump after going 4-for-9 in the first two games of the season against St. Louis. It took him nine games to collect five more hits after that, and the trend worsened to the point where he bottomed out with a .152 average on May 27.
Unfortunately, it was a trend that began last season after he returned from a severe ankle sprain.
Weeks was an All-Star selection in 2011 in which he hit .271 with 19 homers and 43 RBI in 104 games before his injury caused him to miss 39 games. He wasn't right after returning however, hitting .243 with just one homer and six RBI in 14 games before hitting .146 (6-for-41) in the postseason.
A career .255 hitter who hit 20 homers twice since joining the Brewers full-time in 2006, it was probably unrealistic to expect Weeks to hit .290 with 35 homers, but no one saw a slump of that magnitude coming.
When asked if a sense of panic or thoughts of overhauling his approach began to creep in during that time, Weeks shrugged.
"I don't know," he said. "Like I've said before, you've just got to keep coming to the ballpark ready to play. Changing things ... it's just keeping things simple and try to go in every day and try to work hard."
That work, and patience, began to pay off. He raised his average from .167 to .200 from June 13 through July 13 with a slash line of.280/.363/.460 in 113 plate appearances.
He fell off that pace over the last 10 games, but a 4-for-4 outing last night in Philadelphia brought his season average back to .200. He also has 10 homers, 34 RBI, and remains near the top of the National League in walks with 50.
"Over the last month he's really gotten back to being the player he's been over the course of his career," Brewers outfielder Ryan Braun said. "He's really been doing some good things for us, getting some big hits. It makes our lineup a lot better and a lot deeper when he's swinging the bat the way he's capable of."
Despite an abnormally high strikeout rate, Weeks remains one of the league leaders in walks. And, he's been somewhat unfortunate when he does put the ball in play. According to FanGraphs, his batting average of balls in play (BABIP) is .266 – by the far the worst number of his career and 30 points below league average.
Perhaps being dropped in the lineup in mid-May has helped Weeks relax a bit, and his resurgence has placed him in a more productive position.
"He's been swinging the bat really well," Brewers manager Ron Roenicke said. "The spot he's in the lineup, he's going to have a lot of people on base so with him swinging the bat well now, it makes a lot of difference in what we do offensively. He's a guy that's always been a pretty good hitter and driving in runs, or hit his home runs, but where he is in the lineup now there's going to be people on base for him. And if he hits, we're going to score runs."
Roenicke admitted that if Weeks were to maintain his hot hitting, and the top of the order were to falter, he would move Weeks back to his customary lead-off or No. 2 spots.
For now though, Weeks continues to do what he does best – work.
"Just swinging the bat," he said. "I'm keeping working hard every day. There is no rhyme or reason. Sometimes you have a good season, sometimes you have a bad season, but this season isn't over yet so I'm still plugging away."
Talkbacks
Captool73 | July 26, 2012 at 4:27 p.m. (report)
Seven years ago, Rickie Weeks was heralded by some as the next Ricky Henderson. Unfortunately, he has become the next Rob Deer.
Facebook Comments
Disclaimer: Please note that Facebook comments are posted through Facebook and cannot be approved, edited or declined by OnMilwaukee.com. The opinions expressed in Facebook comments do not necessarily reflect those of OnMilwaukee.com or its staff.