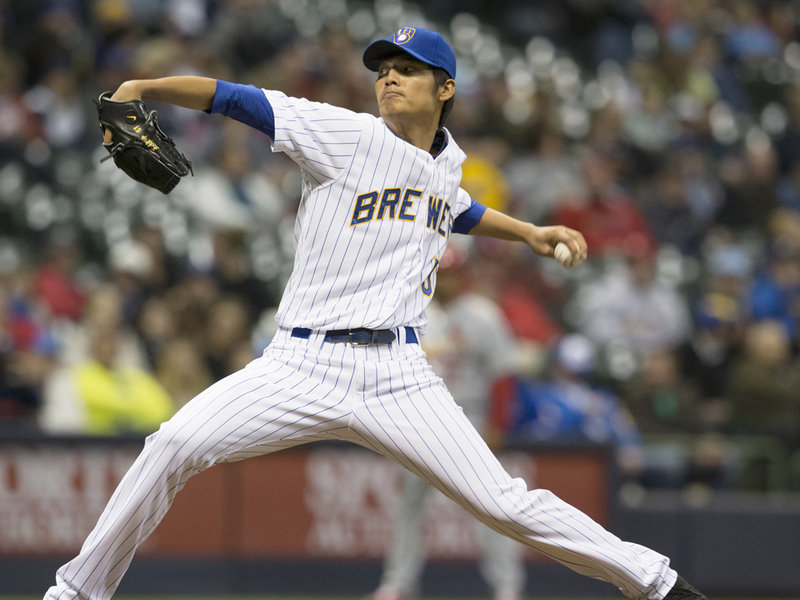 Building the Brewers: Taking a heavy risk
In the final installment of OnMilwaukee.com's three-part series about how this Milwaukee Brewers team was constructed, we look at how the Crew changed its development model in regards to pitching, and how the addition of Wei-Chung Wang is its biggest test.

Building the Brewers Part 1: Financial flexibility key to success
Building the Brewers Part 2: Development can be tough on a player
Miller Park's high-definition scoreboard over the centerfield wall can illuminate even a bright day, and Wei-Chung Wang couldn't help himself. He slung his torso over the bullpen wall and craned his neck to peek at the graphics flashing across its 1,500-square foot face.
It's a $10 million piece of equipment, the scoreboard. Wang's left arm could be worth 10 times that.
It's why he sits quietly in the bullpen, part of the long game of the Brewers development model. Wang has worked just three times through the first month of the season, for three innings. It's a gamble, to have him there, essentially stashed away on baseball's best team. But the payout could help the franchise remain competitive for years to come.
"You have to be a certain degree of a non-traditional thinker," said Brewers vice president/assistant general manager Gord Ash of the organization's developmental mindset. "I think that ability to see the big picture with a guy like Wang is part of that."
A change in thinking
It wasn't long after Jason Kendall grounded out to end the 2008 National League Division Series at Miller Park that things began to change for the Milwaukee Brewers. It was the most successful season in 15 years for the organization, and its first appearance in the postseason since 1982 – but even the best laid plans need to have alternate routing.
The on-field product was going to evolve, for sure, as CC Sabathia would likely move on for far greener pastures. But the off field direction of the organization was going to be diverted as well.
Special assistant to the general manager for player personnel (and former director of scouting) Jack Zduriencik was plucked off Doug Melvin's staff to become the general manager of the Seattle Mariners. Bruce Seid was then named the director of amateur scouting and Zack Minasian was named the manager of minor league scouting, as well as coordinator of pro scouting.
Lee Tunnell was hired off of Cincinnati's pro scouting staff to become the organization's minor league pitching coordinator.
"The first thing to recognize is that while you have a plan, and you must have a plan, the plan has to be flexible enough that you can adjust on the go," Ash said.
Melvin and Ash convened a pitching symposium of sorts, bringing in scouts, coaches and medical personnel to reevaluate and change how they scouted and developed pitching talent.
For all of the success the Brewers had in finding position players in Melvin and Ash's tenure, which began in 2003, they had little success with pitchers. Yovani Gallardo was a second round pick in 2004, but after him the results weren't mixed – they were bad.
Over six drafts, from 2003 to '08, the Brewers gained little out of the top 31 pitchers they drafted.
None of the club's top five pitching selections in 2003, '05 or '07 reached the majors. Mark Rogers (first round, 2004) eventually made it to Milwaukee, but he was besieged by injury and is no longer with the organization.
Jeremy Jeffress (first round, 2006) and Jake Odorizzi (first round, 2008) helped bring Zack Greinke to the Brewers in 2010, but none of the other nine top pitchers selected in those drafts reached the majors.
At this symposium, there was one question the organization asked itself: what aren't we doing?
"We went right through the whole thing," Ash remembered. "We went back to square one. We looked at the type of pitchers we were drafting. We tried to put together a kind of a protocol of what we were looking for."
There was a focus on short term and long term health, and a mentality of the players being scouted. Pitchers had to command their fastball, and be aggressive in the strike zone. There wasn't a prearranged marriage to velocity, or a desire for a specific mechanic, either. It was a vision Ron Roenicke and his pitching coach, Rick Kranitz, ascribed to as well when they were brought in prior to 2011.
"Pitching takes all shapes and forms," Ash said. "You have to have an open mind and as long as guys can throw strikes and be aggressive with the way Ron likes them to be, then they're going to fit into our program."
The new model has worked. Since 2009, the Brewers have had a far greater rate of success rate.
In such a short developmental window, 2009 picks Hiram Burgos and Mike Fiers and 2010 selections Jimmy Nelson and Tyler Thornburg have already pitched in Milwaukee.
Jim Henderson and Brandon Kintzler were free agent acquisitions in 2009. Marco Estrada was claimed off waivers in 2010. Johnny Hellweg was acquired in the summer of 2012. Alfredo Figaro (free agent) and Michael Blazek (trade) were brought in in 2013.
"We built what we thought was the perfect model and we went from there," Ash said.
It all led to the flyer taken on Dec. 12, 2013 in the Rule 5 Draft, left-hander 47 1/3 innings off Tommy John surgery.
Page 1 of 2 (view all on one page)
Next >>
Facebook Comments
Disclaimer: Please note that Facebook comments are posted through Facebook and cannot be approved, edited or declined by OnMilwaukee.com. The opinions expressed in Facebook comments do not necessarily reflect those of OnMilwaukee.com or its staff.