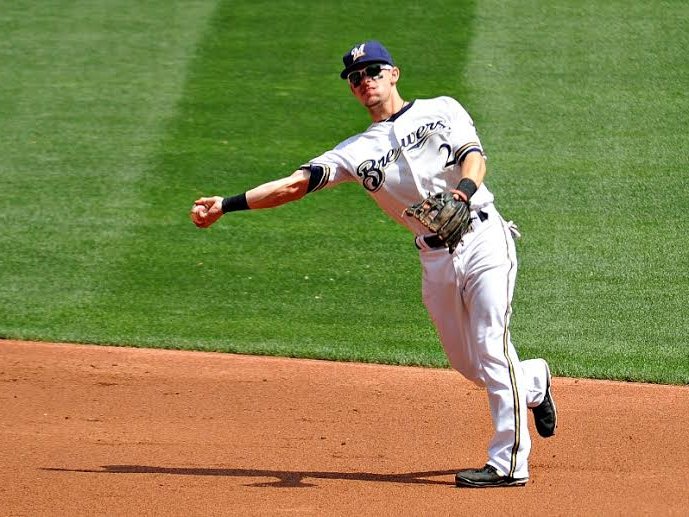 Gennett passed his test, ready for more
Sitting next to Norichika Aoki was always a little bemusing to Scooter Gennett, the Milwaukee Brewers rookie second baseman who took two tours with the big league club in 2013. He would swing around in his chair and watch as Aoki handled his personal group of Japanese media on a daily basis, pre- and post-game.
Gennett would joke about picking up some Japanese, and he was quick to move out of the way if local media wanted to join in the scrum.
The 23-year-old from Sarasota, Fla., was always accommodating, always smiling – and always ready to play. The eye black was applied early. The wrists were taped tightly. His glove always seemed within reach.
If a game suddenly broke out in the bowels of Miller Park, or a run was given to the first player on the field, Gennett would be the first guy bolting out of the clubhouse, in full uniform.
Fans see that energy, too. It's public facing, but the key is that it's not just a show. Gennett carries it with him away from the public, and it burns within, too. He wants to be great. He believes he has the talent to be just that, and he is determined to learn what he can to maximize it.
The downside such bubbly energy however is that it can build up, creating a heavy pressure.
Gennett felt the weight of it during his first 20 games with the Brewers, where he hit .217 while platooning with former All-Star Rickie Weeks. It took him seven plate appearances to get his first hit. It took 21 trips to the plate (over eight games) to have his first "big" game and hit his first home run, a 3-for-5 effort at Cincinnati.
On the surface, the struggles seemed predictable. Here was the rookie, his first trip through the majors, going from starting every day to platooning with a respected veteran.
But it wasn't predictable for Gennett.
"It was (hard)," he admitted. "I've failed in the minor leagues for long periods of time. I went two months in high A hitting .220. I went through some failures in the minor leagues which I was fortunate to go through and physically and mentally learn how to deal with them.
"But at the big league level, when you go through those failure, especially when you're first getting called up it's probably the worst time you can fail. And you know that as a player, so that pressure continues to build in a way, or it's easy to let it build up. With that too, everyone knows what you're doing at the big league level."
What was important to him however was that he was the same guy as he had been when things were going good in the minor leagues – same energy, same smile.
"That's your true character," he said. "When you're going bad, however you react is how you truly are and the same thing when you're going good. Usually people that deal with those things good you really can't tell if they're going good or going bad. That's a goal we have to have."
That mindset helped him deal with a demotion back to the minor leagues after appearing as a pinch hitter against the Chicago Cubs on June 26. He was back a little over a month later when Weeks tore his hamstring and was lost for the season.
The initial struggles in Milwaukee and subsequent demotion was a blow to his ego in the moment, but after the fact Gennett realized it was what he needed.
"At the time, I probably couldn't have said that," he said. "Obviously as time has gone on and how things have worked out, I'm fortunate to have gone through that and the second time I got called up I really appreciated it even more."
He also took advantage of the time. From Aug. 2 through the end of the season (50 games, 45 starts), Gennett hit a robust .353. He didn't walk much (just seven) but he also only struck out 34 times in 180 plate appearances for a .383 on base percentage. He also showed some pop with 16 extra base hits.
It was important to him that he finally proved he could hit in the majors, and over an extended period of time.
"It was really important, just from a confidence level. It's huge," he said. "When you don't do that when you start out in the big leagues, you're like geez, you start questioning am I going to get sent home the next day? Can I even perform up here? Do they really think I'm any good? You start thinking about those things. It's impossible not to.
"So, really, the good players get out of it quick, they do show what they can do and they learn how to get back. That was the thing with me. I'm not saying I'm a great player, I'm just able to get back to what I know I can do best and trust that I can hit and if I do what I can do I can go out there and compete and not looked overmatched.'
Gennett played well enough down the stretch that Brewers general manager Doug Melvin had to address his second base situation heading into 2014. Weeks should be healthy, but the 31-year-old (who will make $11 million) was hitting just .209 with 105 strikeouts in 399 plate appearances when he was injured.
And that was on the heels of a .230/.328/.400 season in 2012 that required a hot second half just to reach those numbers.
"I don't think that's a concern," Melvin said of the pair. "It's not something we're going to worry about. Knowing Scooter can play the way he did, he probably has an edge right now. Rickie's got to come back from his injury. Rickie will be in spring training and will be out there to try to get back playing time. Any athlete doesn't want to give up his position. Rickie won't want to give it up. That decision will be made in spring training. There's nothing in the offseason for us to determine that. It'll be in spring training when they're both out there and can play."
When discussing the second base situation, and specifically Weeks' injury, Gennett's smile waned. He legitimately felt bad for his teammate, a player who was a central figure in two Brewers playoff appearances with 140 career home runs and 401 career RBI.
"It's never something you ever wish on anyone to get your opportunity to show what you can do, but that's how it worked out," Gennett said. "Then next year we'll come into spring and if we're both still in this organization, which I see at least one of us still being in the organization, then, we're just going to have to do what they want us to do and we're going to have to adapt together.
"If that's the case, then we're both going to go about it the right way. He's a great, great guy, a great teammate, great clubhouse guy. He deals with failure probably better than anybody I've ever seen, better than probably ever would be able to. So the respect and the time he has in this game is really incomparable to anybody else that I've been around. He's going to do whatever they ask and he's going to do a good job at it and he's going to handle himself the right way and I just hope I can match him and do the same thing."
Regardless of what is thrown at him in the spring, Gennett will be ready. To him, he's already faced down the biggest hurdle of his career and not only leapt over it, but left it far in distance. He feels that if manager Ron Roenicke asks him to platoon again with Weeks in 2014, he'll be better prepared for that role and will succeed immediately. The same goes if he's once again put in the lineup every day.
"It was a true test of my mental strength and the type of person I was," he said of up-and-down summer. "I'm proud of myself, of how I dealt with it and I feel like I passed the test."
Facebook Comments
Disclaimer: Please note that Facebook comments are posted through Facebook and cannot be approved, edited or declined by OnMilwaukee.com. The opinions expressed in Facebook comments do not necessarily reflect those of OnMilwaukee.com or its staff.