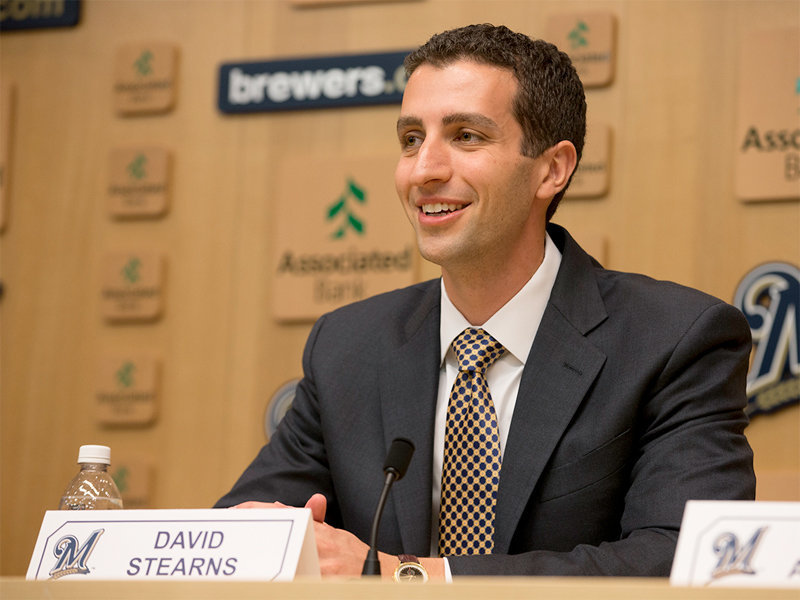 A Brewers fan guide to the MLB Winter Meetings
Whoa, hey, baseball stories in the winter? What is this, St. Louis?
Here in Wisconsin, we normally don't care a great deal about the Winter Meetings, MLB's bigwig get-together held annually at a ritzy resort in some warm-weather clime, because we have the Packers to occupy our attention. That was almost not the case this year, but thankfully Green Bay mounted the Motown Miracle in Detroit and, deservingness be damned, virtually assured itself another playoff appearance.
Still, the Winter Meetings, taking place this week in Nashville, Tenn., are a big deal. Players will be traded, executives will be quoted, hundreds of millions of dollars will be transacted and, more than likely, the Marlins will do something stupid. So, news is going to be made; maybe even by the Brewers!
Milwaukee embarks on its rebuilding journey with a new captain at the helm of its personnel department. David Stearns is now the general manager, the baby-faced 30-year-old replacing the mustachioed Doug Melvin and exemplifying the team's youth movement after a 68-94 season.
What will they do? What should they do? And why is everyone saying hot stove all the time? Here's a preview of where the Brewers stand and what they might do during this week of baseball diversion.
What they've already done
The Brewers made some moves well before the Winter Meetings when they traded three times in three days a few weeks ago. First, they dealt veteran reliever Francisco Rodriquez to the Tigers for 20-year-old infielder Javier Betancourt and a player to be named later; then they acquired infielder Jonathan Villar from the Astros for pitching prospect Cy Sneed; and finally, they swapped infielder Luis Sardinas for Mariners outfielder Ramon Flores.
Additionally, they saw reserve outfielder Logan Schafer sign with the Nationals, inked infielder Hernan Perez to a minor-league contract and removed utility man Elian Herera from the 40-man roster. Milwaukee tendered offers to shortstop Jean Segura and pitchers Wily Peralta and Will Smith, who are arbitration-eligible players.
What they need to do
The Brewers don't have good in-house options at third base or center field. Midway through their disappointing 2015 season, they traded veterans Aramis Ramirez and Carlos Gomez for prospects.
Villar, the versatile 24-year-old Stearns liked in Houston, is a possibility, as is infielder Yadiel Rivera. Both have primarily played shortstop, but that's the organization's deepest position, so some players will have to switch. In center field, Milwaukee gave good looks to journeyman Shane Peterson and power-hitting prospect Domingo Santana last year, but neither is likely the long-term answer. That answer is probably Brett Phillips, who's still a couple years away from the majors.
Besides those two positions, which almost surely will be addressed in some way, what the Brewers need to do is be smart, patient and economical. That shouldn't be a problem with their Harvard-educated GM stressing the importance of the almighty process and an owner, Mark Attanasio, who seems to be on board with the new direction after years of spending an outsized amount for the market size in order to contend.
What they want
Prospects. Stearns has reiterated the team's foremost desire is "young, controllable talent." After several seasons of trying to compete for the postseason, of signing free agents that blocked young players and trading prospects for veterans, the Brewers' farm system was depleted. Ranked 29th before the 2014 season by Baseball America, it was No. 19 going into last year, and every move Milwaukee's made since then has been to improve its minor-league depth.
There is talent there now – shortstop Orlando Arcia is considered one of the best prospects in baseball, and 2015 trades for Phillips and pitcher Zach Davies helped a lot – and the Brewers will look to acquire more this week, particularly if there are pitchers and corner infielders to be had.
Who they might trade
The way to get young talent, of course, is by dealing veterans. Every player on Milwaukee's roster is trade-able, including once-untouchable superstar Ryan Braun and fan-favorite catcher Jonathan Lucroy.
(Photo: David Bernacchi)
Braun, the embattled 2011 MVP, returned to form with a .285 average and 25 home runs last year. Though it would have never seemed possible a few years ago, he is incontrovertibly on the trading block. Will any team pay top dollar for an injury-prone player who was suspended in 2013 for PEDs and now begins a five-year, $105 million contract extension?
Lucroy had a down offensive year in 2015 (.264 batting average, .326 on-base percentage, .391 slugging percentage), but he normally brings offense at a premium position. He's on an incredibly club-friendly contract ($9.25 million over the next two years) and would be a respected veteran presence in a young locker room. But, alternatively, his value might never be higher than it is this offseason.
Adam Lind had a good year, batting .277 with 20 homers and a team-high 87 RBI. The Brewers exercised the $8 million option on Lind last month, but there should be strong interest in the first baseman after a healthy and productive 2015.
Jean Segura may not have much worth left after two-and-a-half bad seasons in Milwaukee. But he plays plus defense at an important position, one at which the organization is plenty stocked. Perhaps another club will see Segura, who put up a combined .615 OPS over the past two years, as a reclamation project that needs a change of scenery. The Brewers no doubt hope that possibility exists.
Will Smith, who's going to receive a pay raise in arbitration, should attract some suitors, as the left-handed reliever had his best season in 2015 with a 2.70 ERA in 76 appearances.
Khris Davis and Scooter Gennett, two homegrown young players that were groomed to take over in left field and at second base, respectively, could also be dealt. The defensively disinclined Davis helped his value with a 27-homer campaign, while Gennett followed up a solid 2014 with below-average 2015 numbers (.264/.294/.381). If either can yield prospects, either could be traded.
Who they won't miss
After two strong seasons in Milwaukee, Kyle Lohse was one of the worst pitchers in baseball last year. The veteran went 5-13 with a 5.85 ERA and was eventually moved to the bullpen to save mankind. Lohse was a consummate veteran and a good member of the community during his three years with the club, but the Brewers were happy to let the high-priced free agent leave.
Facebook Comments
Disclaimer: Please note that Facebook comments are posted through Facebook and cannot be approved, edited or declined by OnMilwaukee.com. The opinions expressed in Facebook comments do not necessarily reflect those of OnMilwaukee.com or its staff.