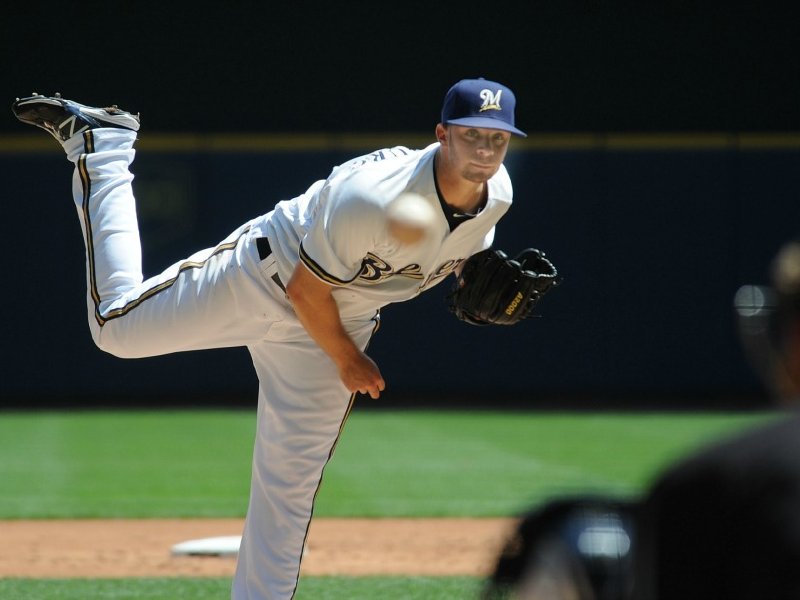 Inexperience pays off for Brewers pitchers down the stretch
Late July in Philadelphia seems so long ago now. It was the nadir of the Milwaukee Brewers season when the Phillies won three consecutive 7-6 games and extending the Brewers losing streak to seven. The series was the lowlight in a 10 game stretch that included five one run losses and a 1-9 record.
Now, the Brewers enter the final 15 days of the regular season with a chance to claim one of two wildcard spots.
July, indeed, seems so long ago.
Of the many reasons for the turnaround since a low water mark of 54-66 on Aug. 19 has been the performance of an unlikely group, a band of minor league call-ups not many could have predicted being a force in a playoff drive.
It's a melting pot of system gems, damaged goods and castoffs. So far, it's been a sweet potpourri. The thread that connects them all, however, is a decided lack of major league experience. Yet that hasn't mattered much.
"They're doing real well," manager Ron Roenicke said. "We're at this point where we are because of what the young guys are doing. We got the opportunity to see them but they're delivering."
Here is the group:
Jim Henderson, 29: Has appeared in 26 games, and has now been pushed to 69 2/3 innings. The last two years, he's thrown 61 innings in the minors. After being converted to a reliever, his career high in innings is 71 back in 2007.
Mike Fiers, 27: Has only appeared in 22 major league games (19 starts). He has thrown 169 1/3 innings. His previous high in innings was last year, when he tossed 128 between Milwaukee, Class AAA Nashville and Class AA Huntsville.
Brandon Kintzler, 27: Has appeared in six games, and has thrown 60 2/3 innings. He was injured last year after 15 2/3 innings. He tossed 56 1/3 innings in 2010. He has appeared in just 22 major league games, all with the Brewers.
Josh Stinson, 24: He has appeared in two games so far with the Brewers and 16 total in his career. He is up to 146 2/3 innings this year after throwing 109 last year and 138 1/3 in 2010.
Wily Peralta, 23: Has appeared in four major league games (three starts), tossing 167 2/3 innings so far this year. He threw 150 2/3 last year between Nashville and Huntsville. In 2010, he split time between Brevard County and Huntsville, throwing 147 1/3 innings.
Tyler Thornburg, 23: Has thrown in six games (two starts). He's thrown 112 2/3 innings this year, but did miss time due to arm soreness. He threw 136 2/3 innings between Brevard County and Wisconsin last year.
Mark Rogers , 26: Rogers has been shut down for the season, but the fifth pick of the 2004 draft was a key contributor in the Brewers resurgence despite his inexperience, going 3-1 with a 3.92 ERA in seven starts. In 2010 he appeared in four other major league games.
Part of the reason for their collective success is because it is, well, collective.
"It's definitely made it easier for me just because I was kind of the new guy to the organization," said Stinson, who the Brewers scouting staff plucked off waivers from the New York Mets on April 4.
"I met Kintzler and Thornburg and some of the other guys when I was playing during the season so I kind of got in the door through them meeting guys and figuring out who is who. I think it helped me a lot."
Added Kintzler: "It helps a little bit. Not all the focus is on you. There's a bunch of focus on everyone. It kind of eases it a little bit and we can kind of help each other out with how to prepare for the next outing. We just push each other."
There has been an added benefit to their performance as well – the Brewers have been able to get extended looks at each one in pressure situations. There is no thin air of Arizona inflating batting averages, or strong arms off an offseason to take advantage of slow bats.
Meaningful September baseball is the best evaluator.
"The young guys, it's important what they do right now because I don't like to go into spring training. In spring training you get fooled a lot," Roenicke said. "I like to see what's going on here with us back in it now, how do they handle the pressure, how do they handle it when we go up against real good teams. All that shows us what this guy is going to be in the future."
Each of those pitchers knows this, but relishes the opportunity.
"Those guys are throwing the ball pretty well, too," said Peralta, who has gone 2-0 with a 2.14 ERA in his four games this season. "Fiers has pitched good. Rogers, Thornburg, we're trying to do the best we can and trying to help this team and see if we can go to the playoffs."
Despite the group's collective lack of experience, more innings on their arms than ever and an intense playoff race, none of them feel any extra pressure, however.
In fact, the collective feels just the opposite.
"It's better to be chasers than be chased," Kintzler said with a smile. "There's no pressure when you're just chasing everyone. We can have fun with it. Obviously two months ago no one was even talking about us, so why not have fun with it? You never know what will happen."
uewrvsdytsyebeytexwatesxyqueuyfy
Talkbacks
TosaJim | Sept. 19, 2012 at 12:51 p.m. (report)
Young, hungry ballplayers...all they need is a chance. When you have a few million in the bank sometimes the fire in your belly diminishes. :) This team underachieved all season. Injuries happen...but I saw no excitement or leaders on that team this year. And when is Lucroy going to tell us what he really did to his hand? :) Dropped a suitcase on it?...come on. At least be more creative.
Facebook Comments
Disclaimer: Please note that Facebook comments are posted through Facebook and cannot be approved, edited or declined by OnMilwaukee.com. The opinions expressed in Facebook comments do not necessarily reflect those of OnMilwaukee.com or its staff.