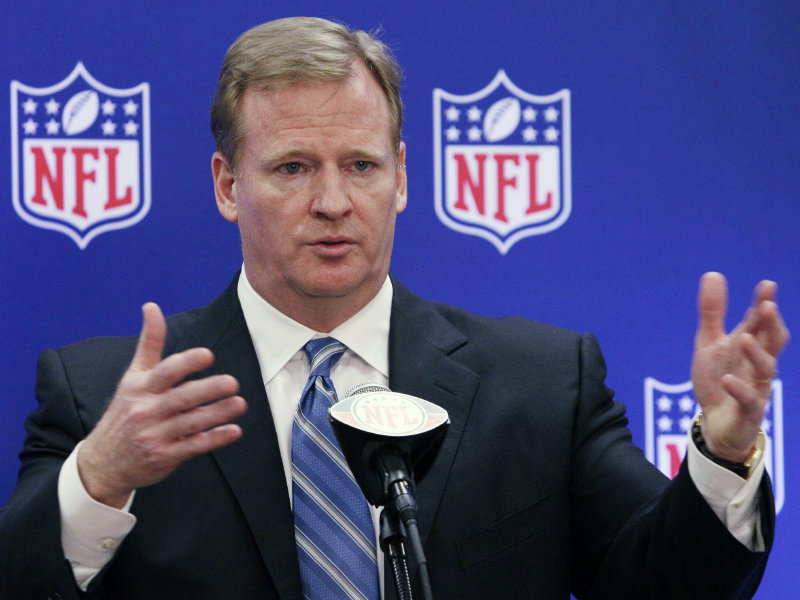 Enough is enough
Podcast:
FOX football officiating insider Mike Pereira on the NFL's referee lockout
Subscribe
to OnMilwaukee.com Podcasts
It stopped being about money a long time ago. Now this is strictly a power play.
NFL commissioner Roger Goodell has a difficult job, much more so than his predecessor, the milquetoast Paul Tagliabue. In comparison, Tags had it pretty good. His only charge? Don't screw it up.
After all, Pete Rozelle did all of the NFL's heavy lifting. He battled and eventually merged with the AFL; he created the Super Bowl; he stared down the upstarts of the WFL and USFL; he developed and implemented Monday Night Football, NFL revenue sharing, and instant replay.
But for all of the great things Rozelle did for professional football, concern for players' well-being may not have been at the top of the list. After legends like John Mackey, Mike Webster and Dave Duerson all suffered what would turn out to be fatal injures from playing the game, the question of what Rozelle knew and when he knew it has been asked.
While that will be for either a jury or a team of negotiators to decide, it is now Goodell's mess to try to clean up. His charge is to not only continue to grow the game of football, but to also protect the shield by demonstrating that he has player safety at the forefront of the decisions he makes.
Defensive players say that Goodell is trying to change the very fabric of the game by doling out fines at a record pace for hits on offensive players deemed to be excessive. However, with more than 3,400 plaintiffs in 135 separate player-injury lawsuits threatening to cripple the NFL's finances, the commish has to demonstrate that he is on top of it.
Part of "being on top of it" right now includes his zero-tolerance policy on the New Orleans Saints bounty scandal. Never before had a coach been suspended for a full season, nor had a general manager been sent away at all. And while the commissioner has ultimate authority over coaches and executives, as it pertains to player discipline, he has their union that he must deal with.
As you know by now, the year-long suspension of linebacker Jonathan Vilma, and the partial season suspensions of Scott Fujita, Anthony Hargrove and Will Smith were overturned on appeal. And while the matter is again being reviewed by the Goodell, he lost a battle not only in the court of law, but also in the court of public opinion because the evidence that he claims to have appears, to the naked eye, flimsy at best.
But while that matter seems to be separate to the dispute between the NFL's locked out officials and the owners, it may provide us some insight into the insipid, embarrassing and infuriating real reason we are forced to endure the gross incompetence of the replacements the NFL has saddled all of us with.
"I think it is getting towards (that)," former NFL Director of Officiating Mike Pereira says of Goodell's rigid stance to save face amid the overwhelming clumsiness of his zebras to implement basic rules of the game.
According to Forbes, the total value of all 32 NFL franchises is $35,415,000,000. The reported dollar difference in salary and benefits between the owners and the officials is about $10 million per season.
Ten million dollars adds up to $312,500 per team. There is not one single member of the Green Bay Packers that makes less than $465,000. Not one.
In terms of a percentage, $10 million is 0.00028 percent of the total value of the NFL.
This is like digging in your heels and refusing to budge off of buying your dream car for $7 more than what you are trying to get the dealer down to. After a while you just want the dealer to cave on principle so you can feel like you got one over on him, irrespective of how actually miniscule that victory is.
Welcome to today's NFL.
The owners – i.e. Goodell – are arguing over nothing more than wounded pride as Rome is burning all around them. Even those sympathetic to the owners admit that this is nothing more than the man trying to keep the workers down just to prove that he can, damn the business sense of the dispute.
Page 1 of 2 (view all on one page)
Next >>
Facebook Comments
Disclaimer: Please note that Facebook comments are posted through Facebook and cannot be approved, edited or declined by OnMilwaukee.com. The opinions expressed in Facebook comments do not necessarily reflect those of OnMilwaukee.com or its staff.