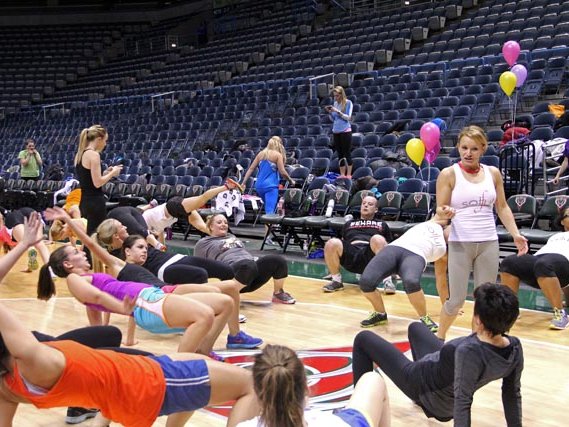 Buck-Kickin' Boot Camp brings sweat and energy to the Bradley Center
Standing at center court in the BMO Harris Bradley Center, Fitness trainer B.J. Gaddour implored: "make your glutes glorious."
Nearly 250 men and women in shorts, tights and t-shirts responded Thursday night with a level of enthusiasm seldom seen from the professionals who do their athletic work on the same hardwood, (Energee dancers excepted).
Gaddour, an online fitness phenom from Milwaukee, pumped up the first ever Buck-Kickin' Boot Camp, an event organized by the Lululemon Shop in the Third Ward. It was an oversized version of the fitness Boot Camps that have transformed workouts from drudgery to party over the last decade.
With no equipment, just their bodies, the mostly female and mostly 20-something participants rotated in groups through 10 stations of 60-second intervals. For an hour, they dripped sweat on the court, challenged by the series of pushups, lunges, planks, burpees, squats and hops that have become the industry standard for burning calories and boosting metabolism.
DJ Ramsey, from Milwaukee Airwaves cranked out the dance and hip-hop tunes to push the tempo and 10 local trainers shouted encouragement and coached proper technique.
"You were constantly feeling the burn," said Sini Goodman, of Milwaukee, a self-described "champion of the universe."
Goodman was part of a jumping, bending and lunging crowd that covered the court from end-line to end-line and spilled into the bench areas. The turnout met the expectations of Karen Holton, the Lululemon store manager who created the event as one of the shop's "Big Audacious Hairy Goals" to build up the fitness community.
It showed Milwaukee no longer matches its reputation as a "lazy city," she said.
Holton said the focus on fitness has driven a significant increase in the number of gyms, studios and personal training services in recent years. And the crowd proved there's room for more.
Gaddour has been a fitness instructor for seven years and generated a national buzz with his videos and work with Men's Health Magazine. He too has noticed a change in attitude and motivation in his home city.
"It's a crowd that gets it, that you need to exercise," he said. "It's just great to have this many people of different fitness levels all working out together."
Gaddour called a workout his "performance enhancing drug," something that energizes him for the whole day. It's not just about creating a beautiful body, but creating a better and healthier lifestyle, he said.
It's the same mindset that has Karie Brandmeier, of Milwaukee, working out in some fashion six days a week. She scrambled for space on the crowded court, and fulfilled her desire for something new in her routine.
"It was crowded, but you don't always work out in a group and it keeps you motivated," Brandmeier said.
It also exposed the fitness-minded with the group of personal trainers seeking to generate repeat customers.
As Gaddour said, "You hope it's not the only workout they do in 2013."
Facebook Comments
Disclaimer: Please note that Facebook comments are posted through Facebook and cannot be approved, edited or declined by OnMilwaukee.com. The opinions expressed in Facebook comments do not necessarily reflect those of OnMilwaukee.com or its staff.