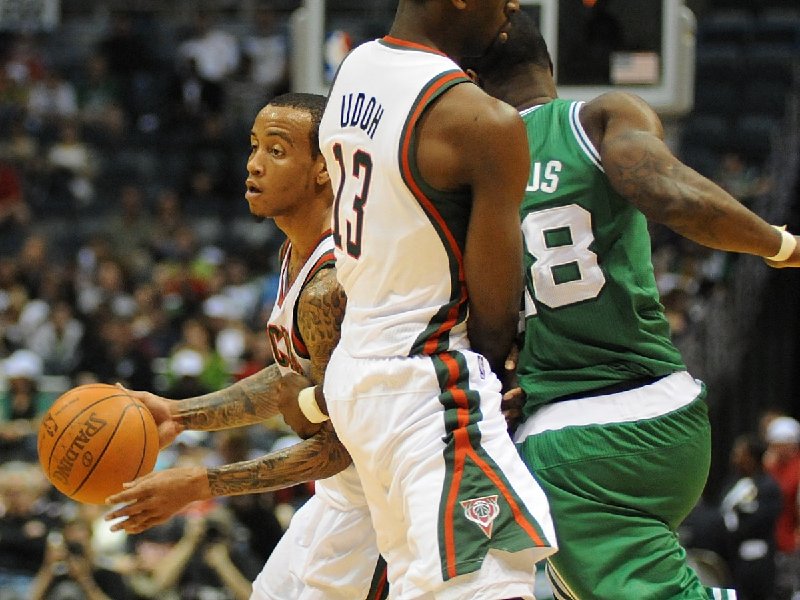 In first full season with Bucks, Ellis vows to sacrifice
ST. FRANCIS – In Monta Ellis' first public appearance of the 2012-13 NBA season last week, he eschewed the microphone in front of him. Eventually, he was coaxed behind it for television purposes but the posturing was purposeful – you'll be able to hear him loud and clear.
"(I'll) do whatever I need to do to help this team win," he said. "If I have to take sacrifices, I have to take the sacrifice. Pretty much with me, it's more focus on winning. However, whatever it takes for me to get this team to that level of being a playoff team, I'm willing to do it."
Ellis, who will turn 27 on Oct. 26, enters the season as perhaps the Bucks' biggest question mark.
It's not because of his size. Bucks general manager John Hammond noted last year that at 6-feet, 3-inches, Ellis is a little bigger than he looks. This is his eighth year in the league, and he has a career scoring average of 19.5 points per game. His height is definitely not an issue.
It's not because of the position he'll play. Brandon Jennings is the point guard, Ellis the two.
No, the question – as it was when he was first acquired from Golden State along with Ekpe Udoh for Andrew Bogut – is whether he can share the ball not just with Jennings, but with others.
It's a notion Ellis railed against immediately upon his arrival in Milwaukee last spring, noting whenever he got the chance that he was averaging six assists a game and had averaged over five the two years before.
To make that point even further, Ellis often deferred. His shots per game dropped from 18.6 in Golden State to 16.0 over his 21 games with the Bucks.
His scoring breakout came against the Atlanta Hawks, his seventh in a Bucks uniform, with 33 points. Yet in 10 games, he scored 15 points or fewer.
"It was different, with me coming from Golden State and coming to the style of Scott Skiles," Ellis admitted. "Me, I can adjust to any situation it is and that's all I have to do. I have to make an adjustment. As far as being here, I love playing for Scott Skiles. Love it. I believe last year he made more adjustments to me, so it was an easier transition for me as I got comfortable being here."
What makes this season interesting – and Ellis' insistence that he will do whatever it takes to win games – is that this season is almost like a contract year for the former second round pick out of Lanier High School in Jackson, Miss.
Ellis signed a six-year, $66 million contract with the Warrior before the start of the 2008 season but the last year of that deal – next year – has an early termination clause.
While the option is purely Ellis', no doubt he is looking for one last, large payday. And under the collective bargaining agreement, the Bucks are the team best suited to offer him the most years and the most money.
"I just approach the game of basketball as being a professional, just to come with it," he said. "I was traded here, I'm still playing basketball, I've just got other teammates. I've got great teammates here and it's going to make my job a whole lot easier. I love being here. I love playing with my teammates. I love the coaching staff. I love the organization. All I want to do is play basketball right now."
What does that mean, exactly?
"Whatever it takes," he reiterated. "If that means I have to sacrifice. If that means me having to go from averaging 20 points to 15 points. Whatever it takes. If it means getting my assists up to nine or 10, whatever it takes for this team to win, I'm willing to do it. My approach to this training camp is 'win.' That's all I'm going to be to my players this year – is just win – and we all have to come together as team to do it.
"It's not an individual guy. This is not Monta Ellis. This is the Milwaukee Bucks. At the end of the day, if we lose, everybody's accountable for it. The only thing I can do is lead by example, address issues when they need to be addressed and just play basketball."
Facebook Comments
Disclaimer: Please note that Facebook comments are posted through Facebook and cannot be approved, edited or declined by OnMilwaukee.com. The opinions expressed in Facebook comments do not necessarily reflect those of OnMilwaukee.com or its staff.