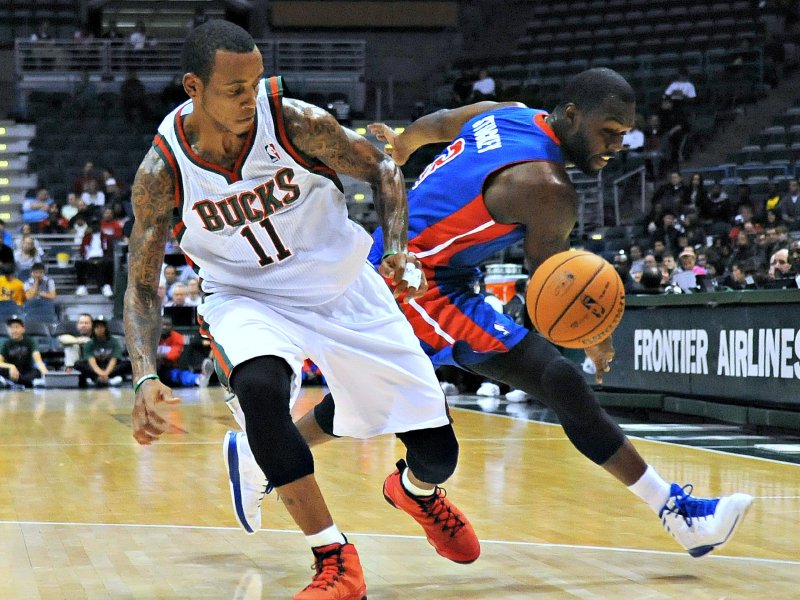 Bucks at the break: Looking back and forecasting the future
The NBA All-Star break begins today and for the ninth straight season, no member of the Milwaukee Bucks will participate in the league's showcase game.
The Bucks don't suit up again until Tuesday, and through the first 51 games of the season they have compiled a 26-25 record under two head coaches and sit in eighth place in the Eastern Conference playoff standings.
The team was 16-16 under Scott Skiles and has gone 10-9 under Jim Boylan. The team climbed to as many as five games over .500 under Boylan but the team hit a wall leading into the break, losing six of eight beginning with a 104-88 loss to Chicago on Jan. 30.
"We've had peaks and valleys and that's not a good thing," Boylan said. "Too extreme. We seem to get on a nice roll and play really well for a while and then we dip back down again and go pretty low down. What you want to try to do is play at some certain level as much as you possibly can."
Six days remain until the 2 p.m. trade deadline next Thursday, and perhaps the team will have a much different look then but until moves are made, we have to assume this is the team that will try to make the playoffs for the just the second time since 2006.
"I like where my team is at right now," Boylan said. "The guys are working hard, we've got a good team spirit."
Starters
At the start of the season all anyone wanted to know about were how Brandon Jennings and Monta Ellis would function together. It was a question the pair – and Skiles – grew tired of long before the first game even began. Yet, 51 games in, those questions remain.
Jennings set a goal of making the All-Star team and at times, played like one. Yet on the whole Jennings has struggled shooting just 39.5 percent from the field. Like the team, Jennings ended the first "half" of the season on a tremendous skid, shooting just 32 percent since Feb. 1 but from Jan. 8-30 he averaged 21.7 points and 6.6 assists per game while shooting 42 percent.
He began the year as one of the league leaders in steals, but that level of production has also diminished.
Ellis is having a horrific season from the field with a shooting percentage that has barely cracked 40 percent and a 3-point percentage that has been below 25 percent for most of the season. He's only getting to the line 4.5 times per game as well resulting in an 18.4 point per game average and player efficiency rating that are his lowest marks since 2008-09.
The pair insisted they're not worrying about trade rumors or their contract situations and are only looking to a renewed emphasis on bringing energy to the court coming out of the break.
"From here on out, we need to play every game like it's our last, like (Philadelphia) is one game behind us and see if we can turn it on and make a push the second half," Ellis said.
No player benefited from the departure of Skiles greater than Ersan Ilyasova. Relegated to a reserve role and spotty minutes in the first 32 games of the season, Ilyasova has looked more like the player who earned a multi-year contract extension late last year over the last 19 games, averaging 14.9 points and 7.2 rebounds on 48 percent shooting both from the field and behind the 3-point line.
Luc Mbah a Moute has once again battled a series of nagging injuries, appearing in just 36 games. Perhaps the leg injuries have contributed to by far his worst performance from the field (41 percent) in his career, but he continues to play stellar defense.
Larry Sanders began the year in a reserve role but has blossomed as a defensive difference-maker, leading the league in blocks (3.2). His offensive game has evolved as well, becoming a factor around the rim and the team's most efficient regular so far (18.4 PER). He is also rebounding at a much greater rate.
Unfortunately, Sanders has missed the last three games after suffering a back and hip injury against Utah on Feb. 6, and it's unknown how serious the injury is and what it could mean for him the rest of the year.
"That has had an effect on us," Boylan said of Sanders' absence. "We're anxious to get him at."
Bench
This group has changed often, beginning with Skiles' varied rotations and due to injuries of late. Mike Dunleavy has been the most consistent performer, averaging 11.2 points per game. He's shooting a career-high 43.8 percent from behind the 3-point line. Beno Udrih has provided a spark when he teams with Jennings or Ellis, but like Mbah a Moute he's having a hard time staying completely healthy.
Ekpe Udoh has been disappointing, shooting just 39 percent from the power forward spot. On the whole, the results out of veterans Samuel Dalembert and Marquis Daniels have been mixed, though once Sanders was hurt Dalembert provided a huge lift inside.
Since Jan. 29, the veteran center is averaging 12.7 points, 9.3 rebounds and 2.3 blocks per game. He's had six double-doubles in that nine game stretch.
"As you're playing more you get into game shape," Dalembert said. "The reaction, the timing, things like that. When you're a defensive player, the rebounding, the timing – that's what I've been working on lately. Slowly and surely I'm getting those things back."
Drew Gooden and Joel Przybilla have been non-factors.
Young players
First round draft pick John Henson has showed flashes of brilliance with three double-doubles, but he has struggled to find consistent playing time in a crowded front court.
Fellow rookie Doron Lamb suffered a setback with an elbow injury at the start of the year, and has also had a hard time seeing the floor. He has played well when given heavy minutes with the Bucks' NBA D-League affiliate in Ft. Wayne, Ind.
Tobias Harris seemed poised for a Sanders-like breakout after an impressive summer and earned a starting job out of the gate as Mbah a Moute recovered from an injury, but the 20-year-old hasn't seen much of the court since Nov. 30 loss to Minnesota. He's played just two games in which he's logged more than 10 minutes since then.
Looking ahead
There will likely be some changes to the roster by the trade deadline – but it's unknown how drastic they will be. Ellis and Jennings are pieces that could be moved, along with Dalembert and Gooden (for contract matching purposes).
Prior to the deadline, the Bucks will come out of the break with a road-and-home back-to-back against Brooklyn on Feb. 19-20. The team is just three games behind the Nets in the loss column for the fourth seed and has proven it can reach the postseason with wins over Indiana, Chicago, Boston and Miami. The Bucks also have a nice four game cushion over Philadelphia for the eighth playoff spot.
"We need to take this time to recharge our battery a little bit," Boylan said. "I feel like we're a little low right now. Our energy level is not where it needs to be and then we come back and we've got Brooklyn twice. We put ourselves in a great position by winning (against Philadelphia Wednesday). That's the message I sent to the team. So, let's get ourselves ready, come out of the gate ready to play starting on Tuesday."
Talkbacks
AndrewJ | Feb. 15, 2013 at 1:22 p.m. (report)
They need to ditch the Micro-Machines backcourt and move on. Mark Cuban declared earlier this year that "the bank of Cuban is open"... maybe we can get him to cash a bad check.
Facebook Comments
Disclaimer: Please note that Facebook comments are posted through Facebook and cannot be approved, edited or declined by OnMilwaukee.com. The opinions expressed in Facebook comments do not necessarily reflect those of OnMilwaukee.com or its staff.