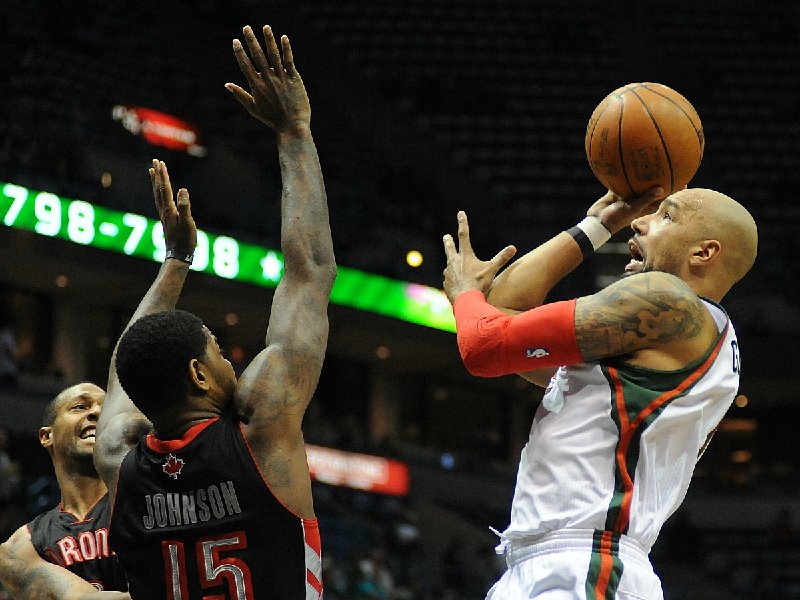 Bucks headed to chemistry class
At the end of the 2011-12 season, the clarion call coming out of Cousins Center was that the Milwaukee Bucks needed to add some length to its front court to replace Andrew Bogut.
Throughout the summer, general manager John Hammond answered that call. He signed free agent veteran center Samuel Dalembert, noted for his defensive presence more than his offensive skills. He drafted John Henson out of North Carolina, who enters the league with the same calling card.
He also added veteran center and former Buck Joel Przybilla, who averages a career 2.6 blocks per 36 minutes, and re-signed Ersan Ilyasova.
The quartet joined Larry Sanders, Ekpe Udoh and Drew Gooden on the 15-man roster, giving coach Scott Skiles as much big man depth as any team in the NBA.
In the Bucks 97-80 preseason opening win over Cleveland on Tuesday night, it was on display. Ilyasova started alongside Dalembert, but all of the big men played between eight (Gooden, Przybilla) and 18 (Udoh) minutes.
Dalembert blocked three shots in 15 minutes. Off the bench, John Henson and Udoh combined to block another three shots while Sanders had a good offensive night, scoring 10 points.
Can a rotation be determined off one preseason game?
No. But Skiles did give an early hint that on some nights, some of the bigs will play, and some will not. And that may become his biggest test of the year as well.
"It's going to be a challenge," Skiles admitted. "We talk about it every day. We've got seven big guys that have played or are capable of playing well in an NBA game. The way the game is played now, some games it's hard to get three of them out there because you have a well-intentioned game plan and then all of a sudden five minutes into it (and Indiana's) Danny Grainger is playing the four and you've got to adjust because maybe they haven't done that for a week and all of a sudden they think it's something they can get away with you so they do it and now that night you can't get your big guys into the game."
That balance, or perhaps lack thereof, is enough of a concern that Skiles addressed all of the big men about it once they all arrived at the start of training camp.
"It's something we've talked to them about," he said. "We talked about it in our meeting (on Oct. 1) and it is going to be a challenge but we've just got to come in, we've got to look at the guys, we've got to see what the guys can do and how they fit," Skiles said. "We don't want to be in a position where guys are looking over their shoulder every night and wondering when they're going to play. We've got to keep an open line of communication."
Skiles continued: "But the reality is there are going to be nights probably where there's maybe three guys that deserve to play in the game and didn't play at all or didn't get the minutes they wanted. We've got to stay with that, stay with those guys, keep them part of it. Chemistry is going to be big for us and that's one area right there we've really got to be mindful of and pay attention to."
For their part, the players admitted that finding that chemistry takes time.
"What's kind of hard for us is that we're always got a lot of new guys on the team so by the team we build that chemistry we end up at the end of the season and it's kind of too late for us," Ilyasova said. "But this season I think we've got the main core of guys who were here last year and just build up that chemistry and play together. It's all about, I believe, a good start. We gotta get a good start at the beginning of the season and we'll be competitive in the playoffs."
Of the seven big men, Dalembert and Henson are the only true "new" members to the organization. Ilyasova was retained despite hitting the open market, and Przybilla was drafted by the organization in 2000. While he hasn't played in Milwaukee since the 2003-04 season, the 33-year-old Brookfield resident most likely came in with a clear understanding of his role as a reserve and mentor.
It's also why many of those players have been working out at the Cousins Center as soon as last year ended.
"Every team needs time to click and get the chemistry," said small forward Tobias Harris, who will likely take minutes from some of those seven players. "A big goal for us this year is to get off to a fast start and start out the season well and finish well also. That's our goal as our team, and chemistry. A lot of teams don't have chemistry and some do, so as a team a lot of us been here after (Labor) Day so we were here working out an getting to know each other and getting a jump start on team chemistry."
Facebook Comments
Disclaimer: Please note that Facebook comments are posted through Facebook and cannot be approved, edited or declined by OnMilwaukee.com. The opinions expressed in Facebook comments do not necessarily reflect those of OnMilwaukee.com or its staff.