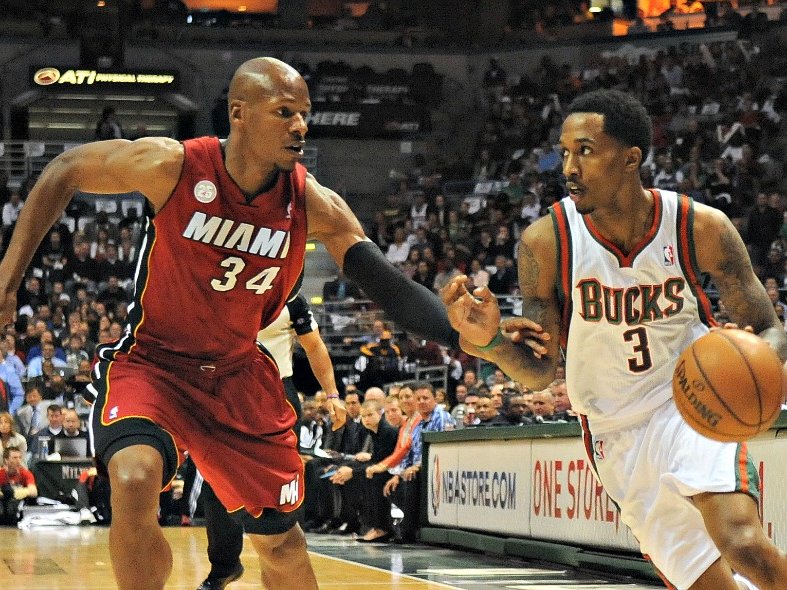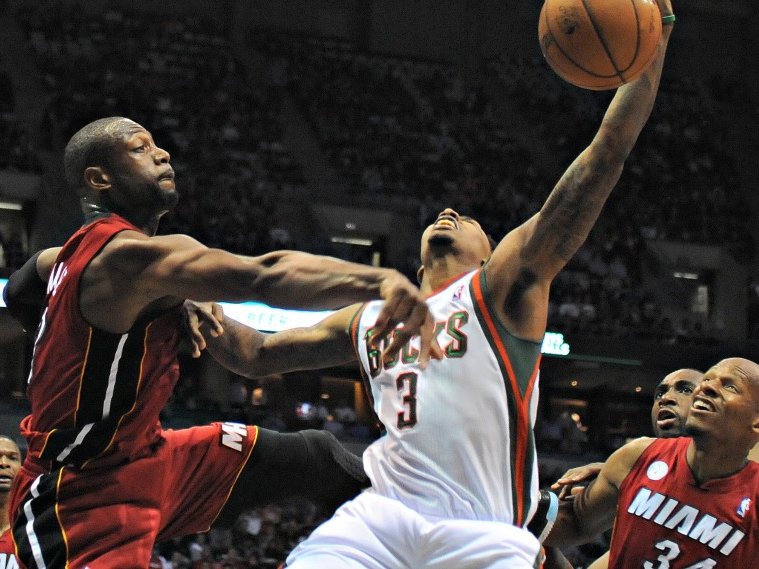 Heat bottles up Jennings in Bucks loss
Brandon Jennings peeled himself off the floor in enough to time for LeBron James to send him right back to it, committing a foul in the process, after the Milwaukee Bucks point guard had just missed a long 3-pointer.
Shortly thereafter, Chris Andersen sent the wiry guard reeling after a hard screen, which led Jennings to chase down the "Birdman" and throw an elbow into his back that wasn't noticed by officials.
Minutes later, following a Ray Allen 3-pointer that pushed the Miami lead to 90-73, the Bucks called for time. Jennings walked nearly to halfcourt, flipped his hands out in frustration, then turned back to the Bucks bench.
It that was kind of night for Jennings as the Bucks fell to the Heat 104-91 Thursday night and into a 3-0 hole in the best of seven series.
"They're really getting physical," Bucks coach Jim Boylan said of the Heat's defensive effort on Jennings. "It's playoff basketball so there is a lot more contact than in the regular season."
After a 26-point Game 1 performance, Jennings was held to eight points on 3 of 15 shooting in Game 2. Game 3 at the BMO Harris Bradley Center seemed like no better time for Jennings to reassert himself. It was a chance to cut the Heat series lead to a game and an opportunity to galvanize a home crowd that hasn't seen a playoff game in three seasons.
It wasn't to be.
Chalmers and Cole harassed Jennings into 5 of 15 performance from the field, and he never seemed to find any kind of rhythm either with his shot or distributing within the offense.
"Collectively, those two guys have come in here with the mindset to wear on him and put pressure on him and make it tough," Heat head coach Erik Spoelstra said.
By the end of the third quarter – a frame in which the Bucks scored just 18 points and saw a two-point halftime lead turn into a 10-point deficit – Jennings had been held to nine points on 2 of 9 shooting. At the same juncture, the combination of Chalmers and Norris also had nine points, making 3 of 7 from the field.
As the Heat blew the game open late in the third and early into the fourth, Cole picked Jennings' pocket on several occasions and often forced him into long, fading jumpers or off-the-mark floaters.
The Heat did give the pair help at times, sending others – especially bigger perimeter defenders – off the pick and roll to prevent him from finding a groove.
"He's lightning quick, so you really do need two guys and we even went a little bit deeper, sometimes putting LeBron on him, sometimes Ray, again try to wear on him as much as possible," Spoelstra said.
"He creates so many of their triggers and opportunities by his ability to get into the paint and break your pick and roll defense down. They're just throwing their bodies and trying to get in front of him as much as possible. He doesn't make it easy."
To Jennings, that effort has been the biggest factor in his struggles the last two games.
"Well, not technically them," he said of Chalmers and Cole, specifically. "Just coming off the pick and roll I'm seeing a lot of traps every time I'm coming off. The big men are doing actually a great job of containing me, staying with me until I give up the ball. Every time I come off the pick and roll I see three or four guys right in front of me."
Jennings added five steals and eight assists (against four turnovers), but the Bucks find themselves down 3-0 to the defending NBA champions.
"I hope we are still confident," he said. "At the end of the day we still need to hold our heads. I know my head is still high. I'm still going to finish out. Whatever happens in Game 4, I'm still going to play until the buzzer is over. As a team we just need to stay together. We need every guy to go out there and play hard."
Facebook Comments
Disclaimer: Please note that Facebook comments are posted through Facebook and cannot be approved, edited or declined by OnMilwaukee.com. The opinions expressed in Facebook comments do not necessarily reflect those of OnMilwaukee.com or its staff.