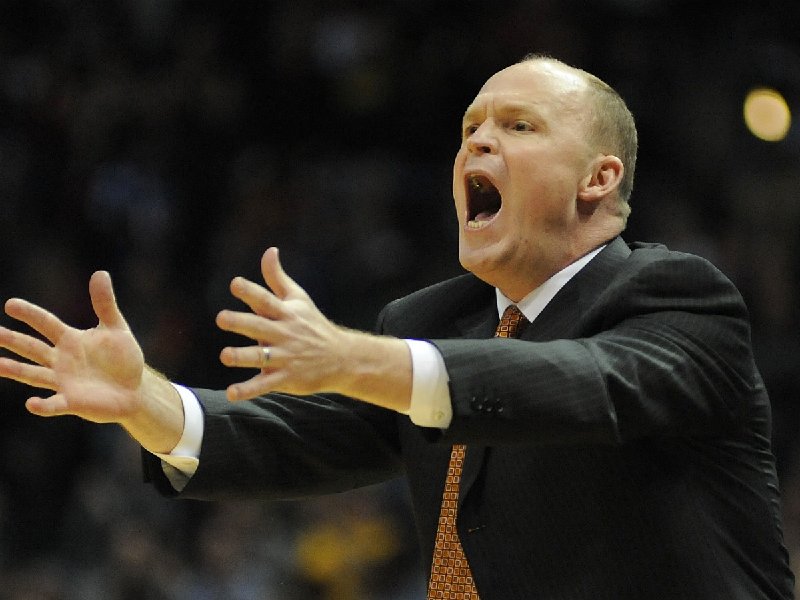 Bucks are committed to winning
Monday marked the official start of the Milwaukee Bucks 2012-13 season, as the team welcomed in the media for some brief interviews with the entire roster, along with head coach Scott Skiles and general manager John Hammond.
Training camp begins today at the team's training facility at the Cousins Center in St. Francis, and it's easy to be optimistic.
The team returns Monta Ellis and Brandon Jennings in the back court, re-signed Ersan Ilyasova, and added much needed depth and length in the front court with centers Samuel Dalembert and Joel Przybilla and top draft pick John Henson.
The Bucks made a late run at the No. 8 playoff spot in the Eastern Conference last spring, but fell short with a 31-35 record.
"The hardest part was when we lost that game against the Knicks at home and we were battling for that spot and we couldn't get over that hump," Jennings said. "That's been the toughest part, not really getting over that hump because we're always, always close."
It was the seventh time in the last 10 seasons the team posted a sub-.500 record, and fans seem to be worn down by the lack of a consistent winner – let alone a title contender.
The last time the Bucks finished above .500 was the memorable "Fear The Deer" run of 2009-10, Jennings' marvelous rookie season in which former No. 1 pick Andrew Bogut was healthy. It was also the last time the Bucks made the playoffs, ending a drought of four years without a postseason berth.
Beginning with the lockout shortened season of 1998-99, the Bucks have posted five seasons with a winning record, one season at an even .500, and seven playoff appearances. In those 14 years, you could say only the 2000-01 squad led by George Karl had legitimate championship hopes.
That team, which featured 20 point-per-game scorers Ray Allen and Glenn Robinson, reached the Eastern Conference Finals before losing in seven games to the Philadelphia 76ers.
That season capped three consecutive playoff appearances and five out of six overall.
It seems like a lifetime ago, however.
There has been only one season with postseason play in the last six. Bogut was never again healthy. Skiles and Hammond are working in the last year of their contracts. Jennings hasn't been given an extension yet. And owner Senator Herb Kohl has made it clear a new arena needs to be on the horizon as Seattle pushes for another NBA team.
All of this – worries about the team's viability, if Jennings can be re-signed, whether Hammond and Skiles are the right tandem for the job – can be solved in one way: Winning.
And to all involved, they feel the fans should expect nothing less.
"Sure they should," Hammond said. "Look – I promise you the guys in that locker room expect to win games. And Scott Skiles up in his office and his coaches in those offices expect to win games. They want to win games. So, if we don't expect to win we shouldn't be here.
"I'm always a little guarded in what I say in that regard, but you know, I don't know anyone who wants to win more than me, or expects to win more than me."
On paper, Jennings feels like this unit is the strongest he's been a part of in his four years, and he says – as he did at the end of last year – it's time for the Bucks to stop talking about making the playoffs and just do it.
"If you're a perennial 55-game winning team and you have home court every year and you're knocking on the door and you come in and you say our goal this year is to win the title, I think that's realistic. But we want to be in a position where we can be one of those teams who says that going into a season," Skiles said.
He continued: "In order to do that, we have to statistically get better, and there's no reason we can't. We can get better defensively. If we do that, we feel like we had a pretty potent transition game in the back half of last season and that will play to our strengths. We'll be able to get out in the open floor and get the ball ahead to Monta and let Brandon operate and Mike and Tobias and let our wing players get loose a little bit and that will be good for us."
When asked how the Bucks would achieve that, Skiles had an easy answer.
"It's simple," he said. "It's just a commitment.
On paper, it seems like he has that out of this bunch.
Ellis and Jennings say they are committed to doing whatever it takes for the Bucks to win, even if it means passing more than shooting. Drew Gooden says he's healthy. Ersan Ilyasova didn't play for the Turkish national team in order to improve his individual skills and not be as tired to start the season. Tobias Harris put on eight pounds of muscle.
With training camp beginning, now it's time to see if the team on paper – and their talk – lead to results.
"We want to win games. That's what it really comes down to," Hammond said. "I'm hoping our fans come here and see a winning product."
Talkbacks
mikeb | Oct. 2, 2012 at 6:35 p.m. (report)
Steven Hyden, formerly of AV Club Milwaukee (when it was still good) wrote a great article about the level of "smoochy-ism" in the Milwaukee media. This article is a perfect representation of that. I don't think one has to be negative all the time, but "The Bucks are Committed to Winning" as opposed to what? Being somewhat committed to winning? Being committed to losing?
TosaJim | Oct. 2, 2012 at 11:16 a.m. (report)
Really? Are you new in town Jim?.....it will be yet another dismal year....until they get rid of Herb and that management team he put together...and they get a really dominant center....it will be the same old same old.
Facebook Comments
Disclaimer: Please note that Facebook comments are posted through Facebook and cannot be approved, edited or declined by OnMilwaukee.com. The opinions expressed in Facebook comments do not necessarily reflect those of OnMilwaukee.com or its staff.