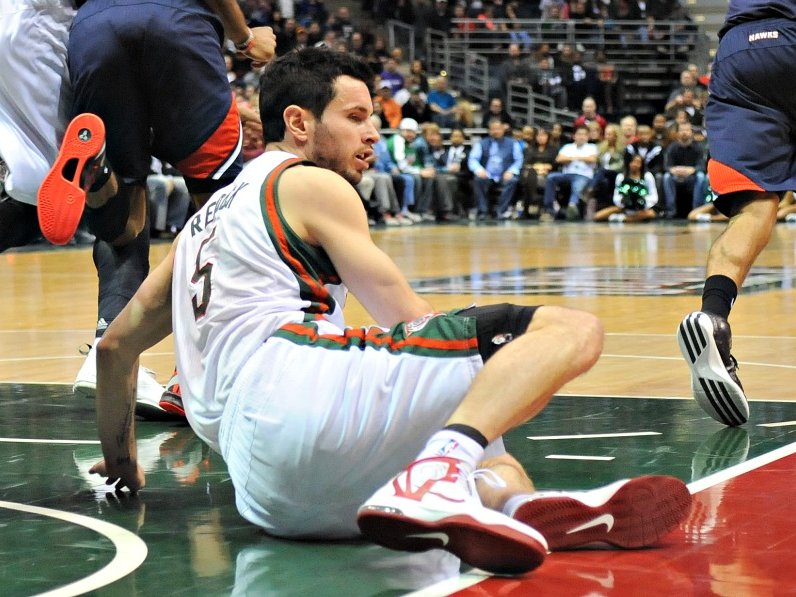 Bucks "group of characters" are maddeningly consistent
Consistency.
It's a word two Milwaukee Bucks head coaches have stressed all season long, and an idea the players know is important but haven't quite been able to put on the court night in and night out.
It makes sense, as the team sits at 36-37 heading into tonight's game against the Minnesota Timberwolves at the BMO Harris Bradley Center.
At various points of the season, the Bucks have been as many as five games over .500 (24-19 on Jan. 29) to a couple of games under.
Consistency.
It can be maddening, especially when you're as consistent as the Bucks have been.
From Dec. 7 through 29th, the team went 8-3 with wins over Brooklyn (twice), Indiana, Boston and Miami. Then, they lost four straight by an average of 9.5 points.
From Jan. 8 through the 29th, the Bucks went 8-3 again with wins over Chicago, Golden State and Portland. Then, the team hit the skids and went 2-9 from Jan. 30 through Feb. 23.
Another upswing was inevitable, and it came from Feb. 26 through March 10 when the Bucks went 6-1 with wins over Dallas, Houston, Utah and Golden State. Then, the predictable dip: a 2-7 stretch from March 12-27.
So, what is going wrong during those stretches where the losses pile up?
"When you struggle you can kind of get into your own little world and that's a bad place to go as a team," coach Jim Boylan said. "You need to be communicating, you need to be playing a collective game, whether it's offensively or defensively."
So what is going right during those stretches where the team looks like world beaters?
"The games where we're all on the same page and all fired up together, any team that comes in here or any team we go on the road to play, it's going to be tough for that team to win, tough for that team to beat us," forward Larry Sanders said. "We have to get back to that. Sometimes we can lose and everyone kind of goes to their own corner, but when we all rally up we're a good team."
Perhaps winning two of the last three signals another run of good play to end the season, which might be enough to make up the one game difference between the Bucks and the seventh-seeded Boston Celtics.
Though maybe it won't. No one knows.
Newcomer J.J. Redick, who has now witnessed some of those wild up-and-downs stretches and the interesting individual responses to each, says it's something he's never quite seen in his seven years in the NBA – which includes six straight playoff appearances with the Orlando Magic.
I asked him if this playoff-bound Bucks squad compared to any of his playoff teams in Orlando.
"This locker room is unlike any locker room I've ever been a part of - and I mean that in the most endearing way possible," he said with a smile. "It's an interesting group of characters. There's no comparison whatsoever. And I've only been here a month."
Since arriving in a trade in late February, Redick and the Bucks have beaten, or competed hard against playoff teams from both conferences. They have also lost to Philadelphia and Washington.
"It's a group of characters and it's been good at times when we've really locked in and focused," Redick said. "Again, it seems like against some of the better teams we have a better focus. even if we haven't won certain games. I think that's just human nature – it's not just this group – it's human nature, and quite frankly if you want to be a great team, the teams I've been on – I'm sure anybody on this team who has been on a 60-win team, I've been on two 59-win teams - you're good every night. You get up to play everybody, you don't just get up to play the Thunder and the Heat and the Lakers."
Then, Redick uttered the word that so many in the locker room – coaches or otherwise – have been battling with all year long.
"I think if there's one thing I've kind of taken away from my four or five weeks here it's just continuing to work towards consistency," Redick said. "I think that's where our heads should be at and our focus should be these last nine games."
The remaining regular season schedule includes the Heat, New York Knicks, Hawks, Denver Nuggets and the Thunder. Based off the large sample size of 73 regular season games, it's safe to say there will be some semblance of "Bucks consistency" during that stretch – some wins where you wouldn't expect it, and some losses where there shouldn't be.
The important thing to watch for is which consistent part of this team will appear for the beginning of the playoffs in just over two weeks – one that is riding another big wave, or one that has already crested.
Facebook Comments
Disclaimer: Please note that Facebook comments are posted through Facebook and cannot be approved, edited or declined by OnMilwaukee.com. The opinions expressed in Facebook comments do not necessarily reflect those of OnMilwaukee.com or its staff.