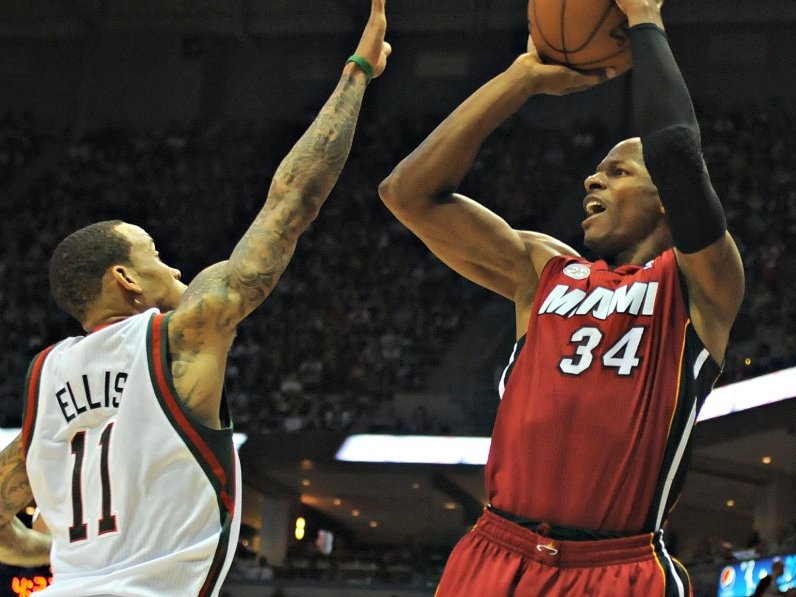 Bucks find victory just out of reach in playoff sweep
The Milwaukee Bucks' first postseason appearance since the 2009-10 season ended in a sweep at the hands of the defending NBA champion Miami Heat Sunday night at the BMO Harris Bradley Center, an 88-77 Game 4 loss that depressed the average margin of defeat to just under 15 points per game.
It was one of only two NBA postseason series to last the minimum four games through Sunday night, yet each contest agonizingly presented a chance for victory. In Game 1, the Bucks trailed by four at the start of the third quarter. In Game 2 they trailed by three at the end of the third. They led by as many as 10 early and by six midway through the third in Game 3.
The final game Sunday was no different, as a Monta Ellis jumper brought the Bucks to within 69-67. He missed a free throw, and then LeBron James set up 3-pointers by Ray Allen and Mario Chalmers to push Miami's lead to 75-67.
Like that, it was gone. Again.
"It was right there," Bucks center Larry Sanders said. Those are usually the ones that hurt the most. You're right there, so you feel like you could've done this to win, this little thing, and that's what it comes down to in the playoffs – the little things. The little things that you don't do that the other team capitalizes on and this team did. They capitalized on every mistake we made, so it is tantalizing if you sit back and look at it."
"It was definitely frustrating to be in a lot of those games and to have a chance at crucial times to make a run ourselves and possibly win a game," guard J.J. Redick added.
"But, credit them. They're the world champions and they sensed when it was time to turn it on and in every game we never really seemed to match that level of when they made the run."
Through the first three games, attention was focused on the runs the Heat had made in each instance to deflate the Bucks, and Sunday seemed no different – only that it was a slow, methodical power walk rather than a backbreaking sprint.
After Ellis pulled the heat within a basket with 9 minutes, 34 seconds to go, the Heat expanded its lead to 16 over a seven minute period.
The Bucks scored five points in that stretch while James, who scored a game-high 30 points with Dwyane Wade out with a knee injury, scored seven on his own and assisted on three other Heat baskets.
"That guy – he's amazing. He's really good," Bucks forward Mike Dunleavy said of James. "I don't think people realize how good he is. He just has complete control of the game, makes his teammates better. He can get his and he can also get guys involved."
Bucks guard Brandon Jennings did not play the final 14:53 of the game and finished with three points and one assist against two turnovers in just over 22 minutes of action. Ellis led the Bucks with 21 points while Dunleavy added 17 and J.J. Redick scored 10.
Ray Allen had another solid game for the Heat, scoring 16 off the bench. Udonis Haslem added 13 while Chris Bosh was limited to 10 points.
Chalmers' only basket of the game was the 3-pointer early in the fourth that started the Heat's slow march to another blowout and Shane Battier's only points came on a James-assisted 3 in that key period as well.
"I feel like they also know that that was a time in the game where we're vulnerable and they use that to their advantage," Luc Richard Mbah a Moute. "Every time the quarter started, they made sure to turn it up and try to come at us."
The Bucks now move into an uncertain offseason. General manager John Hammond has decisions to make on interim head coach Jim Boylan, who went 22-32 (including playoffs) after Scott Skiles was fired after 32 games.
Redick lead a group of five unrestricted free agents, while Ellis has an option to opt out of his contract and test the free agent waters. Jennings is a restricted free agent who could draw contract offers from other teams, forcing the Bucks to decide whether to match it or not.
"Our goal coming into the season was to make the playoffs," Boylan said. "We had a young team, inexperienced in a lot of ways. The opportunity for them to compete and play against the world champions in a four-game series and compete well – I know they swept us 4-0 – but the way we played at times against that team will pay dividends for us down the road for our guys.
Right now it stings, you don't feel good, but as you reflect back on that during the summer, it can serve as a motivator. I'm very proud of the fact that we fought into the playoffs and had a chance to play against Miami."
Facebook Comments
Disclaimer: Please note that Facebook comments are posted through Facebook and cannot be approved, edited or declined by OnMilwaukee.com. The opinions expressed in Facebook comments do not necessarily reflect those of OnMilwaukee.com or its staff.