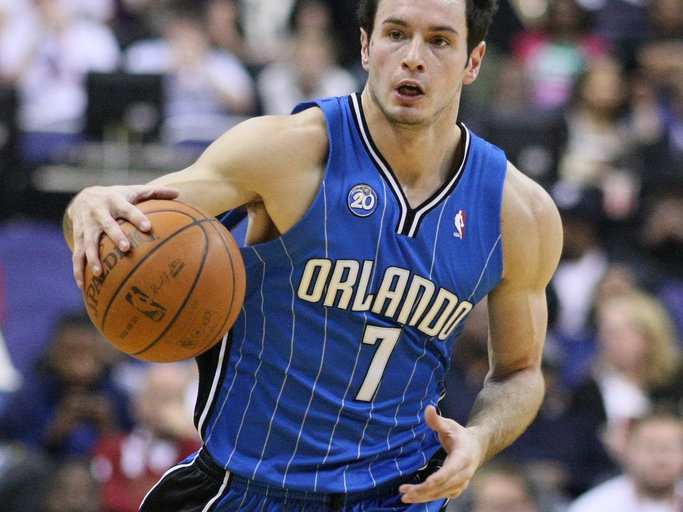 Bucks trade for Redick fits a pattern
There was a lot of huffing and puffing last week around the NBA trade deadline regarding the Milwaukee Bucks, but in the end no one was quite blown away with an unremarkable six player trade that brought J.J. Redick to the Bucks and sent Beno Udrih, Tobias Harris and Doron Lamb to the Orlando Magic.
This is the latest in a long, long line of trades for the Bucks and – like most of those completed since 2000 – will probably not mean much for the organization long term.
The two complimentary parts the Bucks received along with Redick, 6-foot, 10-inch forward Gustavo Ayon and 24-year-old point guard Ishmael "Ish" Smith, don't mean much. The deal is for Redick, a 6-4 shooting guard, a sixth-year pro who will be 29 in June and looking for a long term extension.
In his contract season, Redick is shooting a career-best 45 percent from the field (39 percent from the 3-point line), scoring at a career high 15.1 point per game clip and dishing out a career high 4.4 assists in a career high 31.5 minutes per game.
It's safe to say Redick would be a nice "long" term (three year deal?) compliment to point guard Brandon Jennings as he is a shooting guard who doesn't need to dominate the ball to score.
He's developed into a good NBA player. Yet, Redick is not a star.
When Orlando was good from 2006 to '11, a stretch where the Magic made five straight playoff appearances that included a loss to the Los Angeles Lakers in the NBA Finals and a loss to the Boston Celtics in the Eastern Conference Finals, he was a role player. During those years, Redick averaged 7.7 points in just under 18 minutes per game while shooting 43 percent from the field.
Once Orlando decided to trade Dwight Howard and tear it down the last two years, Redick's playing time increased, leading to greater statistical productivity.
Going back to 2000, the Bucks have made nearly 30 trades that haven't resulted in much, either in superstar talent, winning seasons (four) or high lottery picks. Here's a quick look at some memorable Bucks moves.
Trade: In 2001, the Bucks dealt Scott Williams and a 2004 1st round pick to Denver for Aleksander Radojevic and Kevin Willis.
Result: That pick traveled a bit, but it eventually turned into Josh Smith for the Atlanta Hawks as the Bucks ended up with no picks in 2004.
Trade: Glenn "Big Dog" Robinson was moved to Atlanta for Toni Kukoc, Leon Smith and a 1st round pick in 2003.
Result: A good move as Robinson was out of the league in three years, but he averaged over 20 points per game in helping Atlanta win just enough games to keep the Bucks from moving up into the top seven of the draft. They settled for T.J. Ford after LeBron James, Carmelo Anthony, Chris Bosh, Dwyane Wade, Chris Kaman and Kirk Hinrich were all selected. Ford would be traded in 2006 for Charlie Villanueva.
Trade: Ray Allen and a 2003 1st round pick is shipped west to Seattle for Gary Payton and Desmond Mason.
Result: The pick turned into Luke Ridnour, a solid point guard who did spend some time in Milwaukee later. Allen made seven more All-Star teams and has averaged nearly 20 points per game since. He is a surefire Hall of Famer. Payton averaged 19.6 points and 7.4 assists in 28 games for the Bucks as the team advanced to the playoffs, but was gone as a free agent after the year.
Trade: In 2008, the Bucks sent former No. 6 pick Yi Jianlin and Bobby Simmons off for Richard Jefferson and then Mo Williams and Desmond Mason for Damon Jones, Adrian Griffin and Ridnour.
Result: Jefferson averaged nearly 20 points per game in his one year with the Bucks, and he was traded a year later for Bruce Bowen, Fabricio Oberto and Kurt Thomas. Williams turned into an All-Star in Cleveland. Mason declined quickly and was out of the league in two years.
Trade: John Salmons was brought in after sending former No. 8 pick Joe Alexander, Hakim Warrick and a 2010 1st rounder to the Bulls. The Bucks also received a 2010 1st rounder in return, along with second round picks in 2011 and 2012.
Result: A win, as Salmons averaged 19.9 points per game for the Bucks in helping the team to the playoffs. The first round pick turned into Larry Sanders. The 2011 second round pick was Isaiah Thomas, who was sent to Sacramento for Jon Brockman, who was sent to Houston in 2012 in a seven-player deal for Samuel Dalembert and a first round pick that turned into John Henson.
Some other minor victories for the Bucks were the acquisitions of Keith Van Horn (2004), Villanueva (2006), Carlos Delfino (2009) and Monta Ellis (2012) in that they put up decent numbers for the Bucks, but for the most part there hasn't been much of an impact made with any of the deals.
Redick may indeed sign an extension, but at 29 it's safe to say he won't be the impact acquisition the franchise has been searching for since the turn of the century.
Talkbacks
brewcitypaul | Feb. 25, 2013 at 4:44 p.m. (report)
This is a disturbing pattern that only locks your team into mediocrity. Bucks have been drafting better with John Hammond instead of Larry Harris, but Hammond has a poor record with contract negotiations and then subsequent trades to fix his poor contract situation. Bucks are extremely foolish to trade Tobias Harris (1st round talent) and Doron Lamb (2nd round steal) for 30 games of JJ Redick. I would have accepted moving those pieces even for a Josh Smith rental since he's a Top 20 NBA player. But while JJ is a nice player to add, I feel his impact will be limited on how far we can advance this year. I don't think he's a guy that can win us a playoff berth just by his addition. Tobias will be a very good player in Orlando...I'm just hoping that we don't see a Larry Sanders type 3rd year breakout next season from him. He did have 14pts, 6 rebs and 3 blocks in his first game off the bench....so I suspect he will be having a breakout season next year and the Bucks will look like fools for giving him away.
Facebook Comments
Disclaimer: Please note that Facebook comments are posted through Facebook and cannot be approved, edited or declined by OnMilwaukee.com. The opinions expressed in Facebook comments do not necessarily reflect those of OnMilwaukee.com or its staff.