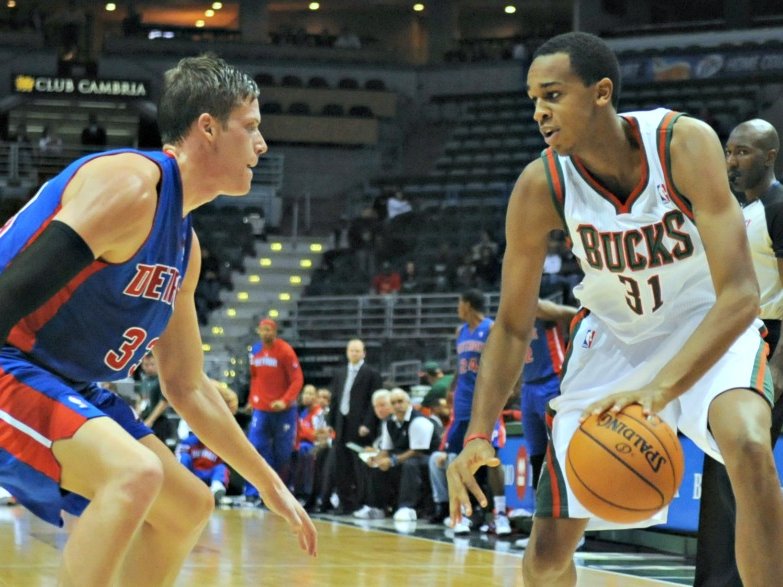 Bucks rookie Henson full of promise
In the humidity of the North Carolina summers, John Henson became a basketball player.
He had to. The workouts were survival of the fittest, especially when you're a spindly collegian trying to hold his own against NBA big men Rasheed Wallace and Brendan Haywood. You rise to the occasion, or get left behind.
Henson did so, and then some. It took time, perhaps longer than many who follow the Tar Heels would have liked, but he did. The end result was an NBA-ready big man who is a building block for the future of the Milwaukee Bucks.
High expectations
Henson arrived in Chapel Hill in 2009 as the campus was reveling in its fifth NCAA championship, and as one of the top high school players in the country, expectations were the 6-foot, 11-inch forward would take the Tar Heels to a dynastic level.
"His freshman year, it was a very difficult year for all of us," Tar Heels coach Roy Williams said. "We lost eight of our top nine players. So he's thrown in there in a sink or swim kind of thing."
Only his slight frame led to the mutual decision between Henson and Williams that he would be better served on the wing, as a big man who can spread the floor and take opponents off the dribble. Never fully comfortable in that spot, Henson eventually was moved back to the post where he averaged less than 10 points per game.
It was the start of an unexpectedly down year for the defending champs, as the program missed the NCAA Tournament altogether.
The kid whose smile makes Williams' own shine through even during a phone conversation, found himself at the center of a storm, the first time he had been tested to such a degree.
"He just handled everything," Williams said. "There were some high expectations. McDonald's All-American. Some people had him listed in the top 10. But he was trying to play a college game at a very negative position as far as experience playing on the perimeter. And, number two, playing a very physical thing with an unphysical body.
"So then when we changed and put him back inside and he was more comfortable, still I kiddingly told him – but it was true – his freshman year he probably had more dunks blocked than anybody I've ever seen. In his sophomore and junior year he never had a single one blocked. I think it was just a lack of strength. You see these ratings, and they're on potential. It's not necessarily on what they're going to do."
After what Williams called a "ballooning" of weight from 180 pounds in the fall to 183 during the season his freshman year, Henson committed himself to getting stronger. He had to get better on the court, too, as NBA or former NBA alumni began showing up for workouts.
"It's helped me tremendously," Henson said of those workouts. "I always say guys like Sean May, Jawad Williams, Rasheed, Marvin Williams, Brendan Haywood coming back, you have no choice but to get better or you're going to get your tail whupped every day. That's kind of how we went about it."
To do that, Henson had no choice but to work on his body – even if many observers felt he wasn't as committed to the effort as he said he was. Williams bristled at the notion Henson didn't buy in to the team's weight-lifting program, saying the results might not have shown physically, but they definitely showed on the court.
"All of a sudden his sophomore year when those dunk attempts were getting blocked the year before he was finishing them stronger and quicker, I think that helped sell him too," Williams said.
"No kid is going to come in as a freshman and think oh, God, the weight room is the greatest thing since sliced bread. That's hard work. Some of the coaches and some of their family will say back in the day when I was young we didn't lift weights to be basketball players. Well, it's a whole different era right now. I never really felt that John was disinterested in the weight room. I never felt like he was not buying into the weight room. It was just really tough for him."
His sophomore year the Tar Heels rebounded after a slow start to finish second in the ACC Tournament and reached the Elite Eight of the NCAA tourney. Henson was the team's defensive anchor, and was named the ACC Defensive Player of the Year.
After that season, he entertained the idea of entering the NBA draft. As Henson weighed his options, his father Matt imparted some advice. He told his son, in essence, that it wasn't about how quickly you get to the NBA, but about being ready for what will come once you are.
"Staying another year also helped me mature a little bit," the younger Henson admitted. "I started living off campus and all that so that helped out a lot. Just playing more basketball under that system. We won a lot more games than we did the year before but just maturity wise I think it was a big help to stay another year. I'm glad I stayed another year because I don't think I would have been as ready coming out last year."
The decision paid off. His offensive game improved (13.7 points per game) and he was once again named the ACC Defensive Player of the Year.
He also developed a bit of an edge on the court.
"You can use 'nasty' if you want to – to me it was more of an aggressive approach," Williams said. "His play was more aggressive. His play was more forceful. I think he did try to take care of his teammates, particularly if it was that they got beat he was going to block a shot. He matured a great deal and I think was one of our leaders this year. I really believe that."
Even the notoriously volatile Wallace, who has served as a mentor to Henson, noticed the change.
"Definitely," Wallace said. "I would say as he got older, like his junior year, he was more aggressive. His first two years he was a little passive but that's bound to happen when you're playing for a big time program. The majority of a time it's more nerves than anything. With him having that aggression, that helped him become one of the top draft picks."
Page 1 of 2 (view all on one page)
Next >>
Facebook Comments
Disclaimer: Please note that Facebook comments are posted through Facebook and cannot be approved, edited or declined by OnMilwaukee.com. The opinions expressed in Facebook comments do not necessarily reflect those of OnMilwaukee.com or its staff.