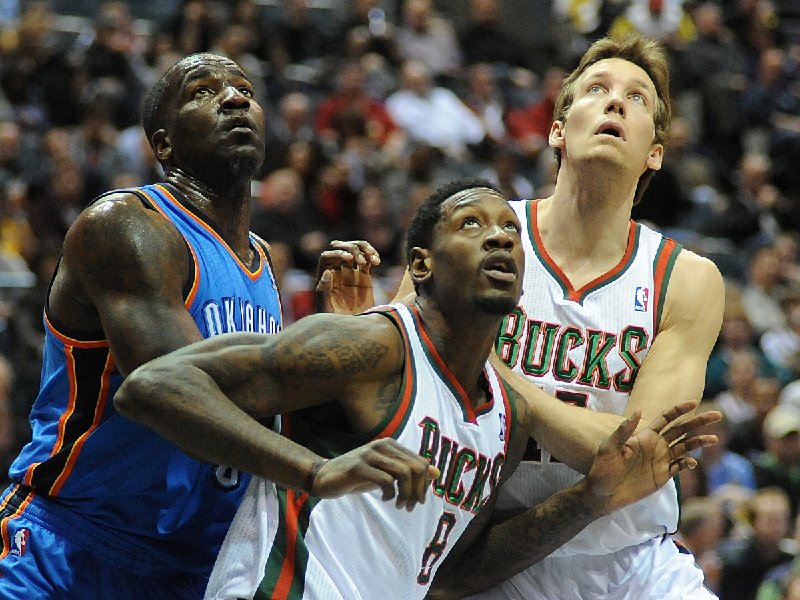 Bucks' Sanders is finding his pace
ST. FRANCIS – Holding court for the media at the start of training camp, Brandon Jennings fielded many questions about his growth as a player and a leader. It was a predictable line of questioning, considering the deadline for the Milwaukee Bucks to extend him is Oct. 31. During the session, Jennings reminded the assembly that this marks his fifth year as a professional.
"I'm counting the Europe year," the 23-year-old point guard said with a smile. "I'm counting that."
He had spent one season in Europe rather than playing in college after graduating from prep school powerhouse Oak Hill Academy, which led to the Bucks picking him No. 10 overall in the 2009 draft.
It's worth noting, because forward Larry Sanders is entering just his eighth true season of organized basketball. Sanders, who will turn 24 on Nov. 21, was first introduced to the game as a sophomore at Port St. Lucie High School in Florida. He was 6-feet, 6-inches then, and was recruited to the court out of the hallway.
He was so new to the game he scored in his own basket when the second half started.
Sanders grew to be 6-9 be the end of his senior year, which led to a scholarship at Virginia Commonwealth University. He grew another two inches there.
It's important to note this because on the spectrum of basketball maturity, Sanders may just be out of his infancy. In high school, he could've projected as a small forward or a bigger shooting guard. But, not only did he lack the skill set for that as a newcomer to the game, he kept growing.
In three years at VCU, he averaged 10.3 points, 7.7 rebounds and 2.7 blocks per game, relying more on his freakish athleticism and 91-inch wingspan. That raw ability – and vast room for growth – made him an intriguing choice with the 15th pick of the 2010 draft.
Through his first two years in Milwaukee, Sanders has been a role player, averaging about 13.4 minutes per game. But, if he can stay out of foul trouble, he's often very effective. His 36-minute averages for points (10.6), rebounds (8.0) and blocks (3.5) are respectable. He has a career win share of 2.0, mainly due to his defensive prowess.
He put in extra time at the Bucks training center this offseason, working on all aspects of his game – from his overall offensive skill set to learning how to be a more efficient defender. He had an up and down showing in the NBA Summer League in Las Vegas, but since then has given coach plenty to think about regarding his big man rotation.
"Larry had a good game in rookie league but we just felt like he was still kind of doing too much," Skiles said.
"Maybe because he was sort of the most veteran guy on the rookie league team or whatever, but since he got here in September he's been very, very good. He's strung together six weeks now, basically, of really good play. He's been under control. You know he can block shots, run the floor – you know the stuff he can do – but he's gotten rebounds in traffic with two hands, something he struggled with in the past. He's gotten comfortable in our system and he's really played well. He has not had a bad day, really, yet. He's been very good every day."
Sanders will likely get the start at center tonight in Chicago, the Bucks' third preseason game, and is averaging six points and seven rebounds and 2.5 blocks through the first two contests. He blocked five shots on Saturday against Detroit in his first start.
"I spent a lot of time here before training camp and then even before that, I only went home for a couple weeks after summer league, so I had a good feel for what the coaches wanted me to do and that way I got to center my focus on exactly what they wanted me to do," Sanders said.
The main thing the coaches wanted him to work on was to play within himself.
"You look at great players and how they play, they find their pace they play with," Sanders said. "They're not going 100 right now and then they're going 40. They find that even pace and it works for them. That's what I'm trying to do."
Sanders said that mindset led to some self-discovery over the offseason about what his niche is on this team, and Skiles can see the improvement. He noted that Sanders made some decisive post moves against Detroit on Saturday, plays that led to quality shots or Pistons fouls.
"He's kind of calmed himself down a little bit out there," Skiles said. "We certainly don't mind that if the ball's passed to Larry in the elbow area and he's open to take a shot or anything like that. We haven't told him to not try and do anything offensively, just make better decisions and you look better. And he has. He's always been a good enough defender and around the rim he's a factor, getting on the offensive board, but it's just the crazy foul or something that gets him his fifth foul and he's got to come out. He's still battling that. He's much better at it but he's still battling it."
Sanders is excited for the season, both from a personal and a team standpoint. His preseason message to the fans was to keep watching because while the journey isn't always smooth, he and the team have found that proper pace.
Facebook Comments
Disclaimer: Please note that Facebook comments are posted through Facebook and cannot be approved, edited or declined by OnMilwaukee.com. The opinions expressed in Facebook comments do not necessarily reflect those of OnMilwaukee.com or its staff.