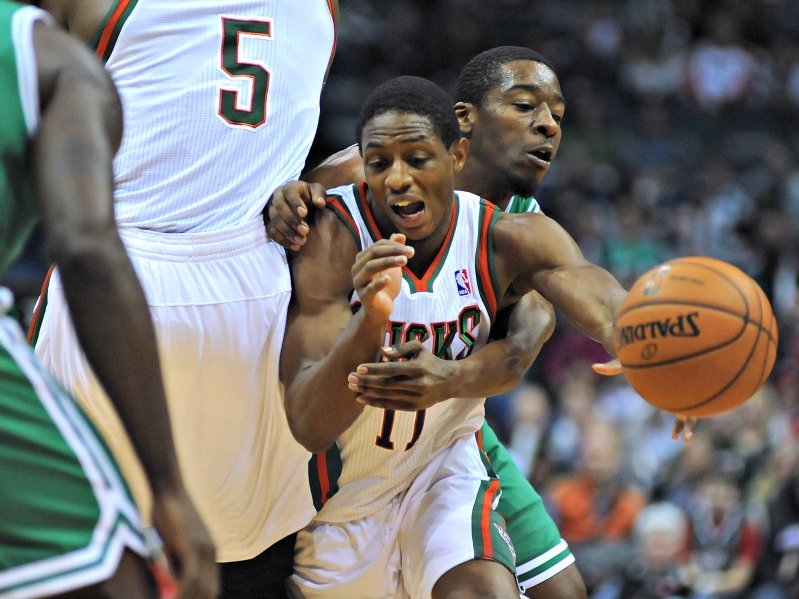 Bucks struggling in crunch time
The Milwaukee Bucks entered Wednesday night's game against the Memphis Grizzlies as the lowest scoring team in the NBA, so the fact that they couldn't crack the 80-point barrier shouldn't have been a surprise – it was the eighth time that had happened already.
But, the Bucks did have a chance to send the game to overtime by making a 3-pointer in the final seconds. It set up for an exciting moment, but left most everyone scratching their heads as to what happened.
As a team, the Bucks are shooting just 34.7 percent from beyond the arc, so the odds of going to overtime were dicey anyway. But, head coach Larry Drew sent out a lineup of Luke Ridnour (36 percent from behind the arc), Brandon Knight (32 percent), Ersan Ilyasova (27 percent) and Giannis Antetokounmpo (26 percent), along with Larry Sanders.
Sanders had one job – get Knight clear of his defender – but as the Grizzlies clamped down on Knight and Ilyasova, the ball ended up with Sanders, who attempted and missed his only 3-point attempt of the season.
"The way the play was designed, we would've had three looks at it, three options off of it looking at a three," Drew said. "And we didn't execute the play."
The issues the Bucks faced in the final 30 seconds in that 82-77 loss Wednesday night threw into a sharp focus their problems creating shots, and it led many to question Drew for even having Sanders in the game with Middleton and Gary Neal (42 percent), Mayo (38 percent) and Caron Butler (33 percent) on the bench.
And it also had people wondering why the team has struggled in late game situations.
A loss like that will do that, so I took a look at the "close" games the Bucks played, contests decided by six points – or two possessions – or less.
Believe it or not, the team has only been in four that were decided in regulation and six overtime games.
Their record in those games is 2-8.
Since the Memphis breakdown began with about 35 seconds left when Knight was blocked by James Johnson, setting up the eventual calamity that began with 11 seconds to go, I narrowed the focus down to the final 30 seconds or so of each of those 10 games.
Let's start with the two victories.
Dec. 6 at Washington
In the 109-105 overtime win against the Wizards, the Bucks were down 102-99 with 29 seconds left in regulation. Following a Middleton rebound, Knight hit a 3-pointer to tie the game with 16 seconds left. In overtime, Knight hit a 20-foot shot with 22 seconds left to make it 108-105. The Bucks then forced a turnover with 12 seconds left, leading to a Knight free throw that clinched it.
Dec. 10 at Chicago
Up 75-72 and coming out of a timeout with 30 seconds left, the Bucks wound up having Ekpe Udoh take a 23-foot shot with 13 seconds left, which resulted in a shot clock violation. But, John Henson blocked Carlos Boozer with six seconds left, leading to two clinching free throws by Ilyasova in the 78-74 win.
Conclusion: You could say the team was 1-for-1 in executing "properly" in those two wins because you never want a big man taking a long jumper as the end result, but sometimes you need a guy to make a play, too, which Henson did against the Bulls.
Let's look at the two non-overtime losses.
Nov. 13 at Orlando
A Henson bucket made it 92-91 with 31 seconds left and the Magic's Nikola Vucevic got inside with nine seconds left to make it 94-91, but the Bucks couldn't manage another shot.
Dec. 13 vs. Chicago
Middleton hit a 12-foot shot with 30 seconds left to give the Bucks a 90-88 lead. The Bucks then forced a turnover, and called a timeout with 19 seconds left to ice the game. But Joakim Noah tied up Gary Neal for a jump ball, which Noah won. Mike Dunleavy then hit a 3-pointer with six seconds left. Noah blocked Mayo's attempt to win the game from six feet out.
Conclusion: Orlando was going to milk the clock as much as they could, but you'd like to think you can get a shot up off an inbound in nine seconds. As for the loss in Chicago, you can't turn the ball over coming out of a timeout. Dunleavy hit a big shot, but the Bucks broke down offensively and let it happen. This was two fails in the final moments for the Bucks offense.
The Bucks have lost five overtime games, and there is a common theme there as well.
Nov. 22 at Philadelphia
The Bucks were up 98-94 with 37 seconds left when Butler traveled, leading to a Spencer Hawes 3-pointer. Butler redeemed himself with his own three with just nine seconds left, seemingly giving the Bucks the game at 101-97. But, a quick Evan Turner bucket cut the lead to 101-99 and Drew called for a timeout with four seconds left. Philly fouled Luke Ridnour, who made just one free throw, leading another Hawes three to tie the game with two seconds left.
Down five points in the final 63 seconds of overtime, the Bucks finished with a turnover, a missed 21-foot jumper and a missed 3-pointer in a 115-107 loss.
Nov. 27 vs. Washington
Down 86-84 with 24 seconds left, Knight missed a 16-foot jumper and Middleton missed a three, leading to a Trevor Ariza free throw with 13 seconds left. Mayo hit a three coming out of a Bucks timeout to tie the game.
In overtime, the Bucks were down by six with 74 seconds left – and managed just two shots in that time frame. Both missed and the Bucks lost 100-92.
Dec. 18 vs. New York
Tied 87-87, the Knicks missed a shot with 32 seconds left, which led to a Bucks timeout with 19 seconds left. The end resulted was Henson taking a 19-foot jumper with two seconds left. Middleton rebounded and tossed up a 16-foot attempt at the buzzer, which missed the mark.
In the first overtime, down 94-92, Knight missed a 6-foot shot that Henson put back just before the buzzer.
In the second overtime, the Bucks found themselves down seven with 50 seconds left. The only shots the team managed was a 16-foot attempt by Henson while making 3 of 4 free throws in a 107-101 loss.
Dec. 20 at Cleveland
Up 96-94 with 32 seconds left, Knight missed a 19-foot jumper with 10 seconds left. The game seemed over when Kyrie Irving missed at the rim with three seconds left, but Tristan Thompson was fouled on the putback attempt and hit both free throws. The Bucks called for time and set up a play, but Middleton missed an 18-foot shot.
In overtime, a Mayo 3-pointer out of a timeout drew the Bucks to within 112-111 with 18 seconds left. The Bucks fouled Irving with 10 seconds left, and he gave the Cavs a 114-111 advantage. With no timeout, Mayo missed a 3-pointer with four seconds left, which Udoh rebounded. Mayo then put up a meaningless 23-foot shot as time expired.
Dec. 23 at Charlotte
With 35 seconds left, Kemba Walker hit a jumper to give the Bobcats a 101-98 lead with 16 seconds left. Following a Bucks timeout, Middleton missed a three, but Mayo grabbed the offensive rebound and hit his own 3-pointer with a second left.
In the extra session, the Bucks were down 109-108 with 60 seconds to go. In that remaining time, Knight missed a three and Middleton missed 19- and 20-foot attempts.
Conclusion: This was a mixed bag in that the Bucks did manage to get themselves looks with their better shooters in regulation against Washington and Cleveland, one of which worked and one that didn't. But on the whole, the team settled for far too many long, low-percentage jump shots and there was another game in which a big man was taking one of them. And, late in the overtime periods, the offense completely shut down.
Ten games may not seem like a lot, but to this point these close games have accounted for 26 percent of the team's season and total loss count. But, the solution may come from just better execution – it may come from fresher legs as Sanders tried to explain after the loss to Memphis.
"I think when we get down, we have to fight back and it takes a lot out of you," he said. "And when you get down to these situations, you can't muster up quite the energy to run it with full speed. We're trying to nip the first part in the bud and maybe we won't have so many of these late game situations."
Facebook Comments
Disclaimer: Please note that Facebook comments are posted through Facebook and cannot be approved, edited or declined by OnMilwaukee.com. The opinions expressed in Facebook comments do not necessarily reflect those of OnMilwaukee.com or its staff.