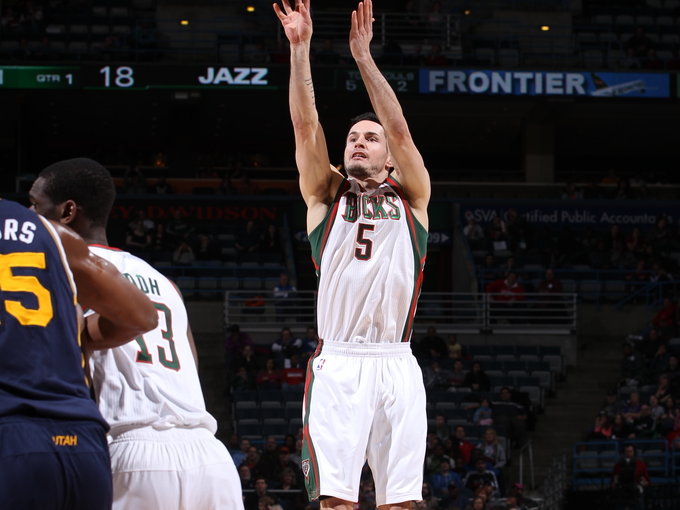 Redick trade shouldn't be the focus as Bucks near playoffs
The Milwaukee Bucks are in Philadelphia tonight to take on the 76ers and look to snap a three-game losing streak and get back to the .500 mark on the season. Excitement around the team seems to have diminished a bit since it looks like there will be no great move into the sixth or seventh seed, thus avoiding a first round matchup with the defending champion Miami Heat.
But there are only 16 games left in the regular season and some great ones on the schedule, and it's a time that momentum should be building toward the playoffs. There seems to be a lack of buzz, unless you want to talk about "The Trade" of course.
OK, so those are my quotations – but it could be called that should shooting guard J.J. Redick walk this offseason as an unrestricted free agent.
Why?
Because down in Orlando, young Tobias Harris is getting some serious run for a bad team and many feel those numbers would look that much better if were still in the green and white.
Through 15 games in Milwaukee, Redick is shooting 43 percent – his career average – but down from what he did through 50 games in Orlando. He's shooting 32.9 percent from beyond the arc, down from his career average of 39 percent. He's averaging 12.6 points per game in about 28 minutes off the bench, numbers that correspond with his totals when he was in a similar role with the Magic.
Then there's Harris, who averaged 11.6 minutes per game in just 28 appearances in Milwaukee who now sees 32.4 minutes a game in Orlando. Through 16 games, he's shooting 46.7 percent – his career average – but that's been the only thing "average" about his stint there so far.
Long thought to be averse to rebounding in Milwaukee, the 6-foot, 8-inch Harris is pulling down 7.6 rebounds per game since joining the Magic while blocking 1.3 shots per game. He is also averaging 14.9 points per game.
This was a risk Bucks general manager John Hammond chose to make because Redick gave the Bucks a greater opportunity to make the playoffs this season.
Hammond acknowledged at the time of the trade that there was some risk in dealing a 20-year-old who hadn't played much, but Harris was the victim of a severe logjam in the Bucks frontcourt.
Toss in the fact that Bucks owner Herb Kohl wants (needs?) to make the playoffs this year, there simply was no room or time for Harris.
It's no wonder why Orlando wanted the young man, though. Hammond said after Harris' torrid summer league showing teams inquired about him consistently. And, Harris was the best chip Hammond had at the deadline (aside from any of the regulars). The entire league is built around potential, and Harris had a ton of it.
You'd like to think Harris could be a 15-point, 7-rebound guy for the Bucks, and maybe he would have been – two, or three years from now. That wasn't going to work this year.
For some, that's entirely the point. They wanted the Bucks to "go young" and "tear it down" – perhaps not realizing that doing so in the NBA means at least a three or four-year commitment to winning 10-15 games.
No way was that going to work for Senator Kohl. That wouldn't help him land a new owner (or partner) and a new arena. It's about the playoffs, even as an eighth seed.
Harris could always score – it was the one thing everyone agreed on when projecting him out – but he three double-doubles and solid performances against the Heat, Los Angeles Lakers and Oklahoma City Thunder that have people rubbing their hands raw already.
Do the Bucks have to pay a little more than market value to keep Redick here for another four years to truly justify the trade? Would pushing the Heat six or seven games do the trick, even if Redick walks? Or in three years if Harris averages 19 and 7 does none of it matter because the team "gave up" on him too soon?
Those are unanswerable questions for now, but unfortunately it's the hottest topic surrounding this team. Of course, it's nothing a solid stretch of play this week against the 76ers, Lakers and Thunder couldn't fix. And that's what the focus should be on – the run up to the playoffs.
The Bucks have been maddening at times, yet they have shown up and competed with the best teams in the East. They play hard, which can win you games you're not supposed to. "The Trade" may become a legitimate talking point this offseason, or down the road, but right now the focus should be on the team as its currently constructed, and what it can do going forward and in the postseason.
Facebook Comments
Disclaimer: Please note that Facebook comments are posted through Facebook and cannot be approved, edited or declined by OnMilwaukee.com. The opinions expressed in Facebook comments do not necessarily reflect those of OnMilwaukee.com or its staff.