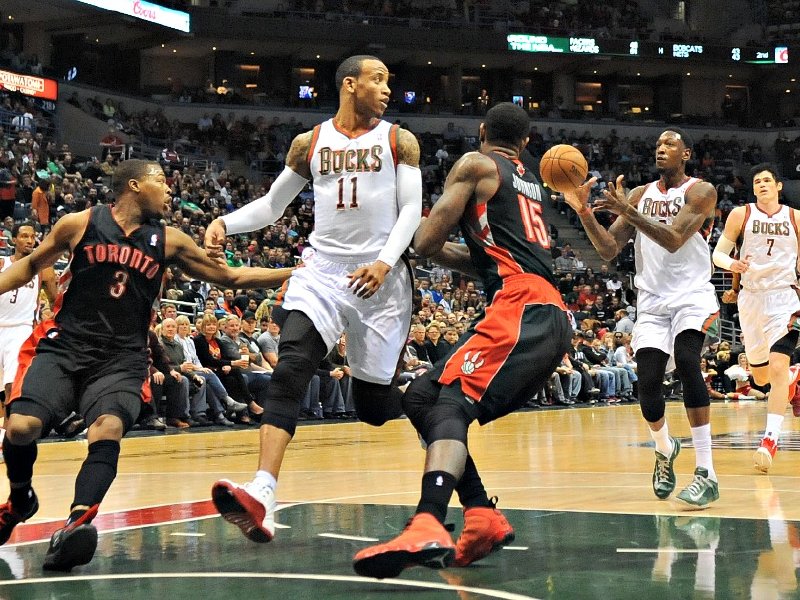 Looking back: Bucks reflect on bittersweet season
Members of the Milwaukee Bucks slowly filed out of their practice facility at the Cousins Center on Monday afternoon, going through exit interviews and cleaning out any remaining personal belongings that may have been left behind following the team's season ending playoff loss at the hands of the Miami Heat on Sunday.
Despite the somberness that comes with the ending of a season without a championship, there were some smiles out the door. John Henson, no longer a rookie, looked forward to going one-on-one with Larry Sanders in summer workouts in their home state of Florida.
Luc Richard Mbah a Moute said he's finally healthy and can focus on playing basketball and getting better for the first time in a couple of years. And, both he and Ersan Ilyasova are looking forward to playing for their respective national teams.
Mike Dunleavy and J.J. Redick are two of the Bucks' five unrestricted free agents, and the pair are looking forward to entertaining new contract offers, from Milwaukee or elsewhere.
There was also a sense among the team that the franchise took a step forward with its first playoff berth since 2009-10, a stated goal from the very beginning of the season.
"It was a good way to build," Sanders said Sunday night. "I feel like Milwaukee's building something now, trying to make a tradition of being a playoff team and this is our first step."
A bittersweet taste
As they prepared to leave for the summer, the players couldn't shake the fact that from March 12 through the end of the playoffs the team went 6-19. They finished the regular season losing seven of 10 and wound up earning the eighth seed despite posting an overall record of 38-44.
"We limped our way to the playoffs and that showed," Mbah a Moute said. "Unfortunately for us we ended up facing the number one team and that showed. We competed. I thought we really did a good job of competing, but it showed that they were just that much more sound as a team than we were. I think a lot of that has to do with the way we went into the playoffs, losing seven out of 10 games, there really wasn't something solid there to hold on to. You could see it every time they made a run we dismantled.
"It's definitely bittersweet. We made the playoffs, but just the way we made it and the way we played in the playoffs wasn't the way we wanted. Hopefully it will be a good learning experience for us."
Ilyasova also said the accomplishment was dulled, recalling several tough losses late in the year. He felt that if some of those had resulted in victories the Bucks may still be playing.
"It's the small things that at the end of the season run through your mind," he said. "It's a lot of 'if's' – if we this one, if we won that. When you go through the season each game matters. It doesn't feel like it at that time but when come close to the end of the season every small detail, every game matters at the end of the season. We were kind of paying for that. We end up in eighth place and playing against Miami was really tough."
It was the same problem Dunleavy had with the end of the regular season.
"I had no issue by getting swept by the Heat – they're a great team," the free agent said. "The issue is having to face the Heat. We basically dogtrotted down the stretch through March and April and we should've just never have been in the position to have to play the one seed. That's kind of 'shame on us.' That's the disappointing part of this whole season."
What went wrong?
Mbah a Moute and Ilyasova will be the team's most tenured players at the start of next year with each entering their sixth seasons with the franchise.
The pair joined the team in 2008-09 and have been a part of the last two playoff appearances, and they spoke frankly about why they thought the team struggled down the stretch.
"I will say it's also about the team chemistry," Ilyasova admitted. "We kind of started more pointing to each other. You kind of, I will say, we couldn't come up together as a team and we kind of started (coming) apart a little bit. It's really frustrating because when you look at it, it's a long season and everybody tried to reach our goal as an NBA playoff team and we secured that spot and everybody started thinking about what we were going to do in the playoffs. At that time we had 10 games left and you just have to play. If we win a couple of those close games we can be in the seventh spot.
"I think sometimes it happens where you go through the motions and stuff."
Ilyasova continued: "Sometimes when you look at our roster I know we've got a lot of free agents, maybe seven or six guys. It's a real tough spot. You kind of always thinking about yourself than thinking about your teammates and the team and winning. You're trying to perform as best you can. It's a lot on your mind all the time and it can affect your judgment in the game. I won't say anybody (didn't do) a good job of staying focused and gave 100 percent each night."
Page 1 of 3 (view all on one page)
Next >>
Facebook Comments
Disclaimer: Please note that Facebook comments are posted through Facebook and cannot be approved, edited or declined by OnMilwaukee.com. The opinions expressed in Facebook comments do not necessarily reflect those of OnMilwaukee.com or its staff.