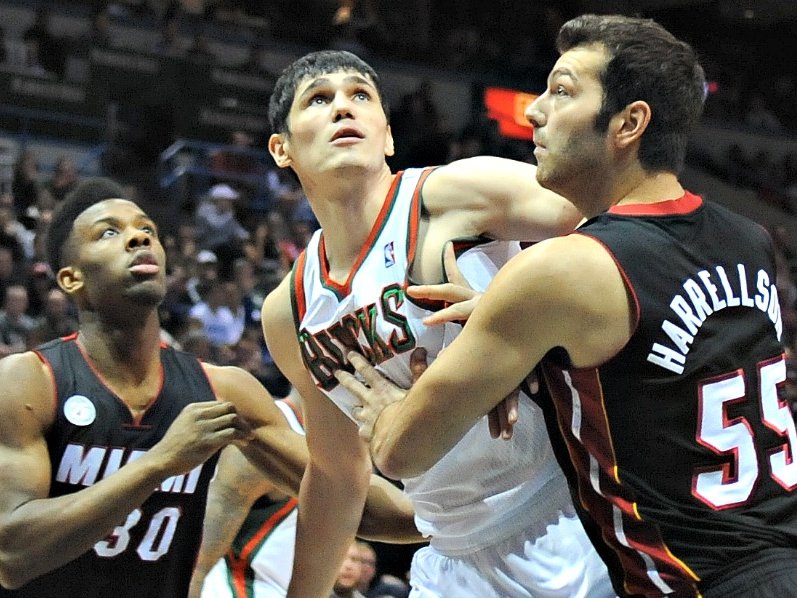 Drew will define roles quickly for Bucks
"Role definition."
It's an important phrase in sports. Players and coaches talk about it all the time. Those on the field want to know where they fit within the whole, what their specific job duties are. Of course they want the team to win, but it is about them. They want to know how to prepare day in and day out to be at their best. If the individual succeed, the team does.
For a coach, providing such definition reaffirms his leadership of the team, and helps craft chemistry. It also creates a system of accountability, and expectation.
To new Milwaukee Bucks head coach Larry Drew, "role definition" will be very important part of his overall style and especially so in an upcoming season that will see quite a bit of roster turnover from a team that made the Eastern Conference playoffs for the first time since the 2009-10 season.
"We're going to get started this summer, we're going to start the process and introduce all the guys under contract with what I do, my style of play, what I'm going to be expecting out of each young man," Drew said. "I will be meeting with each guy individually to make sure they understand what I see their roles being. It's important for any team to come together. Guys have to be committed, and they have to understand their roles. That's one of the first things I do so there's no question what I'm expecting from each guy."
The only Bucks players under contract for the 2013-14 season as of today are Ersan Ilyasova, Luc Richard Mbah a Moute, Drew Gooden, Larry Sanders, John Henson, Ekpe Udoh and Ish Smith.
As for the moving parts, the Bucks hold a team option on Gustavo Ayon while Monta Ellis has until Thursday to decide on his player option.
There are several options surrounding point guard and erstwhile franchise player Brandon Jennings. The Bucks could decide to match any offers to restricted free agent once free agency begins on July 1. They could agree to a sign and trade deal, or, Jennings could surprise everyone and play another season in Milwaukee for a qualifying offer.
Much can change over the next nine days, beginning with Ellis' decision. The Bucks reportedly offered a contract extension to the guard, but (so far as we know) he has not decided to agree to that offer.
Then, there are the reports that the team may be interested in sending Ilyasova and the remaining $32 million of his contract to the Washington Wizards for the No. 3 overall pick in the June 27 NBA Draft.
"This is part of the NBA," Drew said of the potential for player movement. "I will be sitting down with John and management and we'll be talking about the direction as far as draft, as far as free agency is concerned. Obviously with the three guys (Ellis, Jennings and J.J. Redick) who are not under contract with the team right now, you've got three pretty good ballplayers. These guys are certainly solid NBA backcourt players and we'll just make a decision. It's just part of the process."
It might seem that such volatility – and the potential for more – might hinder Drew's ability to define roles for the players under contract or those that come in through the draft, but he says it won't be an issue because for him, communication is always a priority.
"When you talk about sitting players down and talking to them about their roles, some guys don't see themselves a certain way," Drew said. "Therefore, it's important that we get on the same page with that."
Drew reiterated that he will have one-on-one conversations with his players, and will clearly define how he sees them fitting on the team.
That communication will be aided by the fact that Drew not only has played and coached in the NBA for decades, but he's the father of 23-year-old Larry Drew II – who is hoping to be drafted out of UCLA next week – and his middle son, Landon, will be a sophomore guard at Cal State Northridge. Lindsey, his youngest, is still in high school.
Being a father to such young men no doubt aids in his ability to relate to players, and will surely help him in Milwaukee as the seven players under contract have an average age of 25.6 years old – a number that will decrease with the draft and if Jennings, 23, returns.
"It's important to understand today's players," Drew said. "I think it's important to recognize who the individual is. You're dealing with these guys as individuals and you have to approach it in that manner. For me, I've just seen how important it is to have a relationship with a player.
"It's more than that player being out on the floor just running up and down the basketball court. You have to show that you care about him as an individual. I think you have understand him. You have to be able to push buttons. Players are different. These guys are individuals. They're just different. It's important that you establish that relationship in that manner and getting to know that guy. When you talk about, on this level, relationships are so, so important."
Facebook Comments
Disclaimer: Please note that Facebook comments are posted through Facebook and cannot be approved, edited or declined by OnMilwaukee.com. The opinions expressed in Facebook comments do not necessarily reflect those of OnMilwaukee.com or its staff.