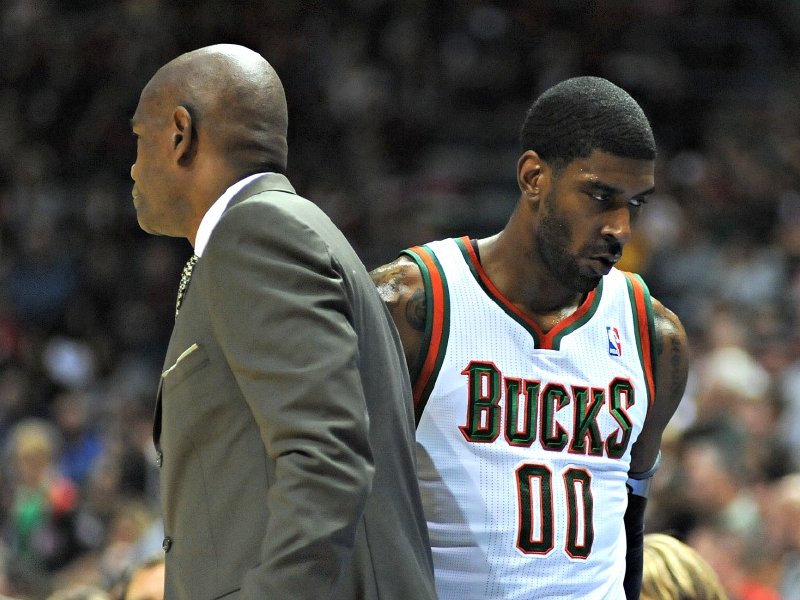 Bucks struggling with role reversals
I will be meeting with each guy individually to make sure they understand what I see their roles being. It's important for any team to come together. Guys have to be committed, and they have to understand their roles. That's one of the first things I do so there's no question what I'm expecting from each guy. – Larry Drew, June 3, 2013
When Milwaukee Bucks general manager John Hammond introduced Drew as the team's new head coach in early June, the roster was still in flux. At the time, the only players under contract were Ersan Ilyasova, Luc Richard Mbah a Moute, Drew Gooden, Larry Sanders, John Henson, Ekpe Udoh and Ish Smith.
Drew's mission of role definition was a no-brainer.
The roster would change, and a new coach would want to set a tone with his new squad. Players like to know what they're going to be expected to do, and a coach wants to know how his players will react to such expectations.
Sure enough, the roster was overhauled.
Mbah a Moute and Smith were traded. Gooden was amnestied. Brandon Knight, Caron Butler, Luke Ridnour and Khris Middleton were traded for. Gary Neal, Zaza Pachulia, Miroslav Raduljica, Carlos Delfino and O.J. Mayo were signed as free agents. Giannis Antetokounmp and Nate Wolters were drafted.
Hammond talked about creating championship expectations in Milwaukee.
So, Drew went to work. On media day, and then right after, players talked quite a bit about their conversations with their new coach.
But with so many new players, some of which were going to play the same positions, Drew's ability to define those roles was immediately tested. He was set behind when nearly all of his players were injured during training camp and the start of the year.
He had to change his defensive system before the season even began, and with injuries from point guard to center and everything in between, whatever roles the Bucks players may have been prescribed had to change nearly immediately.
Despite the injuries, though, no one could have predicted a 4-16 start to the season that included an 11-game losing streak.
Then, as guys started to get healthy, they remained ineffective.
At the halfway point of the season Mayo, Neal, Ilyasova, Butler and Ridnour are all shooting well below their career averages from the field. From the 3-point line, Knight, Ilyasova, Butler, Mayo and Ridnour are severely slumping.
Injury – and, frankly, bad basketball – has forced Drew to trot out 18 different starting lineups. Nothing has worked, at least in terms of finding a way to string together some wins.
The team sits with the worst record in the NBA and is in the driver's seat for the first pick of a loaded draft class.
The message had to change.
Unfortunately, it hasn't been received very well.
Immediately following a 116-100 loss in Phoenix on Jan. 4, media overheard a confrontation between Sanders and Neal, which led to Drew calling for individual meetings with his players.
"I think when you just look at our team, I think right now we're lacking what I call 'true chemistry'," Drew said before the team hosted Memphis on Jan. 15. "It's much more than just putting a group of guys together and just having them go out there and play. It's got to be the right mix, the right blend of guys right now. I think if you look at our club, I can't honestly say we have true chemistry.
"We're searching, we've got pieces. But, we're still trying to find ourselves from a chemistry standpoint."
The Bucks then lost a heartbreaker to the Grizzlies, and the next day Butler voiced his displeasure with how his role had changed from the off-season, specifically his playing time.
Three days later, Mayo echoed those sentiments and Knight wondered what the team's identity was.
Butler thought he was going to get a certain amount of minutes, or they would be dispersed in a certain fashion, but now the team wants to develop Antetokounmpo and Henson and see what Middleton can do with more time.
Neal felt he was going to be on the court more often than the 21.4 minutes per game he saw in three years in San Antonio and Mayo figured that after spending the better part of two years coming off the bench in Memphis, he had re-established himself by starting all 82 games in Dallas last year.
This team is rapidly approaching 30 games under .500 and will likely break the franchise record for fewest wins in a season, set in 1993-94 when the team went 20-62.
At this point, pushing the youth movement is the right thing to do (though I'm not sure how Mayo, 26, fell out of that mix), and that's going to hurt some feelings. Players will feel promises were broken, and it's Drew's job to smooth that over and make it work.
The trade deadline is in less than a month, but there's no guarantee any player will be moved. Most will have to finish out this season together and work to make it tenable.
I wouldn't be surprised if Drew has to meet with his players and define roles a third or even fourth time this year. But that's the nature of sport, and the nature of the game, but it's up to the players to take whatever role reversals they're given and make the most of it.
Facebook Comments
Disclaimer: Please note that Facebook comments are posted through Facebook and cannot be approved, edited or declined by OnMilwaukee.com. The opinions expressed in Facebook comments do not necessarily reflect those of OnMilwaukee.com or its staff.