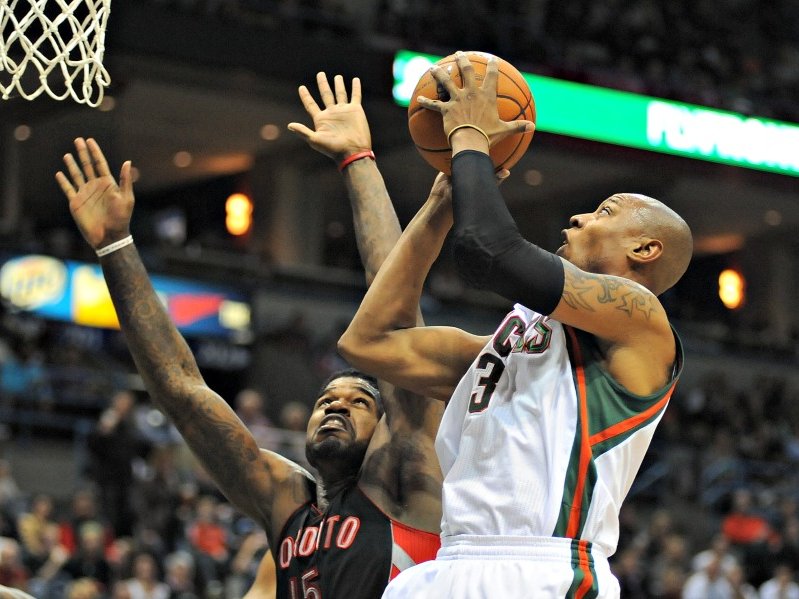 Bucks can't find solution to shooting woes
There are many reasons why the Milwaukee Bucks are struggling to win games, or even compete in some, but the biggest reason is an offense that is scoring the fewest points per game of any team in the league.
Why is that?
The simple answer is that they can't shoot.
Heading into Wednesday's game against Phoenix, the team is averaging a league-worst 91.1 points per game on a league-worst 42.1 percent from the field.
After a hot start in an eventual blowout loss to the Los Angeles Clippers on Monday, the Bucks shot just 38.2 percent from the field and a dreadful 18.2 percent from the three-point line.
It's one thing for a player or two to go through a shooting slump. Like a baseball player, the NBA season is long enough where a player's shot will abandon him for a bit. But often enough, other players will be on a hot streak or performing at about their career averages.
That is not the case with this Bucks team though. The entire team, aside from John Henson, is mired in a terrible funk.
"It's tough," Khris Middleton admitted. "Everybody's going through a real slump."
Of the 11 players with NBA experience who have attempted a shot for the team this season, seven are shooting 40 percent or lower. Only one, John Henson, is converting at a rate above 50 percent from the field.
Of the seven veteran players who typically shoot three-pointers, four are shooting 36 percent or lower. Only Gary Neal is shooting above 40 percent from long range.
Players shooting at their career average or better: Brandon Knight (+.004) and Henson (+.051).
Players shooting at their career average from 3-point range or better: Gary Neal (+.008), Middleton (+.022) and Luke Ridnour (+.027).
That's it.
Every other player with at least one year of NBA experience is slumping shooting the ball.
"I've seen it before," Middleton said. "It happens when you struggle. It's not often, but when it does happen you just gotta find ways to play through it and still win ballgames."
"You gotta keep shooting," Middleton said. "You've still got to be confident with our shots. Just get good looks for the team and they'll eventually fall for us."
There's a reason it's called an "average," and while in individual years a player may slump under that average or drastically exceed it, over a period of time that's the baseline.
The averages say the Bucks should be better than this. Over halfway through the season, they're not. It's no longer a small sample size.
Unfortunately, according to NBA.com, they're also missing from everywhere.
The Bucks are 26th in the league in shots from less than five feet (55 percent), 29th from between 5 to 9 feet (33.4 percent), 25th between 10 to 14 feet (36.1 percent), 19th from 15 to 19 feet (40 percent) and rank 26th from 20 to 24 feet (36.2 percent).
What's interesting is that, as a collective, they aren't really taking an abundance of bad shots. They rate 24th in NBA in long (20-24 feet) field goal attempts and are about middle of the road at mid-range distances – 13th (10-14 feet) and 14th (15-19 feet).
Looking for hope in the metrics? You won't find any there, either.
As a team, including the rookies, the Bucks are second to last in the NBA in Effective Field Goal Percentage (eFG%), which recognizes the fact that 3-point shots are worth more than 2-point baskets, at 46.8 percent. The Bucks are last in the NBA with a 40 percent True Shooting Percentage (TS%), which calculates in the differing values for free throws and 3-pointers, at 46.4 percent.
So what can be done?
"We'll do what we've been doing," coach Larry Drew said. "We really spend a lot of time working on shooting the basketball. We work on their individual stuff and we also work on things from within the team, shots that come from within the offense. That's all we can do at this point, is continue to work on it and continue to, when we get good looks, is to take them."
He stressed that he didn't want to see bad shots relative to game conditions or time on the clock, but he stressed that he didn't want any player passing up any shots.
The hope to hold on to is that the players have no intention of doing that, and eventually the averages progress back to the mean.
"You can't get no field goals made without field goals attempted," Butler said with a smile. "Keep shooting. Keep shooting. Stay aggressive. Keep the mentality and just continue to stay aggressive."
"Keep shooting. Just continue to shoot. Stay aggressive. The worst thing is when you pass up looks. Just continue to stay aggressive and one night they're all going to fall and then you have a huge night and you propel us to a win and you ride that momentum on out. Just continue to shoot, stay aggressive."
Facebook Comments
Disclaimer: Please note that Facebook comments are posted through Facebook and cannot be approved, edited or declined by OnMilwaukee.com. The opinions expressed in Facebook comments do not necessarily reflect those of OnMilwaukee.com or its staff.