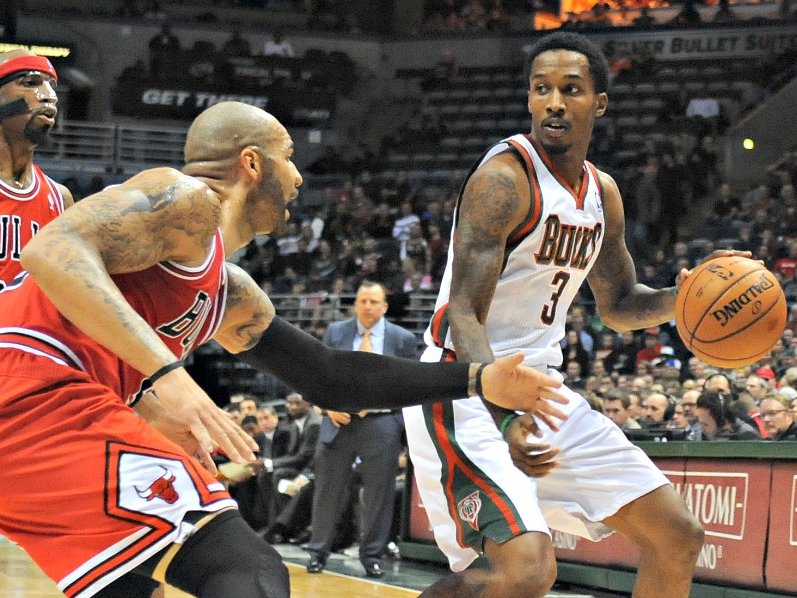 Improving your game at the NBA level is harder than it looks
At the end of training camp, near the end of his session with the media, Milwaukee Bucks point guard Brandon Jennings slipped into his final thoughts about the year a little detail that people should look out for – a new move.
"I'm a gym rat, I stay in the gym all the time," he said, a smile beginning to spread. "I perfected the Steve Nash shot. I love it. It's my go-to move. You just can't stop it."
For the uninitiated, the "Steve Nash shot" is a floater the two-time MVP has become synonymous with – a nearly indefensible shot that has helped Nash maintain his position as one of the top all-around point guards in the NBA.
Jennings has incorporated several moves into his game over the years, including the "Eurostep" he learned while playing in the Italian League in 2008-09.
Most players like to add elements to their offensive repertoire or work on weaknesses such as off hand ball handling or shooting from a certain distance during the offseason, but there is a balance in doing that and then bringing to NBA courts – in practice or otherwise.
"That's what the summers for," said Bucks swingman Mike Dunleavy, who is in his 11th year. "Those types of things you improve and work on those in the summer. You back to training camp, you work on it in practice and if you feel comfortable you take it to a game. And if you do it in a game, you've got to do it at an efficient enough level. If you're going to shoot a left handed hook shot, you need to shoot it at a high enough clip where you're comfortable with it, where it's worth it. Otherwise, trying to add something to your game, no matter how hard you work and it's not effective, it doesn't do any good."
There's another element to that offseason work that helps players – especially players like Jennings – add new dimensions to their game.
"Have you ever heard the team say you've got the green light to do something?" asked Bucks guard Marquis Daniels. "That helps out a lot with some players. If they're coming into the league and they're quote-unquote not a great shooter, or this and that, but all of a sudden they get in this league and it's like 'man, they can shoot the ball.' It's not really that. It's really confidence. It's getting out there, getting the timing, getting the rhythm, picking your spots of where you want to shoot the ball at."
At a certain point however, a player's focus is not about adding skills but more about highlighting what you already do well and ultimately avoiding the things that you don't.
"You're always hoping a guy matures and kind of understands and stays away from his weaknesses and plays to his strengths," said Bucks coach Scott Skiles, who played 600 games over 10 years. "That's what makes guys hang around and have careers."
Daniels is playing in his 10th year this season and the Bucks are his fourth team. He's a career 45 percent shooter from the field and has averaged in double figures in scoring just twice. His reputation is that of a solid defender and it's something that 31, he's more likely to rely on.
"A guy like myself, I was called a never a guy who could really shoot the ball, so when I get my open shots I take my time, make sure I make my shots," he said. "You can change that, but I'm going to make sure I continue to do the things I can do better – like be a defensive player, a better passer, I'm going to do what I do to make the game better for myself and I'll make it easier for myself as opposed to putting myself in situations where I have to force a 3-point shot or force a contested dunk and make the situation look even worse to where it's 'he really can't do this or that.' You've got to try to put yourself in the best situation out there as well."
Recognizing such things not only helps the player "look good" but it also contributes to winning basketball by avoiding turnovers or poor shot selection. It also demonstrates how hard it really is to improve strengths and weaknesses at the highest level of basketball. It takes not just the dedication, but the timeline involved in making it work in an NBA game.
"That's the progression," Dunleavy said. "You can't just come in and say OK, today I'm going to add this after a couple days of practice. That's not how it works."
Facebook Comments
Disclaimer: Please note that Facebook comments are posted through Facebook and cannot be approved, edited or declined by OnMilwaukee.com. The opinions expressed in Facebook comments do not necessarily reflect those of OnMilwaukee.com or its staff.