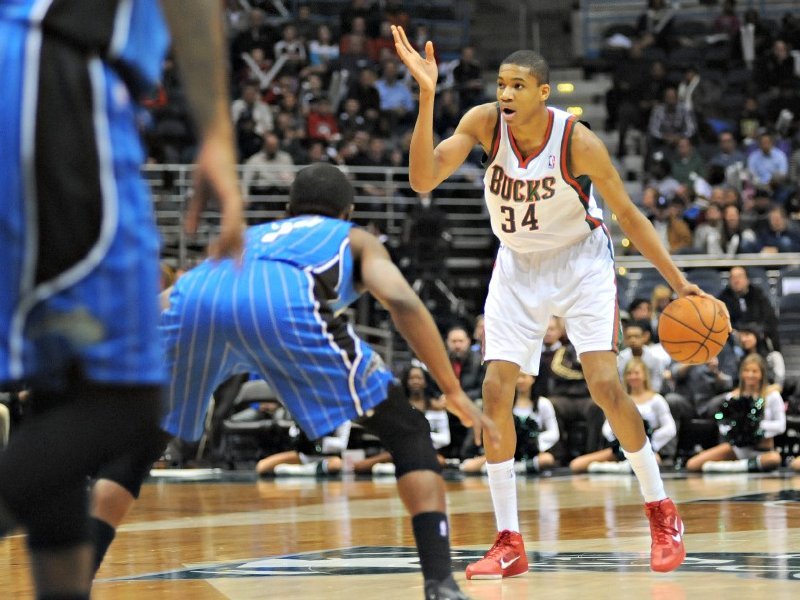 Bucks should toss convention out the window in rebuilding process
Brandon Knight is one of the calmer personalities I've come across in my two-plus years in Milwaukee, and the most perturbed that I've seen was at his introductory press conference.
Why? Because both in the group setting and in one-on-one interviews, he was consistently asked about whether he was a true point guard or a shooting guard.
He didn't like the insinuation that he couldn't run an offense, but he acknowledged he could score – that the game had changed to where "point guards" really weren't defined the same way now as they were, say, in the 1980s and '90s.
I found it interesting that he was upset by the questions, but in the moment, I didn't quite understand why.
But we (myself included) were asking the wrong questions, and we didn't listen to what he was saying.
While I am a member of the "mass media," I do try to operate outside of the orbit of my colleagues. I take pride in that, but I have actively work at it. It's difficult to do. Sometimes, when news breaks, you have to allow yourself to be pulled in. It's not to say they're wrong, or I'm right, or vice versa. It's just different.
Which is what Knight was saying – he's different. His "position" is different. The game is different.
And in that moment, way back at the beginning of the summer, I wasn't really listening.
Why does it matter if he's not a true point guard? In fact, what exactly is a true point guard anymore?
But I'm just using Knight as an example. These questions can be applied to any member of the current core of the Milwaukee Bucks, and presumably, the next member, too.
I "got it" with the drafting of Giannis Antetokounmpo. At the time, he was 6-feet, 9-inches, but everyone in the organization acknowledged that he could dribble, shoot and had a feel for finding teammates within the offense. That has proven very true.
But what needs to change, at least in the "mass media" sense, and for me, is how we look at individual players within the construct of a team.
Role definition in the positional sense needs to go away. Why define what Antetokounmpo is? On any given play he could be the point guard, the shooting guard, or any of the front court positions. Knight has defended small forwards. Khris Middleton, at 6-7, has defended everywhere too.
John Henson and Larry Sanders are lithe, "spindly" big men. They can run and leap, and if they want, close out to the wings on smaller players. Now, that idea didn't go over very well in Larry Drew's first training camp, but they can do it. Why bother calling them a "center" or "power forward?"
This isn't the NFL, where guys get paid based on the letters listed after their name on a depth chart – as New Orleans Saints "TE" Jimmy Graham discovered.
As the game evolves, it's harder to delineate "bigs" from "smalls." Bucks general manager John Hammond likes to say "you are what you can defend," but I'm not so sure that's the case anymore, either.
With smart team play, help defense can be far more effective than one-on-one matchups. Shot blockers like Henson, Sanders and Antetokounmpo are better suited to roam and close down and out.
This brings us to the upcoming NBA Draft, where the Bucks will have an excellent shot at landing one of the top four picks. If every underclassmen that we expect to declares, that means the likes of Jabari Parker, Joel Embiid, Andrew Wiggins, Marcus Smart, Dante Exum and Julius Randle (among a host of others) will be available.
What I like most about Jabari Parker (6-8, 225) and Andrew Wiggins (6-8, 200) is that they, too, don't fit into any nice, old guard boxes. Are they "small forwards?" Is Wiggins a "two?" What about Dante Exum? He's 6-6 and 180 pounds, but some people consider him a more "traditional" point guard. What does that mean anymore? Should he be that anyway?
If you told me the Bucks would trot out Knight, Antetokoumpo, Parker, Henson and Sanders as a starting five, playing together for 30 minutes a game, does it matter who brings the ball up every time? Does it matter who is posting? Does it matter who's lobbing to who on a back cut?
No.
Now, in a tight, late game (or playoff) situation, sure, you want some definition. You'll need a guy to bring it up, run a play, set a hard screen and take a final shot. Depending on the game and roster makeup, matchups may dictate a beefier presence down low, or a quicker presence up top. It's the NBA. You need to adjust and that's why you have 10 other guys.
But on the whole, I like the idea of fluidity, of having players with varied skill sets playing with, and off, one another.
In the past, perhaps one could say the Bucks didn't have as much talent as its opponents. If you toss in a top four pick with this current core, I'm not so sure that remains the case. That talent might not be as polished as other teams, but you couldn't say it's drastically inferior. And by throwing all convention out the window, it might help the team win more games.
Talkbacks
AndrewJ | March 27, 2014 at 2:27 p.m. (report)
Most important part is to get a player that wants to be here. For god's sake, get that figured out in the one on one interviews. Don't need any more Todd Day reactions: http://youtu.be/iWfrzP56WWE?t=45s If you can't fledge out that obvious bit of information from a kid in an interview, it's time to hire a new GM and scouting team. For example, a kid like Wiggins who when asked about what he was most looking forward to about his first year at Kansas, answered "my last year at Kansas". Yeah... that's probably not a guy who would enjoy time in Milwaukee.
TosaJim | March 26, 2014 at 2:44 p.m. (report)
First...get rid of Herb Kohl....second....make sure he's gone. Anything after that will be a positive.
Facebook Comments
Disclaimer: Please note that Facebook comments are posted through Facebook and cannot be approved, edited or declined by OnMilwaukee.com. The opinions expressed in Facebook comments do not necessarily reflect those of OnMilwaukee.com or its staff.