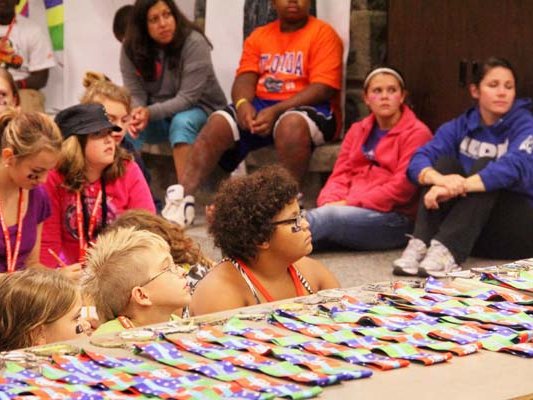 Race medals reward burn victims' greater mettle
In the thick of their own struggle, the last miles of a marathon, bike race or triathlon, athletes focus inward, searching for the fortitude to continue through their exhaustion and pain.
Rarely do they think of others, those who face greater challenges of serious illness or debilitating injuries.
I'm certainly one of the guilty.
My self-centered mindset changed dramatically during a visit to the Summer Camp for Burn Injured Youths at the Timber-lee Christian Center, near East Troy, and an afternoon sharing race medals with the children there.
I was humbled by the realization: their scars – physical and emotional - are permanent. My race-day struggles are fleeting.
The burn camp, organized by the Wisconsin Alliance for Fire Safety, has been a week-long refuge for the children for 16 years, and the Medals4Mettle chapter in Milwaukee has distributed donated race medals to them in each of the last two.
Even spread out across several large tables, the shiny awards from marathons, Ironman triathlons, the Badger State games and bike races seemed insignificant rewards for youths who suffered so much more than any of the original recipients.
Many of the 66 children sat withdrawn. Clothes hid their physical scars, but not their self-consciousness, or their simmering anger. I wondered how a small token from someone they would never know could impact them, could be of any comfort.
Slowly, a few of the campers brightened.
Ricky Goetsch, 12, approached and scoured the array of medals to pick his favorites. A counselor noted it was the first time he had shown an interest in participating in the burn camp activities.
Others followed.
Encouraged by Pam Kassner, a marketing consultant who founded the Medals4Mettles Milwaukee chapter in 2008, the youths raised their hands to have the next pick. In succession, they came to the front of the room, shared a story of what made them proud, selected a medal, received a hug from fitness coach Briana Boehmer and struck a victory pose.
The insignificant had somehow become meaningful.
"It's a physical thing, not a small token," said Dr. Tom Schneider, who translated the thoughts many of the children were too shy to share. "It's something that any child can look at, at any time of day, and get a push.
The medal gives them a sense that someone has done something for them, and perhaps encourages them to do something for somebody else.
Like the athletes who focus inward in pursuing the medals, the burn victims often spend much of their lives isolating themselves in their own struggle.
Schneider has treated hundreds of burn victims during his nearly 30 years working at Columbia St. Mary's Hospital. He founded the burn camp to give children a place to connect, to be a part of a group, outside of a hospital or clinic.
"They come into a community of their own, and never have to feel out of place," he said. "They are more self-assured in their own communities."
After they picked their medals, the children dispersed throughout the camp. Dozens joined in a lively kickball game, seeming for a time to ignore the tragedies and injuries that brought them to this wooded haven.
They won't forget their medals, Stephanie Clayton assured.
A child life counselor at Children's Hospital of Wisconsin, Clayton comforts children through their treatment, and relishes hearing about their achievements during their time at the camp.
With years of experience, she said with certainty that the children would wear their medals throughout the week and talk about them when they returned home. The small trinkets will long remain a positive reinforcement, a symbol that someone cares about them.
Natalie Wepking, 17, one of the campers who biked to East Troy from La Crosse, probably explained it best.
She told me the medals show that "most people don't give up.
"It's not easy, but you just have to keep pushing. It's going to get better. It does get better."
Medals4Mettle has distributed 21,000 medals worldwide since its founding by Dr. Steven Isenberg in Indianapolis, Ind., in 2005. Area athletes looking to donate medals or cash to support the cause can contact Pam Kassner via email pam.kassner@medals4mettle.org.
ubuwvqfqed
Facebook Comments
Disclaimer: Please note that Facebook comments are posted through Facebook and cannot be approved, edited or declined by OnMilwaukee.com. The opinions expressed in Facebook comments do not necessarily reflect those of OnMilwaukee.com or its staff.