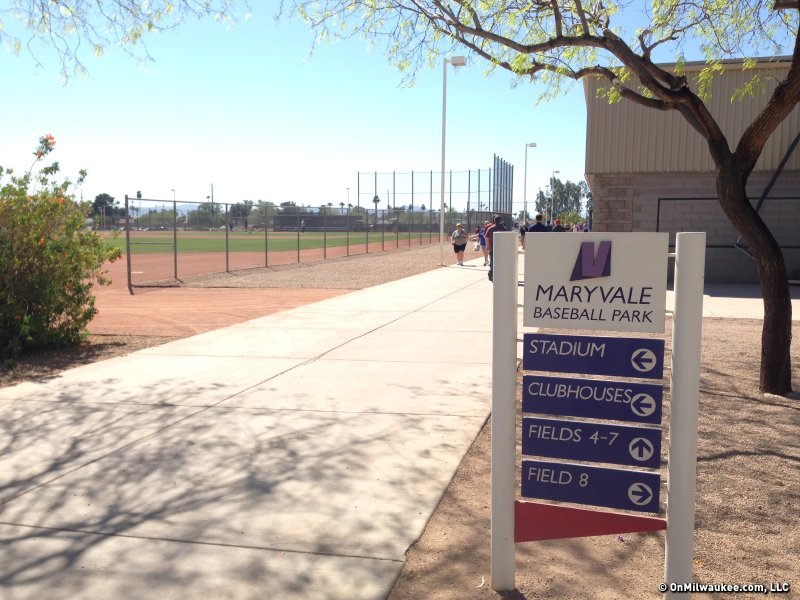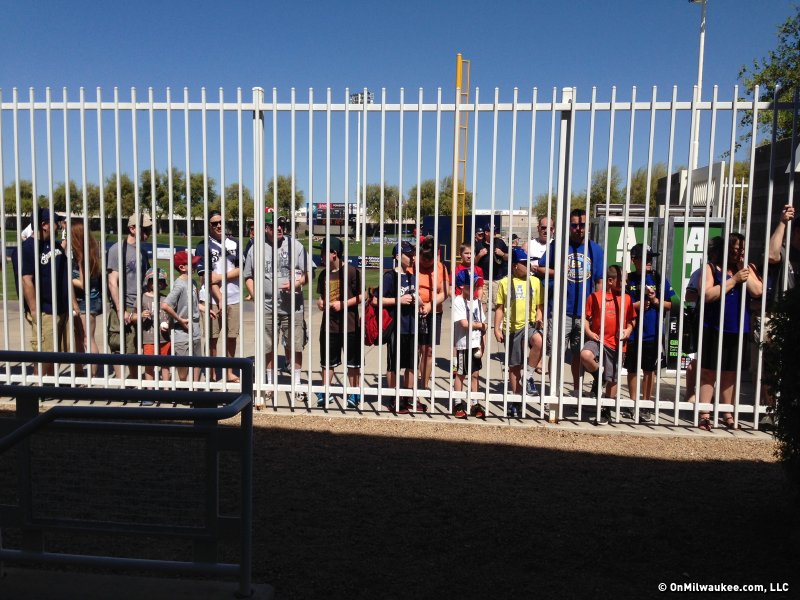 One outside observer's take on the Cactus Crew
SCOTTSDALE, ARIZ. – I had the opportunity this week to watch four Brewers spring training games this week, three of them at the old school Maryvale complex.
As a Phillies fan who's spent most of his life stuck on the East Coast, I found myself wondering, what makes a Brewers baseball game experience distinct from a Phillies game or any Major League Baseball game?
Sure, the average baseball fan knows about the racing meat products. But what else makes the experience uniquely Brewers-ian (Brewers-esque?)?
And how much of the authentic Milwaukee experience can (should?) be translated into the spring training experience?
Here are my notes, taken as I talked to fans, listened to the sights and sounds, and ate and drank my way through four great games:
The music was a bit of a mixed bag. I certainly appreciated the oompa-pa sound. Playing "Roll Out the Barrel" is an excellent tradition! I loved it! I'm told it's a traditional part of the game both at home in Milwaukee and at Maryvale.
What I didn't expect so much was the amount of country music I heard. Is that a Milwaukee thing – country music? Or is that just the Arizona influence creeping in?
The biggest difference between a spring training game and a regular season game is the access. Walk the grounds of the complex and see players from every level, from big leagues to low-A, taking batting practice, of course, but also, doing little things like practicing tagging up. Only in spring training can you watch 30 grown men practice tagging up.
Beer consumption seems to be about the same between Brewers fans and Philly fans. You love your beer. Philadelphians love your beer. You love your beer enough to make it the central theme of your team. So you win this one, I guess.
I won't attempt to start an analysis of cheesesteaks versus brats. We all love our salty meats. Let's leave it be.
The people were all so friendly! Everyone we chatted with met us with a "hey there!" and a pleasant smile. I would like to tell you that you would get a similar reaction from a randomly selected Philly fan. Really, I wish I could tell you that.
There was no cursing or public drunkenness on display throughout the four-day experience. Not in the seating area, the berm, the parking lot or even the nearby bars after the game. Brewers fans are well mannered drinkers. (Perhaps we should talk about the San Francisco Giants fans, though ...)
Facebook Comments
Disclaimer: Please note that Facebook comments are posted through Facebook and cannot be approved, edited or declined by OnMilwaukee.com. The opinions expressed in Facebook comments do not necessarily reflect those of OnMilwaukee.com or its staff.