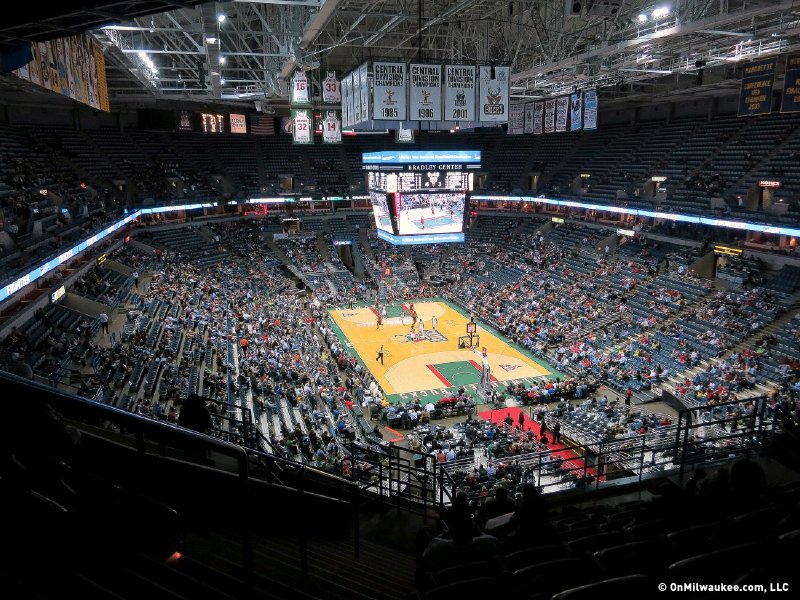 Green and going?
As the Bucks embark upon their 45th NBA season, to say that the franchise is at a crossroads is a terrible understatement.
Years of uninspired play, mounting injuries, an aging arena and an unenthusiastic fan base have made even the most die-hard exhausted of answering the questions of "when" and "if."
When will the Bucks get back to their winning ways of the '70s and '80s? If we, the public, subsidize a new arena, will it save our community's team?
If a new arena is not built, when will the Bucks pull up stakes for greener pastures, hungrier fans, and a new building?
When will the Bucks hang another championship banner? If they never do, why should we keep spending our money going to games and investing our hearts into a team that cannot compete?
Those "whens" and "ifs" sure can be pesky.
The threat of relocation hasn't been used, not yet anyway. And even though Bucks fans have certainly (and rightfully) taken umbrage at the stewardship of Sen. Herb Kohl over the last 27 years, he has kept the team in Milwaukee.
Beyond that, there is objectively little more you can put in the Senator's positive column.
Since Kohl purchased the Bucks in 1985, there have only been 11 winning seasons, but six of them were the first six years he owned the team. Since the Bradley Center opened in 1988, the Bucks have only advanced beyond the first round of the playoffs just twice; and in a league where it is statistically more difficult to not make the playoffs than to play beyond mid-April, Milwaukee has, in a significantly weaker Eastern Conference, failed to qualify in five of the last six years.
Dyed in the wool Bucks fans are understandably upset. They are not the problem. The problem is the rest of the populace is becoming increasingly apathetic as to whether or not we even have a team at all.
The true believers will always be there. And goodness knows the Bucks (and every franchise) need them. But in a city where few stars want to play and in a time when the national economy is still in shambles, convincing the good people of Milwaukee to pay hundreds of dollars to watch mediocre basketball becomes a harder and harder sell.
Part of the problem is manufactured by NBA Commissioner David Stern's disinterest in leveling the playing field for small market teams. In Stern's world, the only teams that appear to matter are the chosen ones: the Lakers, Heat, Celtics, Mavericks, Spurs, Knicks (because it is New York), Nets (because it is now New York) and Bulls. Everyone else is treated as little more than a speed bump to fill out the schedule.
Oh, every once in a while there is a team like Oklahoma City that pops up on the radar of the powers that be at NBA headquarters inside New York's Olympic Tower, but these small-market anomalies are few and far between.
But the Thunder are an interesting case study on several different fronts.
A never-thought-of burg in the middle of a never-thought-of state, Oklahoma City was best known for the terrible 1995 bombing of the Alfred P. Murrah Federal Building. A decade later, the NBA came to town after Hurricane Katrina forced the Hornets to temporarily vacate New Orleans.
What was supposed to be just a way to stay afloat in a previously-untapped major league professional sports market instantly became the talk of the NBA. A new community, undeterred by Stern's insistence that the team would not abandon post-Katrina New Orleans, supported the Hornets in droves.
A state-of-the art arena, NBA-hungry fans and the prospect of breaking new ground in Oklahoma was something that could not be ignored. After then-Seattle Sonics owner Howard Schultz failed to secure a new arena for his team in the Pacific Northwest, he sold them to Oklahoma City businessmen intent on ripping the Sonics from their historical home without a second thought.
Page 1 of 2 (view all on one page)
Next >>
Talkbacks
brewcitypaul | Oct. 11, 2012 at 7:43 p.m. (report)
To follow up, I do believe the Bucks have a few very nice young players in Brandon Jennings, Tobias Harris (breakout player this year), John Henson, Doron Lamb and even Ersan who is only 25 years old and in the first year of his new contract. We need continued development from Jennings & Ersan and we have Tobias & Henson with great breakout potential along with Doron Lamb who will be a solid pro, never a star, but he'll be in the league for awhile. So there is some high talent youth on the roster. We have a nice opportunity here with Jennings becoming a free agent (he should be resigned), Monta Ellis a free agent (he should be let go or better, traded to a contender at the deadline). We will have a little money to play with next year and this team needs to use current assets to acquire more youth & talent through draft picks. If we are not in the playoff hunt at the deadline we should be moving players like Ellis, Dalembert, Gooden, & Pryzbilla to contenders because they are all valuable players in their own right who will not contribute to the future of the Bucks. This next offseason is critical. Hammond & Skiles are in the last year of their deals so the new owner can hire his own coach & GM. We have contracts coming off the books and veteran talent to trade at the deadline. Hopefully a new owner becomes interested in purchasing them, building a new arena and invigorating this city. Gonna be tough to keep this team in Milwaukee, hopefully it happens one way or another.
brewcitypaul | Oct. 11, 2012 at 6:17 p.m. (report)
Hey Doug, Thanks for writing the article that the JS won't cover or expose it's viewers to the current situation at hand. Too bad management didn't just "bite the bullet" after we broke up the Big Three (Sam, Ray, Glenn) and fired George Karl. Pair a couple high draft picks with smart management choices and a frugal salary structure and we could've put ourselves into a position to sign a max type player to couple with a couple rising young stars. Instead we blew our wad on a $96M contract for Michael Redd and a $36M deal for Dan Gadzuric that saddled our salary structure for 6 years. Instead we keep spending money on retreads like Corey Maggette, Stephen Jackson, Richard Jefferson, John Salmons and we expect the fans to lap it up to pay good money to watch washed up veterans fight for the 8th seed. Herb Kohl has been great in only that his intentions are good. He has kept the team in Milwaukee and he has spent money, but outside the Big Three era we've never caught lightning in a bottle except for half a season two years ago with Fear The Deer. If and when Milwaukee faces outside interest and a possibility of moving, I don't know....actually I know we won't get the same public support that Seattle put out (parades, petitions, films, rallies) to try and keep their team in Milwaukee. Hopefully a new owner can swoop in (Attanasio?) and see that what he did with the Brewers can be done to the Bucks. This city loves basketball, but we want it built the right way. Give us some young stars we can get behind and watch grow. Don't they remember that's how we won last time? Glenn was #1 pick and Ray was acquired with a #5 pick (Marbury). Give the fans exciting young stars and we will still come out. Too bad it's almost too late.
Facebook Comments
Disclaimer: Please note that Facebook comments are posted through Facebook and cannot be approved, edited or declined by OnMilwaukee.com. The opinions expressed in Facebook comments do not necessarily reflect those of OnMilwaukee.com or its staff.