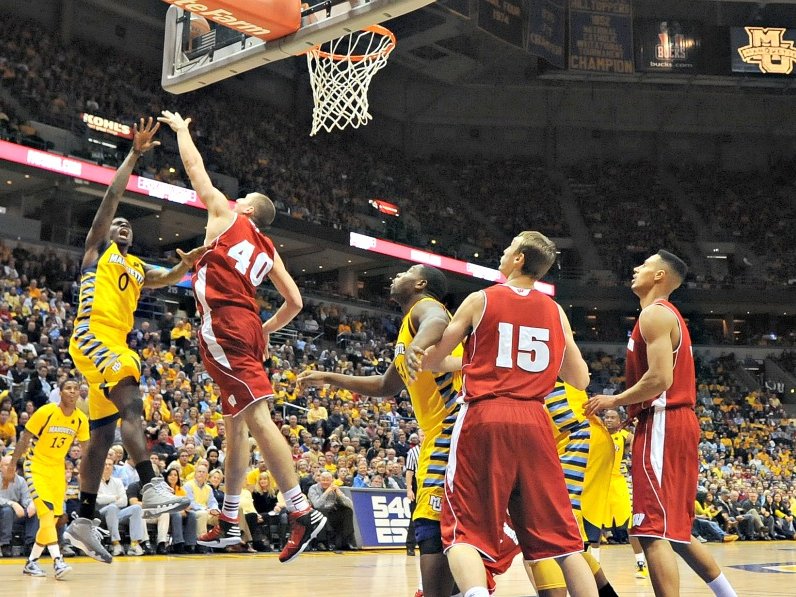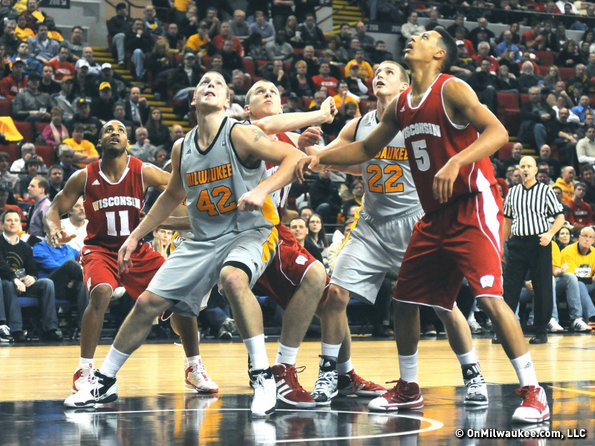 Wisconsin's Division I programs should double up in Milwaukee
Maybe it's the bass still humming in my cochlea from the Marquette University band, but I can't get last week's Marquette-Wisconsin basketball game out of my head.
It's not so much the game. It was hotly contested and no doubt fun to watch, but what got me was the vibe. It was my first such game in the long rivalry, and it made an impression.
I loved the fact that the line of Marquette students booed an older couple wearing red all the way down 3rd Street. I loved the trio of Badgers fans who somehow got tickets in the Golden Eagles student section, dotting that sea of gold with a splash of red.
In-state rivalry games in Green Bay and Madison are now on my Wisconsin sports bucket list, and I'm looking forward to getting out to the Klotsche Center to see the UW-Milwaukee host the UW-Green Bay in Horizon League action in late January.
Coming from Illinois, I was pleasantly surprised to learn this winter that the Badgers, Golden Eagles, Phoenix and Panthers all play each other (or have played each other) in some capacity over the years. Now, college hoops isn't really a hot-button topic across the border, but UIC, DePaul, Loyola, Northwestern, Illinois and all of the directional schools have never gone out of their way to build interest by playing one another in Chicago.
I figured most coaches didn't want the bother of doing such a thing, both from a scheduling standpoint and fear of the occasional upset. So, I have to give Buzz Williams, Bo Ryan, Rob Jeter and Brian Wardle (and their predecessors) for putting that side for the good of the state.
Now, being sufficiently hooked, I'd like to see them take it a step further – a true double-header at the BMO Harris Bradley Center.
Naturally, I had to take the temperature of some fans – so I reached out to a few over Twitter.
Here was some of the feedback:
@jimowczarski @painttouches @phearthephoenix @badgermbb I know we would. I know Buzz would be up to it. Bo would be a tough sell

— PantherU.com(@PantherU) December 12, 2012
I could see how Ryan and the Badgers would be leery of this. They no doubt consider themselves the premier program in the state (have at it, Marquette fans) and would definitely view this as going into enemy territory too often.
A compromise could be a rotation with the Kohl Center, maybe once every three years or so.
@jimowczarski I like it. NCAA prohibits schools from same conf playing the same event so it'd have to be a true doubleheader, not a tourney

— Phear the Phoenix(@PhearThePhoenix) December 12, 2012
Of course, the Phoenix gets the short shrift here. This is no knock on the Resch Center, but unless some engineers can figure out a way to put a court at midfield at Lambeau Field at the very start of the college hoops season the two Horizon League teams sort of have to sort of cater to the demands of the bigger programs.
Since UW-Green Bay has played 18 of its 20 games against the Badgers in Madison and 11 of its 12 against Marquette in Milwaukee, you figure this wouldn't be a problem. But, not everyone sees it that way.
@jimowczarski Interesting proposal, but biased against Milwaukee and GB if always played at Kohl or BC. Would never happen that way.

— Chad Knodl (@ChadKnodl) December 13, 2012
This would be a boon for downtown Milwaukee, having all four current fan bases and alumni descending on the city for a day of basketball. Perhaps there could be a women's double-header on Friday or Sunday, too, to make a weekend of it.
If the draw that year is Marquette and Wisconsin it's likely to be nationally televised and who knows, perhaps any one of the several national and regional sports networks would want to buy the entire weekend. There are also local TV and sponsorship dollars to be had as well.
But, what is this really about?
@jimowczarski that would be a pretty coolatmosphere

— Phear the Phoenix (@PhearThePhoenix) December 12, 2012
My sentiments exactly.
Talkbacks
High_Life_Man | Dec. 17, 2012 at 2:02 p.m. (report)
Bo is for it. He said so a couple years back in an interview. I believe it was Tommy Crean and Bill Cords who pushed hard against it.
Facebook Comments
Disclaimer: Please note that Facebook comments are posted through Facebook and cannot be approved, edited or declined by OnMilwaukee.com. The opinions expressed in Facebook comments do not necessarily reflect those of OnMilwaukee.com or its staff.