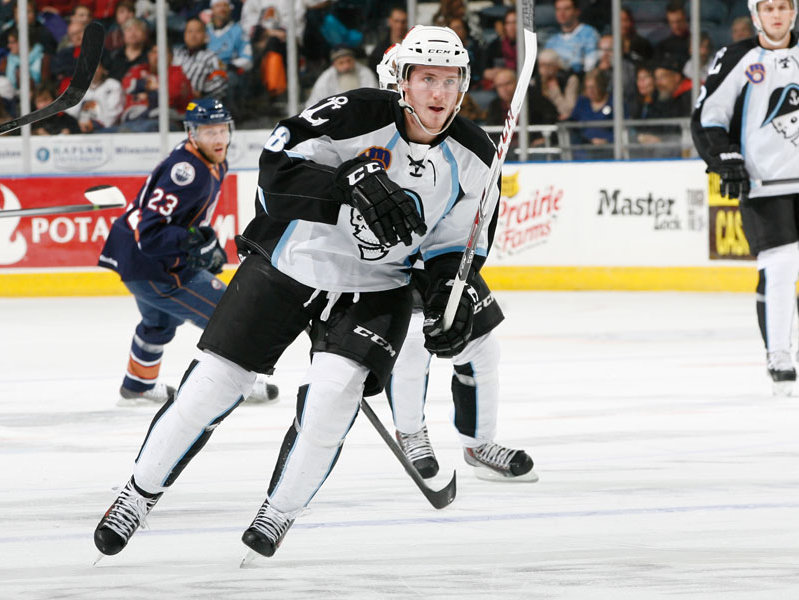 Road weary Sissons ready to shine in All-Star Classic
It's not often that finely tuned professional athlete – especially a spry 20-year-old – can sound worn, ragged even.
Pardon Colton Sissons if you happened to catch him at all over the last five days.
Following the Milwaukee Admirals' 3-0 loss against Utica on Feb. 7, Sissons was called up to the parent Nashville Predators out of the blue for a game on Feb. 8 to fill in for an injured player. Naturally, his flight out of Milwaukee was delayed, and he arrived just after pregame warm ups in Nashville.
Sissons played that night for the Predators against the Anaheim Ducks, logging 7 minutes, 27 seconds (12 shifts) of ice time, and then was reassigned back to the Admirals.
Back to the airport he went, and the forward arrived back in Milwaukee on Sunday in time to play in one shift in the Admirals' 1 p.m. game against the Chicago Wolves at the BMO Harris Bradley Center.
Then, he turned around and was back at General Mitchell International Airport on Sunday night to head out to St. John's, Newfoundland for the AHL All-Star Classic.
Whew.
An all-star game is nice, but spending time in the same place for two days in a row? Even better.
"Yeah, absolutely," he said. "It'll be nice to sleep in the same bed, that's for sure."
The all-star festivities began for Sissons on Tuesday as he participated in the Skills Competition, which he admitted isn't really his forte, and then he joins the rest of the AHL team in taking on Färjestad BK, a Swedish professional team, at 7 p.m tonight.
"It's a huge honor," he said. "It's a great group and this year in general has just been awesome, playing in my first NHL game and being in the All-Star game, it's all pretty surreal. All of it hasn't quite sunken in yet."
"It hasn't kind of settled in. It hasn't since I got the news. It doesn't really set in until you're actually in the place and things are happening. It's really exciting and I'm looking forward to it. It's going to be competitive hockey out there, so it's going to be a great time."
It's a unique twist on all-star competitions, where typically players are divided either by conference or homeland.
Instead Sissons will be able to skate with the top players in his league.
"I'm looking forward to the game itself – it's not going to be your typical All-Star game," he said. "It's going to be really competitive and it's going to be a fast pace so it's going to be a cool experience.
"It's great to see some players you grew up watching and playing against and to be on the same ice with them is a really cool experience. It makes you step back a little bit. And also just measuring yourself against the best. That's what you're there for, to be the best and it's nice to know where you're at."
Färjestad BK features nine players who were drafted by NHL teams, including Pontus Åberg, a 20-year-old left winger who may one day join Sissons with the Predators.
Even with a handful of trips east to Nashville that have broken up his year, Sissons has appeared in 45 games for the Admirals, scoring 29 points (17 goals, 12 assists).
"For me, it's been great every time to just to go up there," he said about Nashville. "I'm all about it. That's what I want to do and that's where I want to be playing hockey so it's all good. Sometimes the travel isn't ideal but that's just the way it goes sometimes."
He'll be back in Milwaukee by Friday night to help the Admirals take on the Iowa Wild, but despite the over 6,000 total miles he's traveled in the last week, Sissons will gladly go back and forth to Nashville the rest of the year if need be.
"That's basically how simple I keep it for myself – they called me up for a reason and my plan is to keep going and building on that and just be patient and wait for my next call," he said. "Whether I have to a month, two weeks or two months it's just part of the process. There are so many factors come in to play and it's hard to keep track of it all."
Talkbacks
jasonbohn9 | Feb. 12, 2014 at 1:26 p.m. (report)
He wasn't really called up "out of the blue" to Nashville. Nashville had injuries, and Sissons has been the best player all season for Milwaukee....so not out of the blue at all. He also played more than 1 shift Sunday for the Admirals. Glad to see coverage for the Admirals though...
Facebook Comments
Disclaimer: Please note that Facebook comments are posted through Facebook and cannot be approved, edited or declined by OnMilwaukee.com. The opinions expressed in Facebook comments do not necessarily reflect those of OnMilwaukee.com or its staff.