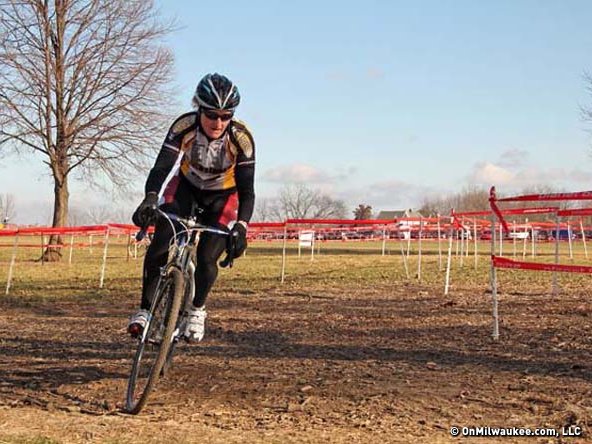 Hooked on cyclocross
Over the course of my first season racing in the Wisconsin Cycling Association Cyclocross series, "what's cyclocross?" has been the common reaction from friends.
"Thirty minutes of gasping for air" has been my best answer.
With a little time to reflect, I can elaborate.
I raced in five of 15 WCA events through the fall and was often reminded of running cross-country in high school: the shot of adrenaline at the gun, followed almost immediately by oxygen debt and feelings of exhaustion, then the fight to push through the pain, moments of recovery and the battle for every spot I could hold. As in high school, I never threatened to win, but claimed victory whenever I finished strong enough to pick up a few places at the finish.
It was a familiar love-hate relationship.
In the moments before a race, my stomach churned with anxiety over the suffering to come. In the moments after, I celebrated with the pride of having competed.
I will long remember the scene in the parking lot after the finish of my men's 45+ Cat. 4/5 race in the Wisconsin Cup State Championship – a group of middle-aged slow guys congratulating each other, while in various stages of dress and respiratory distress, coughing, wheezing, and yes, some vomit.
For most of the summer, I trained to run the Birkebeiner Trail Marathon, piling up hundreds of slow miles, maintaining a steady heart rate and walking when necessary.
Cyclocross crushes a cautious approach. It's an anaerobic pursuit that requires speed, power, agility and the ability to go when your body screams stop. There's always someone ahead to chase, someone behind to hold off, and hecklers chiding your effort.
As I've repeated to inquiring friends, cyclocross courses have barriers, steep hills, sand pits or even stair climbs that force riders to pick up their bikes and run, then jump back in the saddle. Pros make it look like ballet, fluid motions of dismount, run and remount. Amateurs like me slow, stumble a bit, leap, then flail at the pedals.
Those bobbles, a missed pedal, a slip in a turn or a face plant produce an opportunity to gain ground, or lose it. In the Booty Cross, I lost precious time executing a sliding 180-degree turn that left me facing the wrong direction, and stunned to be upright.
In my race category – entry level for those graying gracefully – we race for 30 minutes. After lap one, officials determine how many laps we'll go on a course that ranges from one to two miles. The words "one to go" bring more joy than "I do."
Racing in the series provided something unique, different than a typical 5K or marathon, in the opportunity to line up against the same guys every weekend. At the start of the WCA Wisconsin Cup, I looked at the 16 riders around me and recognized the guy from West Bend who outsprinted me in the Halloween 'Cross in Washington Park and crushed me in the Booty Cross in Heistand.
After chasing the familiar red jersey from the start, I caught him on a climb with just over a lap to go and dug as deep as I could to keep him from closing the gap. I didn't look back until the finish, and gloated inside when I saw him 20 seconds behind.
He will have to wait a year for his shot at revenge, and I'm already looking forward to it.
Nationals: The WCA series was a local preview for the USA Cycling Cyclocross National Championships, coming back to Badger Prairie Park, in Verona, from Jan. 9 to 13. The top amateurs in the country will compete in the early races and the pros will chase stars & stripes jerseys on Sunday. Wisconsin will be well-represented, with Brian Matter and Tristan Schouten among the pro men, Ian Haupt and Corrie Osborne in the junior ranks and Kaitlin Antonneau looking to add to the two national championships (U23 and collegiate) she won in 2012.
Facebook Comments
Disclaimer: Please note that Facebook comments are posted through Facebook and cannot be approved, edited or declined by OnMilwaukee.com. The opinions expressed in Facebook comments do not necessarily reflect those of OnMilwaukee.com or its staff.