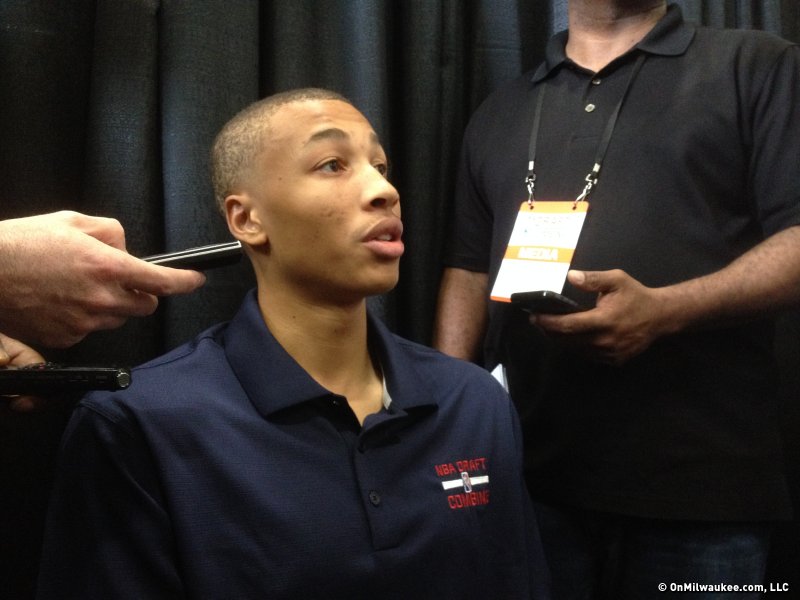 Exum exudes confidence, seeks right "fit"
CHICAGO – Lights literally flashing before his eyes as cameras were set up, turned on and then broken down during an interview session that lasted over 30 minutes, the NBA Draft's most interesting, and unknown player, Dante Exum was poised and confident in an admittedly unusual situation.
"I was hidden away from the cameras and the lights in a way," he said with a slight smile. "I've never done something like this with a lot of these cameras."
He wasn't uneasy about it, though – but matter-of-fact. Surrounded by reporters from all over the United States, the lithe, 6-foot, 6-inch Australian point guard exuded nothing but confidence when talking about his ability and what he can bring to an NBA team this coming season.
Exum, who has been training in Los Angeles since the NBA all-star break, feels he can win off the dribble and get to the rim and has increased his foot speed to stay with the quick point guards already in the league, and if a team wonders about where he may play in the back court, he answers for them.
"I just say straight up, 'I'm a one,'" he said of the point position. "The one position has gotten me here and that's what I'm going to keep going forward with."
Though he will turn just 19 in early July and has a short international resume, Exum knows what he wants in a future team.
"I want to go a team where there's a good team chemistry. Or, somewhere I can fit right in to," he said. "Point guard or no point guard, it doesn't really matter. I'm willing to kind of go into a role where I can learn or learn from experience. I guess, there's really no bad situation but there are better situations."
He was asked to expound a bit with what an on-court fit would be.
"It's everything," he said. "It's kind of, I guess, adding up the pros and cons of each organization and seeing where I want to be. Definitely being in a system where it's a good coach and it's gonna hopefully be a stable coach that is there to kind of, I guess, teach me, and a system that kind of suits my game and my game style. I think an up-temp team, ready to run, but also being able to control the tempo when I need to."
He did say the media "twisted" his sentiments about only wanting to play for the Los Angeles Lakers, however.
"Obviously the Lakers are a great organization, but I'm in this draft to go to a place where I feel best at, that is a good fit for me," he said. "And whatever team that is, is the best place for me. It's no one team that I really want to go to."
And while he and his agent Rob Pelinka haven't told teams to not take him, Exum left the door open for such discussions.
"Um, no, um, I guess, looking at teams … If a team really wants me and we don't see it as a right fit, then that's when we would want ta team not to take me," he said. "And just looking at the teams and the teams that want to take me, I don't' see, at the moment, there's a team that doesn't' look like a good fit. But, I guess when we look at how the lottery plays out, if there's any trades, blah blah blah, we can see where I fit best in and that's where I would want to go."
The Bucks, who are guaranteed a selection in the top four, were set to interview Exum after his media session but he didn't seem enthralled by the prospect.
"I'll see how that goes and get a feel for what they're about and … yeah," he said.
The Bucks have a history with Australian players of course, having selected Andrew Bogut No. 1 overall in 2005 and played there for nearly seven full seasons, from the time Exum was 10 through 17 years old.
"Andrew Bogut being there, I guess a lot of the people looked at the team like as in, they would start going for them," he said. "And I guess when he got drafted, I kind of looked at the team and the city he was in. Yeah, it's been good for Australia. He's obviously not there now."
He was then asked if he could play with Brandon Knight, a point guard by trade who Bucks coach Larry Drew began moving off the ball as the season progressed.
"The Australian team is built like that, where we have (Spurs point guard Patrick) Patty Mills and (Cavs point guard) Matthew Dellavedovaso, it's a system I'm familiar with," he said. "I like to be a point guard and get the ball as much in my hands to push into transitional offense. I guess whatever works."
While Exum didn't explicitly say he wouldn't report to a team that drafted him – he sheepishly admitted there was nothing he could do about that – he did say he and his agent "have a plan" regarding organizations they deemed weren't a "fit" for him.
He was asked if not working out for a team would "send the message" to a team to pass on him.
"Sending them a message? I guess, in a way," he said. "Me and my agent have a plan and if that's not a part of my plan and where I want to go then I guess so."
The NBA lottery will be held on Tuesday night in New York, which will determine the order of the draft, and offer Exum an idea of where he'll be headed – a place where he believes he can be immediate factor.
"I'm a get-to-the-rim type of player; I beat my man off the dribble and try and draw help to find open players and I guess that's what puts me in good position to be a point guard," he said. "And also to be that vocal leader, I can have that voice to say to players what needs to be done, kind of that voice on the court for the coach."
Facebook Comments
Disclaimer: Please note that Facebook comments are posted through Facebook and cannot be approved, edited or declined by OnMilwaukee.com. The opinions expressed in Facebook comments do not necessarily reflect those of OnMilwaukee.com or its staff.