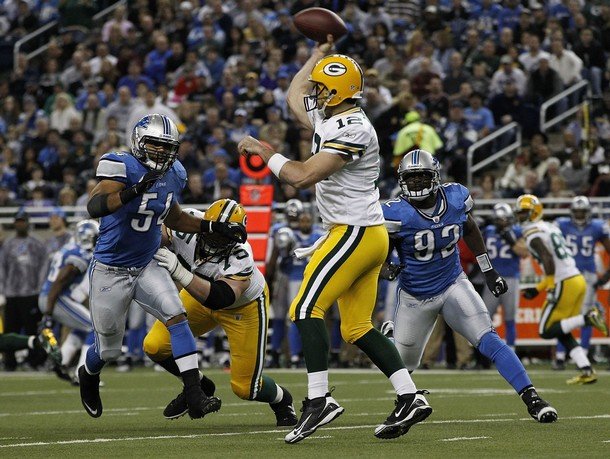 Former Vincent, UW star Levy riding out lockout in Waukesha
DeAndre Levy got off to a slow start last season with the Detroit Lions.
The Milwaukee native was tabbed as the team's starting middle linebacker a year ago, but a back injury kept him off the practice field for most of the offseason.
"That kind of hurt me when I first came back," Levy said. "I think those reps and (organized team activities) kind of help you cut down mistakes and helps you learn the scheme," Levy said.
The NFL lockout is having a similar effect on Levy, who is uncertain when he will be able to take the field again with his Detroit teammates.
"It's kind of hard, but I've always been self-motivated," Levy said. "I've always found a way to stay focused.
"I'm staying ready, just waiting for the call telling me to come back."
When it comes to finding information about the NFL and its labor issues, he gathers most of his information the same as everyone else.
"Mostly the newspaper," Levy said. "I just try to focus on what I can control, and I can't really control all of that right now.
"Hopefully, it'll get done before the season starts."
In the meantime, Levy trains regularly at NX Level, which has become a hot spot for NFL players – especially those from the University of Wisconsin.
Joe Thomas, now with the Cleveland Browns, has trained at NX Level, J.J. Watt has been training there since his time at Pewaukee High School and Chris Maragos is a regular at the facility in the offseason. Former Badgers running back Brian Calhoun is also a fixture at NX Level.
"I was having a problem with my back while I was in the weight room," Levy said. "I came here, they found a couple things wrong, gave me a couple workouts to kind of fix some of those deficiencies I had."

Being just 15 minutes away, NX Level is perfect for Levy to keep up on his training.
"I worked with lot of trainers where you don't get the same attention to detail," Levy said. "You don"t get the same quality, you don't get the overall training. I believe in their program, so I try to carry that over to Detroit.
"Being right near Milwaukee, the place is perfect for me."
The Lions did not give him an offseason training program to adhere to during the offseason, but that's not an issue for Levy. Levy has succeeded on the field at every level. He was a two-time all-Milwaukee City Conference selection and received all-state honors as a senior while at Vincent High School. He had 84 tackles (21 behind the line of scrimmage) as a senior with five sacks. He also caught 12 passes for 260 yards and three touchdowns.
At Wisconsin, he received honorable mention all-Big Ten Conference honors as a senior. He played 11 games as a freshman, and took over at strong-side linebacker as a sophomore and recorded 50 tackles. He was second on the team with 70 tackles his junior season after starting all 13 games.
He was drafted in the third round of the 2009 NFL Draft by the Lions, and he knows what needs to be done while the team cannot guide his training.
"As a professional athlete, I feel you should know what you need to do," Levy said. "You should know what you need to do to stay ready and what you need to work on to keep going."
Levy is anxious for the upcoming season. He had 72 total tackles (50 solo) last season and intercepted two passes, one of those picks helping to secure a 7-3 victory over the Green Packers. He had the luxury of playing behind NFL Defensive Rookie of the Year Ndamukong Suh a year ago, and the addition of first-round pick Nick Fairley of Auburn will give the Lions' defense another force in front of the middle linebacker.
But the lockout means Levy and the rest of the defensive players have not had an opportunity to meet and see how they mesh together. Instead, he's left to wonder what the defense will look like this season – whenever it starts.
"I'm looking forward to seeing what they can do," Levy said of Fairley and fifth-round pick Doug Hogue, a linebacker from Syracuse. "If they come with the right mindset and come to work, I think they'll be great players."
"On paper, (the defense) looks really good right now, but you still have to execute."
sxzaebqbqbeyvaasdcacubudsyzfs
Facebook Comments
Disclaimer: Please note that Facebook comments are posted through Facebook and cannot be approved, edited or declined by OnMilwaukee.com. The opinions expressed in Facebook comments do not necessarily reflect those of OnMilwaukee.com or its staff.