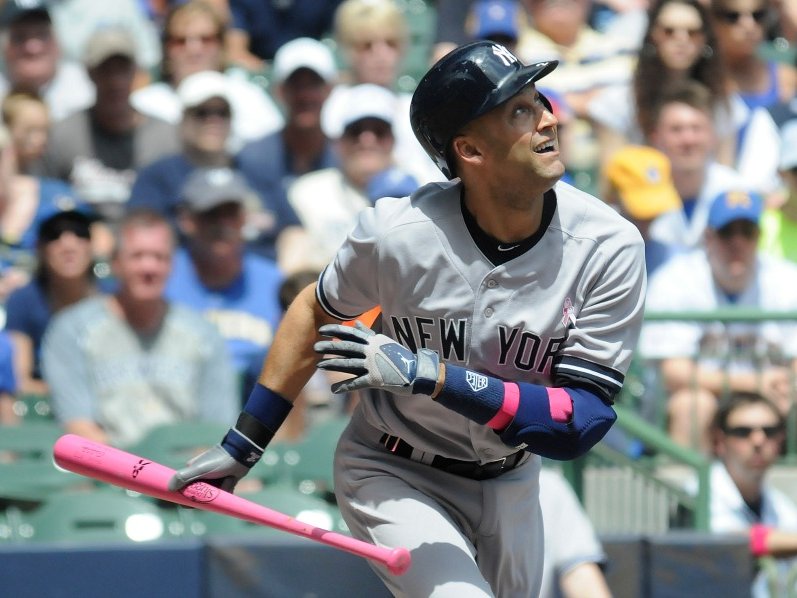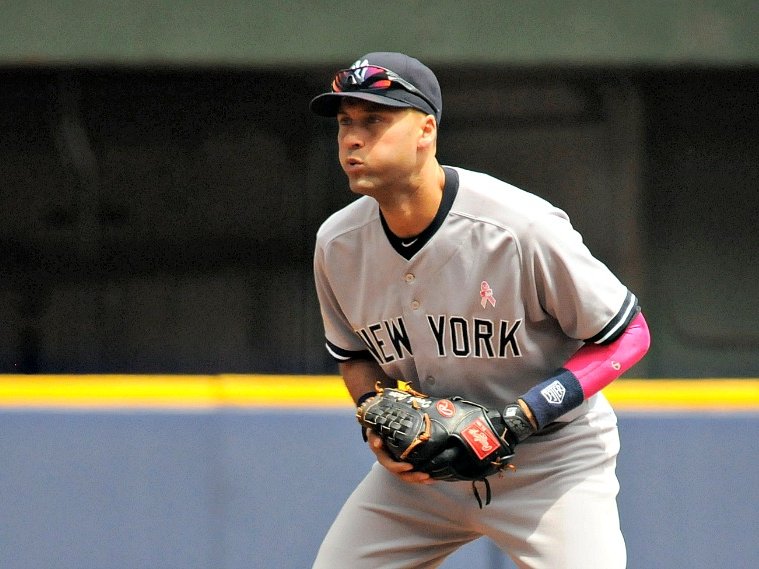 Jeter's visit to Milwaukee a special experience
Derek Jeter didn't do anything spectacular in his final trip through Milwaukee last weekend, going 1-for-9 in two of the three games the New York Yankees played at Miller Park. He was honored before the game on Sunday for his contributions to the game of baseball over 20 years, and in reality, the fact that he was out on the field at all for a combined announced crowd of 83,667 on Friday and Sunday was a special thing.
Jeter has been a professional baseball player since 1995, and I had seen him once before – on May 27, 2002 – when the Yankees visited Chicago to play the White Sox. He was in his prime then, a leadoff hitter who Brewers manager Ron Roenicke said was so formidable on the first pitch that the Anaheim Angels coaches instructed their pitchers to not throw a strike.
Friday was different, of course.
At 40-years-old, Jeter isn't the same player that hit .318 over a 14-year period. But no one in Milwaukee had been able to see him play since a three-game series in June of 2005 and being able to see one of the all-time greats is a fun part of being a sports fan.
Countless players come and go in professional sports. So, so many get the "cup of coffee." Fewer play long enough to get a trading card. Fewer still can retire and say they had a "career." You get where I'm going. The really special players, the "all-timers," are few and far between.
Places like New York can get spoiled by greatness, of course. Frankly, Yankees fans see it nearly every day of every year. When Jeter's number 2 is retired by the Yankees, numbers one through 10 will all be retired in that organization's history.
But think about the last 30 years in Milwaukee and Wisconsin.
As far as the Brewers are concerned, Robin Yount is the last "all-timer" to lace 'em up every day and he retired over two decades ago. Ryan Braun seemed to place himself on the Hall of Fame track, but even the policies of voters change, injury may prevent him from reaching any significant milestone to be considered worthy anyway. That's how fine that line is, between being a very good player, and an all-timer.
Packers fans are a little more spoiled, having Aaron Rodgers replace Brett Favre. But really, that's about it. Reggie White left in 1998. Heck, the Hall of Fame is still putting in Packers from the 1960s. Not so much from the 1980s to present day.
The basketball draught is even more pronounced. Ray Allen will be a Hall of Famer, but his six and a half years in Milwaukee now see like more of a footnote than a "real" part of his history.
So that leaves many in Milwaukee having to buy a ticket to watch the other team's all-time great, like Jeter, like LeBron James or Michael Jordan. Packers fans saw Walter Payton and Barry Sanders run against them once a year, though having all-timers come by is tough due to the fact that only a handful of games can be played outside of the division. But, John Elway, Dan Marino and Jerry Rice did play in Milwaukee or Green Bay in the mid to late 90s.
Basketball and football tickets tend to be more expensive since those games are one-off's and oftentimes the future Hall of Famers play on great teams, so there is always demand for those tickets. A baseball series allows more affordable opportunities to catch greatness.
In fact, my fondest baseball memory as a fan isn't one of many games I saw Carlton Fisk catch, or Frank Thomas homer, or Ryne Sandberg play flawless defense in – it was seeing my all-time favorite player, Rickey Henderson, as a 40-year-old member of the New York Mets on Aug. 1, 1999 at Wrigley Field.
We were at the game as part of the Les Turner Foundation and Chicago Cubs' Lou Gehrig Day, along with my future wife and in-laws and grandfather Leonard Balicki (along with many other families who were supporting those affected by amyotrophic lateral sclerosis, or ALS) and in leading off the top of the 10th inning, I watched Henderson draw a walk.
Then, I saw him take those steps off first – and I was on the edge of my seat. Then he was off! The game's greatest base stealer dove in with that signature head first slide, then popped up and ran to third when the throw sailed into the outfield. He then trotted home on a sacrifice fly.
So, in the span of two at-bats, I saw the game's greatest leadoff hitter draw a walk (he retired as the No. 1 player on that list), steal second base (No. 1 all-time) and then score a run (No. 1 all-time). I can still see it happen as if it were yesterday.
How awesome is that?
Moments like that make sports great, and it makes the ticket price and the time invested worthwhile. Now, Jeter didn't give a "signature" performance, but he fielded his potion cleanly, comported himself with class when a crazy fan ran onto the field to try and hug him, and he did manage a hit.
Hopefully there were fans out there that were able to appreciate what, and who, they saw – it doesn't happen that often.
Facebook Comments
Disclaimer: Please note that Facebook comments are posted through Facebook and cannot be approved, edited or declined by OnMilwaukee.com. The opinions expressed in Facebook comments do not necessarily reflect those of OnMilwaukee.com or its staff.